According to Carers UK's report, State of Caring 2015, 54% of carers have suffered from depression because of their caring role. 77% of carers also felt more anxious and 83% more stressed because of their work.
A lot of the time, this is made worse by carers being unable to find time for medical check-ups or treatment, with 2 in 5 carers saying they were forced to put off treatment because of their caring responsibilities, or because they were unable to trust or find the right replacement care — this from Carers Week (2012) In Sickness and In Health, published by Carers UK.
The GP Patient Survey in 2015 also highlighted the impact of caring on carer health, emphasising high levels of arthritis, high blood pressure, long-term back problems, diabetes, mobility problems, anxiety and depression amongst carers.
Elder understands how hard our carers work and the difficulties some of them face. If you're a carer who needs some time out from caring and is looking for a replacement, or if you're an elder carer struggling with health or workload problems, then don't be afraid to pick up the phone and call our team on 0203 095 7170 and we can advise you on what to do.
To find out what benefits you can receive as a live-in carer when you work for Elder, take a look here.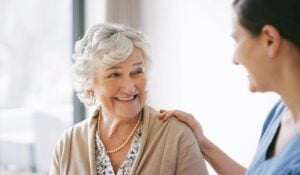 We've been sorting the fact from fiction to help you better understand the risk factors, symptoms, and lasting impact of a stroke.
Read More »