Live-in Care or Nursing Homes: What's the Difference?
If your loved one has reached a stage when they need assistance with many of the aspects of their daily life, you may be wondering if elderly care is appropriate and which type would best suit their needs.
It can be difficult or impossible for family members to provide all the care their loved one needs, even if they live close by. Some medical conditions may mean that they need a high level of care that can only be provided in nursing homes or by a live-in caregiver who can offer one to one care, twenty-four hours a day.
Nursing Homes
Nursing homes, often called care homes with nursing, are staffed by registered nurses supported by care assistants. The care is planned and supervised by a nurse, but much of the hands-on support is provided by care assistants who have completed the appropriate training. Many carers in nursing homes have National Vocational Qualifications (NVQs) in Health and Social Care, and sometimes further training in supporting people with various health issues.
Nursing homes provide care and accommodation for their patients. Your loved one would have their own room, which has to be a certain size, but it can be very difficult to choose which of their treasured possessions to take with them when space is so limited.
Most nursing homes give their clients the option of dining with the other residents or in their own room, and there are often organised activities on offer. Some people enjoy living in a community with others, but most people when asked express a preference for remaining in their own home.
If your loved one moves into a nursing home, they will have to comply with the routines that keep the home functioning efficiently, even though most nursing home providers try to offer their residents as much choice as possible in their daily living.
In a nursing home, there will be a call bell system meaning that your loved one can call for help at any time of the day or night. This can be very reassuring to some people, but in practice, they may have to wait a little while until a member of staff is available to help, since more than one resident may need help at the same time.
Live-in Care
This is the preferred option for most people who need elderly care. A live-in carer moves into your loved one's home and provides 24/7 care for them. This care can include help with personal care such as washing, dressing, eating and mobilising, but is not restricted to this.
Care in the home on a permanent basis also provides companionship for your loved one and support to continue doing the things they enjoy, whether it is playing Scrabble, gardening, or other leisure activities. Live-in carers are carefully matched with the care recipient so that they have similar interests and views. Private care providers try to ensure that your loved one is matched with someone they will get along well with.
Private care in your loved one's home can also provide help with the practical aspects of life. If your loved one is no longer able to carry out tasks such as preparing meals, housework and laundry, the live-in carer will be there to do these. Shopping, help with appointments and even pet care can be undertaken by a carer who is there to help your loved one with whatever is needed.
Some carers who provide this type of care at home are able to drive your loved one to meetings, appointments or any social activities they would like to attend, allowing them to maintain independent living even when their health or mobility is compromised.
---
Dulcie's care story
Dulcie is one of our longest serving customers. In this video, she and her family talk through their decision to arrange care in the home rather than the care home.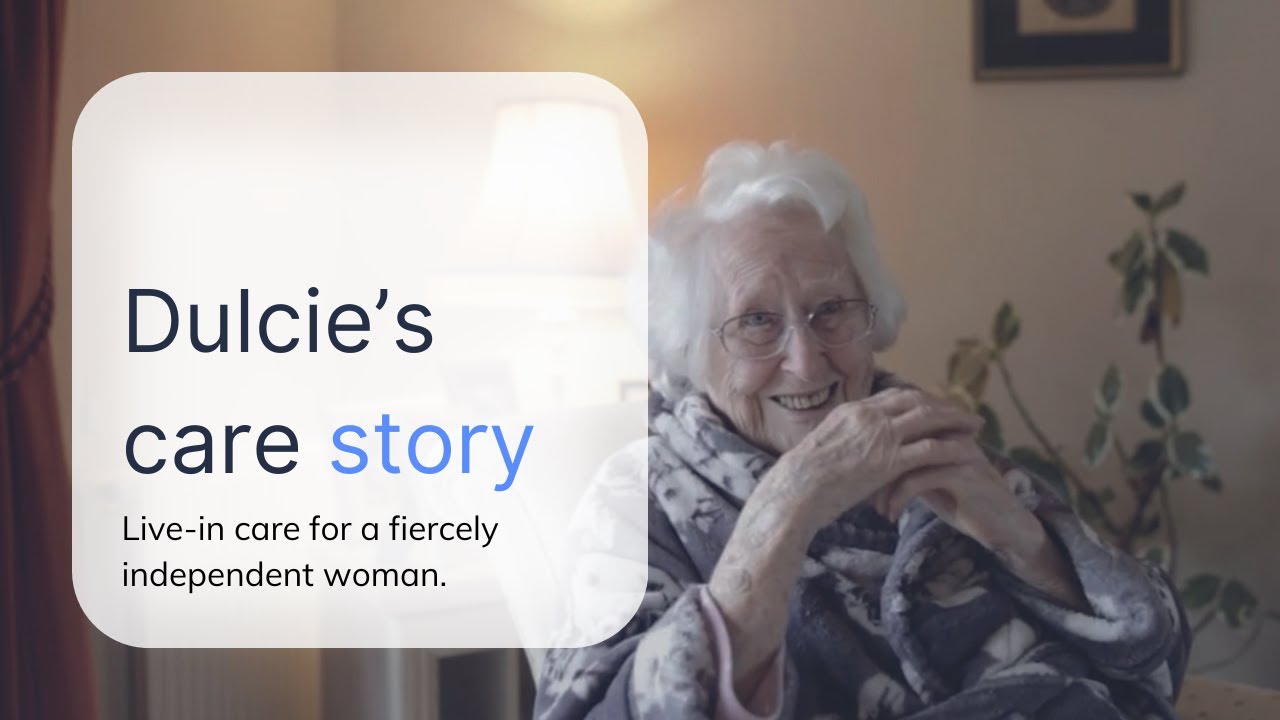 ---
Dementia Care
In-home care is particularly valuable for those who are living with conditions such as dementia. If your loved one suffers from Alzheimer's disease or another type of dementia, you will be aware of how they can be upset by changes in their routines and environment. Live-in dementia care is the ideal solution for those whose condition may be worsened by moving them away from the place they feel safest.
Having a carer who works on a rotating system with one other means that familiar people will be helping them with intimate tasks, and they are more likely to accept this than they would be in a nursing home, where there may be many different staff members.
Some nursing homes are registered to care for people with dementia. Some of their staff will have Alzheimer's care training. They may need higher staff to patient ratios than general nursing homes and different registration conditions regarding the physical environment may be imposed.
People with dementia can often experience problems interpreting their surroundings, and regulators may want nursing homes for people with dementia to install special signs to help them find their way around. If your loved one can stay in their own familiar home surroundings, they are less likely to become confused and disorientated.
Special Training
Caregivers who look after people with dementia need specialist training so they are able to identify the best strategies for dealing with the various issues that can arise. Private live-in care providers should have a pool of suitably trained staff to call on when you are looking for in-home care for your loved one, whether they have dementia or another condition such as multiple sclerosis or Parkinson's disease.
It is always worthwhile discussing your loved one's condition and needs with a private care provider so they can find the carer who will provide the best quality of life for your family member.
Call us for expert live-in care advice
If your loved one has reached a stage when they need assistance with many of the aspects of their daily life, you may be considering what type of elderly care is most appropriate.
Related Questions
Live-in Care: How Does it Work?
If you are looking for professional care for a loved one but are uncomfortable with the idea of sending them into a residential or nursing home, private live-in care could be the ideal solution. In addition to being practical and comfortable, this elderly care option can also be very cost-effective.
Live-in Care: How to Choose a Provider
Arranging live-in care for your loved one will enable them to continue living independently in their own home where they feel safe and comfortable, but with the added security of all the help and companionship they need twenty-four hours a day.
Live-in Care: The Questions You Need to Ask
If you are considering live-in elderly care for looking after a loved one, you will want to carry out some research before to help you make an informed decision on the best care solution that suits your specific needs. Here are a few of the questions you should ask when selecting a qualified care provider.
How Can Live-in Home Care Help With Dementia With Lewy Bodies?
With live-in home care, you will have the peace of mind of knowing your loved one is being looked after by someone familiar who they are comfortable with and who will be alert to changes in their condition and act accordingly. If a doctor is needed, or there are any problems with medication, help will be available and there is someone in the house with them 24-hours a day to keep them safe.
How Can Live-in Home Care Help With Loneliness?
Older people may have lost their spouse, and as their closest friends pass away or move to be nearer to their families, they can quickly experience the isolation of loneliness, particularly if they have any health problems that make it hard for them to get out and about. But even those in perfect health may find that loneliness has a profound impact on their day-to-day lives.