There is a wealth of options for people looking for care and, whether it be for yourself or a loved one, it's easy to feel overwhelmed. If you're not sure where to begin when it comes to seeking care, the best place to start is almost always with the care service you need. By understanding the different types of care available, you'll find it easier to work out a care plan that suits you.
Home care
Not wanting to leave home can delay many people from seeking care, but the good news is that Elder is a care agency that offers support from the comfort of your own home, which means you don't have to move out.
Home care, like the kind Elder offers, is a terrific option for people wanting to remain at home. Many people choose it as the foundation for their care plan because it allows them to stay in a familiar environment, while they receive the type of personal care they need.
Live-in care
Live-in care is perfect for people with full-time needs who are seeking round-the-clock care from the comfort of their own home.
Both the person receiving care and their loved ones can really benefit from this type of care. Not only does the person receiving care get to enjoy the companionship associated with full-time care, but family and friends can rest easy knowing their loved one is receiving the full attention of an experienced care professional.
Overnight care
Everyone's care requirements are different, which means, for some, there may be an overlap in the types of care you require. Overnight care can be very complementary to a daily or part-time care plan.
Waking up throughout the night can cause some people to become disoriented. In addition to providing other types of personal care, like visiting the toilet, having an overnight carer can help minimise the risk of falls or accidents throughout the night.
Dementia care
Dementia can affect a person's ability to remember and impair their reasoning, making it hard to complete many daily activities. People suffering from dementia can also find it difficult to control their emotions and may lack motivation and have trouble with their speech.
If you're seeking care for someone with dementia, it's a really good idea to find someone who has experience as a dementia carer in the past and has completed dementia awareness training.
Alzheimer's care
Alzheimer's Disease is a form of dementia affecting areas in the brain that control thought, memory and language. For this reason, remaining in a familiar environment can be really helpful.
The right care professional can help keep the home tidy and safe by removing obstacles and ease stress relating to the symptoms of the disease.
Respite care
Respite care offers a much-needed break to full-time caregivers, and gives people receiving care a nice change of pace too.
Elder care professionals bring with them a broad range of personal care skills, and are often chosen for their ability to work more flexible hours. At Elder we'll match you with a carer who fits your routine in order to give you and the person needing care a break.
Parkinson's care
Parkinson's is a degenerative disease, which affects the nervous system and leads to tremors, slow or imprecise muscle movement and muscle rigidity. Because the disease is progressive, it's likely your care requirements may change over time.
At Elder we believe that when it comes to providing excellent care, consistency is key, and we aim to find you a care professional who can adapt to your changing needs. Having a someone reliable and consistent reduces the stress associated with frequently changing carer.
Convalescence care
Convalescence refers to a person's rehabilitation from an illness or injury. Naturally, in this situation, the type of care you need will vary depending on the individual and what they're recovering from.
Convalescence care can involve manual handling (lifting and moving people) or simply helping them remember when to take their medication.
Multiple Sclerosis care
Like Parkinson's Disease, Multiple Sclerosis (MS) is progressive. Due to damage to a person's nerves, it can affect movement and mobility.
Maintaining good overall health is really important for people with MS, so it's a great idea to find a care professional who can facilitate a healthy lifestyle. This could involve helping them to stay as active as possible and ensuring they're maintaining a nutritious diet, on top of any other personal care requirements they may have.
Spinal injuries care
Depending on how recent the injury, caring for someone who's sustained a spinal injury will often involve regaining or maintaining their independence – making personal care an important factor when looking for a care professional.
Discuss with your Elder Care Advisor the requirements of the person needing care – whether it involves lifting and toileting needs, or maybe a helping hand during shopping trips and some light household cleaning. They can help tailor a care plan to suit individual needs.
Bariatric care
Bariatric care caters to the needs of people who are severely overweight, which means care plans can be determined by a variety of factors, such as mobility or other health issues associated with obesity.
In addition to personal care, consider whether the person needing care will require assistance moving. Some people seeking bariatric care choose to have more than one carer at a time for this reason. Having two people can improve the comfort of the person being moved as well as that of the carers.
Palliative care
Palliative care is as much about obeying the wishes and ensuring the physical comfort of the person needing care as it is about offering support to their family and friends.
Palliative care should start as soon as it's required, and can last as little as a number of days, or for a number of years. Discuss your needs with an Elder Care Advisor to begin receiving care as soon as possible.
Physical disabilities care
Physical disability broadly describes the types of physical difficulties experienced by the person needing care, which can have a major impact on the type of service you need.
In addition to any specific care requirements, helping them to maintain an independent and active lifestyle should be a major consideration when seeking care.
Learning disabilities care
As with physical disabilities, establishing a care plan for someone with a learning disability should take into account the complex needs of the person needing care.
By staying on control of your care and shaping a routine that you're comfortable with, you can focus on skill development, as well as helping the care recipient form and maintain social relationships.
Browse the latest blogs and tips on living well in later life.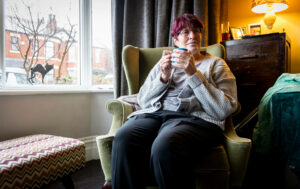 We've shared our advice to help older adults stay healthy and well as the weather starts to get cooler, and the days get shorter. 
Read More »