Researchers don't fully understand why some people develop Parkinson's, but in some cases, it is thought that there might be a genetic link. The condition develops when nerve cells stop producing dopamine. This causes a wide range of symptoms, such as tremors, rigid and inflexible muscles, tiredness, pain and disruption to sleep. 
Idiopathic Parkinsonism is the most common form of the disease, and it is not yet known what causes this, but over time the symptoms worsen without appropriate medical intervention.
Vascular Parkinsonism is a specific form of Parkinson's which tends to affect older people, who experience a restriction in the blood supply to the brain. Many sufferers already have other complex health issues and may require live-in care for conditions such as diabetes or arthritis. The principal symptoms are difficulty walking, problems with memory and urinary incontinence, and many sufferers tend to swing their arms less when walking than people without the condition.
Because Parkinson's is a progressive disease, the effects tend to become worse over time. Eventually, your loved one may experience depression, hallucinations and problems with memory.
Who develops Parkinson's?
Most people diagnosed with Parkinson's are over the age of 50, although a very small percentage of patients are diagnosed before they reach the age of 40. Although it affects both sexes, men tend to be the main sufferers.
The disease affects around one person in 500, with symptoms differing quite widely, although problems with muscular movements tend to be one of the early warning signs. An early diagnosis ensures that the patient receives appropriate treatment, which can dramatically slow the progress of the disease.
How can live-in care at home help?
For most people, a diagnosis of Parkinson's won't have too much impact on their ability to lead a relatively normal life, at least in the early stages of the illness. However, there might come a time when it's appropriate for live-in care to help and support them with living a normal life.
In most cases a dedicated live-in carer can make an enormous difference to the sufferer, enabling them to continue with their favourite activities and pastimes.
Receiving a diagnosis of Parkinson's can be devastating, but with appropriate care and treatment, the sufferer can still enjoy many of their former lifestyle choices. A skilled and highly-trained in-home carer can help to facilitate your loved one's ability to cope with the disease as it progresses.
Care in the home is becoming an increasingly popular choice over residential care, as it enables your loved one to remain in their much-loved and familiar surroundings, close to family, friends and neighbours. As with so many diseases, stress and uncertainty can exacerbate the symptom of Parkinson's, so enabling the sufferer to remain in familiar and comfortable surroundings is paramount in controlling the condition.
In the early stages of the disease, a live-in carer can provide valuable emotional support. With an extensive understanding of the condition, your loved one's carer can provide comfort and reassurance at any hour of the day or night.
As symptoms progress, the carer can help with all aspects of daily living, from assistance with getting up, dressing, bathing and personal care, through to shopping and prepare healthy and nutritious meals.
The carer will take charge of medical appointments, ensuring that your loved one attends meetings with specialists and nursing personnel, and dispensing medications by medical practitioners' instructions.
---
Dulcie's Care Story
In this short video, Mary and Colin explain how Dulcie's live-in Elder carer, Sarah, has become part of the family.
They discuss how live-in care has allowed Dulcie to stay independent in her own home, while making a new friend at the same time.
---
The benefits of care at home
Providing care in the home has become a practical alternative to residential home care. Most people would much prefer to remain in their own homes rather than move into an institution, and carers can facilitate this.
Providing anything from companion care through to advanced dementia care, the carer lives in the home and becomes a member of the extended family, offering support and assistance whenever it is needed.
Where other family members share your loved one's home, they can concentrate on their own jobs and lives without fear of disruption or loss of earnings, for example. The carer will ensure that your loved one is well looked after at every hour of the day and night, giving the rest of the family complete peace of mind.
Companies such as Elder work hard to ensure the best possible match between caregiver and care recipient, taking great care to find out your loved one's favourite hobbies, pastimes, likes and dislikes. By this process of matching, the chances of both parties forming a strong friendship are greatly enhanced, promoting positive benefits for everyone concerned.
With elderly care at home, there is always a caregiver on hand to provide support, ensuring your loved one can concentrate on living as normal a life as possible. Their dedicated carer is available to help, assist and offer a friendly and supportive hand wherever it is needed.
Call us for expert live-in care advice
Learn more about live-in care
Take a look at more Elder guides on the benefits of live-in care.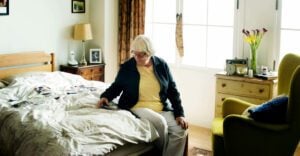 Live-in care: can it help someone overcome loneliness? Every year, the Marmalade Trust hold their annual Loneliness Awareness Week, drawing attention to the fact