The unpredictable nature of MS
The symptoms of MS vary between individuals and the day to day expression of the condition can likewise differ considerably. With unpredictable symptoms, it's not always easy to anticipate how your loved one may feel, and this can make planning a challenge. However, having routines wherever possible can help retain some structure and make managing each day a little easier.
It's essential to gain a deeper understanding of MS and its symptoms. By increasing your knowledge of the condition, you will have more of an idea as to what your loved one is experiencing.
Emotional changes
There is a range of emotions that your loved one or family member may experience when living with a chronic illness such as multiple sclerosis, and it doesn't always follow a linear pattern.
Your friend, partner or family member may find themselves grieving for the life they used to have. They may be in denial over their condition, experience anger and resentment, feel fearful and anxious, or a combination of the above.
Working towards acceptance of any chronic illness is not easy and mental health can often be negatively impacted along the way, with mood swings and stress, anxiety and depression. It's helpful to acknowledge and not underestimate the emotional challenges they may face alongside the physical ones.
Day-to-day mobility challenges
Fatigue, general weakness, muscle stiffness and feeling off-balance can all make day to day activities and mobility challenging for your loved one. Thankfully there are certain adaptations for home life that can help, such as bath seats, mobility aids and grab rails.
For elderly loved ones, 24-hour care with a live-in care giver can make it possible for them to stay in the comfort of their own home, helping them to retain as much independence as possible.
Carers can assist with household chores and tasks to lighten the load, whether that's shopping for groceries, vacuuming, arranging transport, ironing or cleaning. For some, they may require help with personal care, including washing and dressing. With home care, your loved one or relative will receive a little extra support to help overcome day to day challenges.
Colin and Dulcie's story
Dulcie is 102-years-old and lives with her son Colin, his wife Mary, and her Carer Sarah. She has dementia and has had full-time live-in care for over two years.
We talk to the family about the challenges of finding the right care solution for a fiercely independent woman – and how the positive benefits of live-in care with Sarah has transformed all of their lives.
Continence considerations
As MS symptoms develop, the bladder can become affected. Many may find differing degrees of bladder issues, from having an overactive bladder and experiencing incontinence, to trouble with urinating and feelings of discomfort.
If continence becomes an issue, an MS nurse can provide advice and make suggestions as to medications and different tactics that can help to alleviate some of the discomforts your loved one may be experiencing.
Chronic pain management
Life with chronic illness often comes with chronic pain, and there are some specifics forms it can take with MS. For example, trigeminal neuralgia (TN) affects the face and can be incredibly intense and painful.
Pain around the waist is referred to as the 'MS hug', which feels like numbness or burning and can be triggered by temperature changes or even a gentle touch.
There are also muscle cramps, spasms, twitches and other nerve pains that can affect those with MS. It can be helpful to determine whether there are any identifiable triggers. A doctor or MS nurse should be able to advise on medications for pain relief. Also, wearing loose, soft clothing may be more comfortable and hot and cold therapy in the form of wraps and ice packs can provide some relief.
Care for the carer
It can be physically and emotionally demanding to manage your own life and at the same time trying to support a loved one through their challenges with MS. Looking after yourself is vital so that you can provide the best support possible.
Taking breaks and prioritising your own self-care isn't selfish, and it's certainly not something that should make you feel guilty. Ensure that you're eating well and getting adequate rest.
Additional Support
When it comes to elderly care, dementia care or multiple sclerosis care, additional support is available through a professional, compassionate live-in carer. The carer will be able to provide the day to day support that your loved one needs to maintain their independence and wellbeing. Live-in care can also take some of the pressure off you and give you the peace of mind that your loved one is well looked after.
Here at Elder, we ensure all carers matched carefully to each individual requiring care. Carers are experienced and trained in the difficulties that your loved one may face and can provide the assistance needed.
Dealing with MS doesn't have to be a lonely experience. Carers can also provide companionship and emotional support alongside practical help, ensuring that your loved one can remain living comfortably in their own home.
Call us for expert live-in care advice
Learn more about complex care
Take a look at more Elder guides on how to support those living with complex conditions below.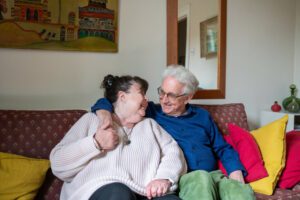 Stroke Care: How do I Care for a Loved One After a Stroke? It can be hard to watch a loved one experience the