Is 24-hour home care an alternative to care homes?
As older people live longer, there is an ever-increasing demand for quality care. A Laing and Buisson survey conducted in 2016 revealed that there are approximately 416,000 people living in care homes across the UK.
This figure equates to 4% of the total population aged 65 and older living in care homes, increasing to 16% living in care homes for those aged 85 and older. The overall value of the care home industry in the UK hit £15.7bn in 2016, which is around 1% of the UK's GDP. Many people, however, are now choosing to meet their loved ones' needs by providing them with 24-hour care at home instead.
Choosing the best environment for your loved one
Where is the best place for your loved one to live? This decision underpins your loved one's care. Your decision will be motivated by personal preferences, whether specialist care such as dementia care is required and how much the care you need will cost.
We find many people come to us for our support arranging care for those living with a life-limiting or terminal illness. Palliative care at home can be a much more personal experience in comparison to moving into a care home, allowing those receiving care to stay in the place they belong, around the memories and possessions they love.
Because of rising care home costs, more and more families are electing to care for their loved ones at home to provide a better quality of life without an unrealistic price tag.
Why are care homes suddenly so expensive?
The care home landscape is complicated when it comes to fees and funding. At its core, care home fees vary dramatically across the UK because care home costs are dependent on the local council.
For instance, some care homes in London can cost as much as £1,000 per week. To give you an idea, you can expect to pay on average £29,250 per annum for a care home place, and an average of £39,300 if your loved one's care involves nursing.
In addition to this uneven foundation, care homes nationally are navigating a series of significant financial obstacles which are dictating the cost of care. Care homes say one of the biggest challenges is that local councils do not contribute enough funding for them to run adequately.
Care homes say they have no choice but to charge the people they care for who are deemed able to pay for their own care – called 'self-funders' – to help fund those who require financial assistance. Incidentally, older people are only eligible for care home funding if their assets total less than £23,250. As most elderly people are homeowners, they do not qualify for care home funding.
Citizens Advice revealed care home fees in 2015 rose on average by £900 per anum, with thousands of elderly people having little notice of the price hike. Experts also advise the 1% increase on council bills – from 2% to 3% this year – doesn't solve local councils' lack of funding.
In addition to this tricky set of circumstances, care homes have to cope with the same set of rising household costs as individual residential homes (fuel, food, cleaning and maintenance) but have the additional challenges of increasing wages and rent. Some care home groups also have high borrowings to factor into their running costs as well.
---
Dulcie's care story
In this short video, Dulcie and her family explain their reasons for choosing Elder live-in care.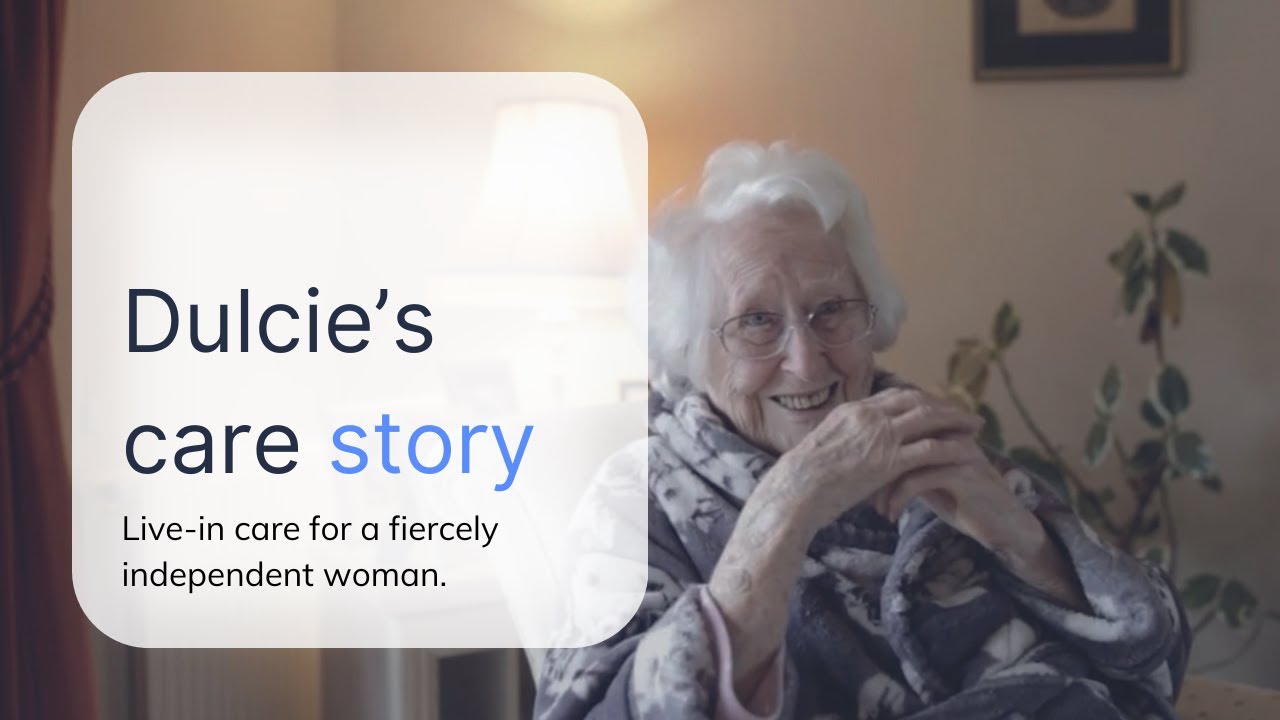 ---
What are the benefits of home care?
There are several immediate benefits when you choose at-home elderly care for your loved one. These include maintaining your loved one's independence, consistent care from dedicated carers (usually two) and remaining in their familiar and comforting surroundings for as long as possible.
Not only can your loved one maintain their existing social connections, but they also benefit from dedicated, regular interactions with their home care worker. Arranging 24-hour home care also ensures your loved one benefits from home cooked meals as well as increased stability at home, as opposed to the considerable disruption of placing your loved one in a care home.
And, with skyrocketing care home fees and lack of funding support, families like yours are choosing to invest in care at home to ensure their loved one experiences a positive quality of life.
Isn't home care expensive?
Surprisingly, home care is not as expensive as you may think. You also have greater control over what you pay for compared to care home charges, and your loved one has a greater chance of receiving local council funding for home care.
This is because council means testing for home care financial support excludes the value of the property from the total asset threshold of £23,250. Your council will evaluate your loved one's needs to determine the amount of funding it will award. It's worth noting that funding for both care homes and care at home does not cover any living costs.
A care home's fees are more generalised, whereas home care costs are much more precise and influenced by your wants and needs, rather than the other way round. You have greater choice and control over the care professional you hire, whether you work with a home care agency or directly with a self-employed carer. As a comparison, live-in care can cost on average £600 – £800 per week.
The challenge of how to care for our ageing population is a challenge that affects us all. Families are increasingly choosing home care for their loved ones, offering better living arrangements, improved quality of life and greater control over what they pay for. Home care provides your loved one with the opportunity to remain independent for as long as possible.
Call us for expert live-in care advice
As older people live longer, there is an ever-increasing demand for quality care. A Laing and Buisson survey conducted in 2016 revealed that there are approximately 416,000 people living in care homes across the UK. This figure equates to 4% of the total population aged 65 and older.
Related Questions
Home Care: Do I Pay for Home Carers Holidays?
If you're employing or planning to employ a home carer, you probably have a lot of questions about the whole process. You might be wondering what happens when the carer takes holidays and whether or not you need to provide holiday pay. This article aims to explain holiday entitlement in the UK for part and full-time workers and to outline your responsibilities as an employer.
Home care for the elderly – What is it?
The majority of older people would prefer to live independently in their own homes but unfortunately this is not always possible.
Home care: Frequently asked questions
Everyone's individual situation is different which is why we undertake a comprehensive free care assessment for those who are considering home care as a care option for themselves or their loved ones. There are, however, certain questions which come up time and time again which is why we've created this frequently asked questions about home care page in order to give you the information you need to assess your options.
Home care: How do I pay for It?
There are various ways of paying for home care and dementia care, but understanding the various options of care provision can seem very daunting at first.
Home care: how does it work?
Home care works in many different ways. Each person's case is different with unique preferences, physical needs and life experiences, and care at home should be as tailored as possible to the individual's requirements.
Home care or nursing home: what's the difference?
Deciding whether your needs can be met by care at home or whether you need to go into a nursing home is an issue faced by many older people.
Home care: the questions you need to ask
If you are looking for in-home care for yourself or a relative, there are a number of important questions to ask potential providers of care at home before you make a decision about which one is most suitable for you or your loved one.
Home care: what are the costs?
The costs of home care to an individual can vary widely and are dependent on many different factors. These include the type of care needed, how many hours a week you need a caregiver to be present, your own financial situation, where in the UK you live and whether you are eligible for any assistance with your care fees.