Common myths and misconceptions about home care
You may already have ideas about what home care is like, and with so much information out there, it can be difficult to sort fact from fiction.
That's why we're here. We'll take you through some of the most common myths and misconceptions around home care for elderly parents. Myths like:
The elderly aren't safe enough staying put at home
Professional home care is going to break the bank
There's only one perfect kind of carer
Home care doesn't suit those with dementia
And perhaps the biggest of all: that home care means going it alone. With live-in care, a carer will move in to provide round-the-clock care. And with Elder, you'll have someone on your doorstep in as little as 24 hours.
Myth 1: The elderly aren't safe enough staying put at home
With a few fixes, the home your elderly parent loves can be just as safe a place for them as a specialised care home.
You may, for example, think about improving:
Accessibility by installing stair lifts, bathroom rails and ramps
Security by improving the locks on front and back doors
Soundproofing by adding seals around the doors and windows
Lighting by cutting back hedges blocking windows and adding light sensors
Before you make any changes, just remember to chat to your loved one about it. You don't want to switch things up and take them by surprise.
Myth 2: Home care means going it alone
Just because your loved one isn't in a care home doesn't mean you're on your own.
You can ask professional home carers to come and help you out. There are those who will visit from time to time, and offer to help with the most pressing needs your elderly parent has. This is known as domiciliary care. And then there are those who stay with your loved one, and offer their support night and day. This is known as live-in care.
Whichever you choose, they'll be there to look after everything from everyday tasks – like changing lightbulbs and preparing meals – to more important ones, like managing prescriptions. Costs for domiciliary care will vary depending on the amount of attention your loved one needs, which is why live-in care can often prove more cost-effective. With Elder, it's easy to find a live-in carer to suit your loved one's care requirements.
Myth 3: Professional home care is going to break the bank
It's true that the costs of home care can start to add up, but it is not quite as black and white as you might think.
There are lots of subsidies out there to help make things a little easier on you. Speak to social services or you local council, and they'll give your loved one a variety of assessments to suss out their care needs and financial means.
There are a variety of different types of support which you may be eligible for, including:
Local authority funding: Your local government may agree to subsidise individual needs – such as rehabilitative services or home adaptations – or, in rare cases, provide full funding.
Direct payments: These are government contributions you can use to independently arrange your loved one's care. You'll get between £50 and £600 a month.
NHS continuing healthcare: This offers full financing for any services which take place outside the hospital. Those with severe needs in two priority areas will qualify.
There are also means-tested benefits, including personal independence payment (PIP) and attendance allowance, but the application process is a little different to the above. You can find out more about this in our Cost of Care guide.
Get in touch for expert care advice
Myth 4: There's only one perfect kind of care
Truth is, there is no such thing as the perfect carer. Only the carer who's perfect for you.
Of course, it's important to find a highly qualified home carer, one with the expertise required to do all the technical bits, like offering medical support. But it's just as important they're able to connect with your loved one on a deeper level – and eventually become all but a member of the family.
The best agencies know every carer brings something different to the table, and will match you up with someone who shares your loved one's interests. With the right carer, your loved one will get the most out of whatever it is they love: whether it's gardening, cooking or building a machine to bring about the apocalypse.
Myth 5: Home care doesn't suit those with dementia
If your elderly parent has been diagnosed with dementia, you may think your only option is to put them in residential care.
But many people live in their own home with early to mid-stage dementia for many years. In fact, it can often be far better for their condition: they're surrounded by familiar sights and sensations that keep them engaged and stave off confusion. This, plus the constant support and conversation of home care, is a powerful reason to stay put.
You may, of course, want to make some adjustments to the home to prevent confusion. On top of the suggestions we've made further up the page, you might want to cover reflective surfaces, label drawers and cupboards and introduce more colour to distinguish toilets from tiles, walls from floors and so on.
Reference Guides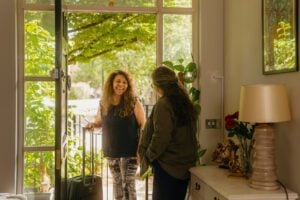 How care with Elder works If you or someone you know is considering full-time or short-term live-in care with Elder, here's our step-by-step guide to
Read More »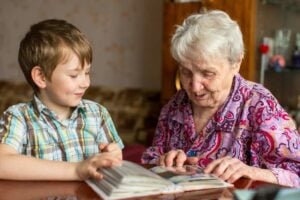 The true cost of care – everything you need to know Discover the true cost of care and explore your funding options with our care
Read More »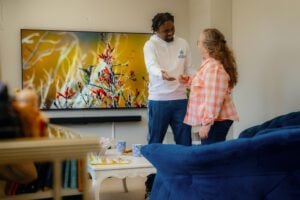 24 Hours of Care at Home Discover a day in the life of a live-in Carer Or call us for more information on how live-in
Read More »
Related Questions
People living with dementia often find change confusing and threatening. This is why arranging for care in their own home can be the best possible option if they are no longer be safe to be left alone. Live-in care is gaining in popularity, and specially trained staff are available to provide Alzheimer's support as well as other types of care. Read more »
People with dementia experience many problems, both with memory and with cognition. Alzheimer's disease is the commonest form of dementia, but there are other types including vascular dementia and dementia with Lewy bodies. People with Parkinson's disease can also develop dementia. Whatever your loved one's specific diagnosis, if they are living with this condition, they are almost certain to need care and support as it progresses. Read more »
Dementia can have an overwhelming impact on a family's finances. As many as 750,000 families are caring for a loved one with dementia in the UK, and many of these are not eligible for the financial help they need. Of all the people who receive care, 41 per cent have to fund this themselves. It is likely that the same percentage applies to those who need Alzheimer's care. Read more »
Dementia live-in care can provide all the care and support needed to allow your loved one to remain in the safe and familiar surroundings of home, even if they need quite complex care interventions. Read more »
Deciding whether your needs can be met by care at home or whether you need to go into a nursing home is an issue faced by many older people. Read more »
Request a call from an Elder care advisor