Walking with the Ramblers
Over half of the Ramblers' members are aged 55+, and the organisation arranges over 4,000 walks in the summer alone. Walking is both sociable and excellent exercise, and can be gentle enough for those with an inactive lifestyle or those who receive care at home.
Getting out and about in the fresh air is invigorating and life-enhancing, so why not consider taking your loved ones along to a walking group and get them started. You don't have to be a member of the Ramblers to try out a walk, and it's free too.
Picnic in the Park
Take your ageing parents on a picnic to one of the many beauty spots in Manchester. The fresh air, views and food are bound to lift their spirits and make for an entertaining day out, whether they receive in-home care or enjoy independent living. Visit Pennington Flash Country Park, renowned for its bird watching, dog walking and beautiful trails with bird hides to watch the wildlife from.
Take a stroll around the lake, and let grandchildren play in the small playground. With plenty of picnic areas, toilets and seating areas, you can spend as long as you choose, with something for every member of the family to enjoy.
Free swimming
Manchester offers free swimming every day, throughout the year for those aged 60+. To qualify for a free swimming pass, you must live in Manchester and be over 60. When registering for this programme you will need to provide proof of residency and age. Contact Manchester city council for a registration form and a list of participating leisure centres.
Taking your parents swimming could be just the boost they need to get into an exercise routine or just a fun activity for a day out. If they have a live-in carer, ask them to accompany your loved ones to the swimming pool on a regular basis if they enjoy it.
Dementia-friendly swimming
Manchester is proud of its status as the UK's first Age-Friendly City. With an ageing population, it is working hard at making the city a great place for older people to live. This includes supporting caregivers, people living with dementia and those in Alzheimer's care.
The Dementia-Friendly Swimming Project was introduced in Manchester in 2015 and aims to provide dementia-friendly pools for people living with dementia, their caregivers and families, offering the opportunity to swim together in a safe and supportive environment. Dementia patients can benefit greatly from physical activity, so taking your loved one swimming is a fantastic way of spending a few hours with them, and something that many people can incorporate into a dementia care plan.
If your loved one receives dementia care, elderly care, or home care, consider requesting that this becomes a regular activity that their caregiver takes them along to, providing your loved one finds it enjoyable. Find out more at Manchester City Council's website.
Birchfields Park Forest Garden Group
Based around Rusholme, Fallowfield Loop and Longsight, this forest garden group runs sessions every second and fourth Saturday of the month, from midday. Events include bulb planting, tree planting and foraging and exploratory walks.
The walk leader will discuss different plants seen during these walks and everyone is encouraged to join in. If your ageing parents enjoy a spot of gardening or the outdoors, consider taking them along to one of these free, fascinating sessions.
National Football Museum
If you haven't taken your parents along to the National Football Museum already, why not do so now? Detailing how 'the people's game' became a fundamental part of England's way of life and heritage, and why it became the world's most popular sport, this fascinating museum appeals to all ages.
For those in elderly care, there is disabled parking, as well as ramps to raised floors, automatic entrance doors and plenty of accessible toilets. Large print guides and wheelchairs are available on request.
Traditional Country Dancing
If your parents used to dance but haven't hit the floor in a long time, why not take them along to Traditional Country Dancing at Parkfield Dance Centre, Moston. Invoking memories of a youthful past, the Gay Gordon, Military Two Step, Dashing White Sergeant and Friendly Waltz may be just what they need to find their joie de vivre again. Nothing lifts the soul like dancing, so introducing your ageing parents to a dance group could be a great idea.
Learn more about elderly care
Take a look at more Elder guides on later life.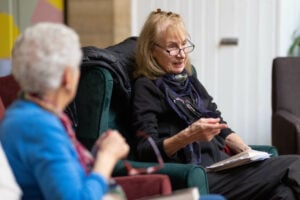 Elderly Care: What if Elderly Parents Refuse Care? Growing older and less able to maintain an independent lifestyle can be hard for an older