Coronary care: How do I care for a loved one with coronary heart disease?
Coronary heart disease, often referred to as CHD, is the term used by medical professionals to describe the build-up of fatty deposits within the coronary arteries, meaning that the heart has to work much harder to keep pumping blood around the body.

Principal symptoms include:
– Angina (chest pains)
– Breathlessness
– Palpitations
However, not all CHD patients experience these symptoms. In some cases, there may not be any noticeable symptoms at all before diagnosis.
The causes of CHD can't always be identified, but common risk factors include smoking, high blood pressure and high cholesterol levels. There is no cure for the condition, but with careful management, someone with CHD can continue to live a full and reasonably active life.
If your loved one has been diagnosed with coronary heart disease, you're probably wondering what you can do to help. There are plenty of ways in which you can improve your elderly relative or loved one to cope with the condition.
Understand the condition
Knowledge is key to successful coronary care management, so it's crucial to make a point of understanding coronary heart disease and its management. Careful management of CHD can help prevent the risk of further problems, such as a heart attack.
Your loved one's medical team will be able to help you with information regarding the extent of your loved one's condition and ways in which you can help. Don't be afraid to ask questions and it can be helpful to make notes during your relative's consultations too so that you both know what is expected. If your loved one has home care assistance, make sure that the caregiver is also informed about the state of your loved one's health too, so everyone knows what steps to take in the case of problems.
---
Colin and Dulcie's story
Dulcie is 102-years-old and lives with her son Colin, his wife Mary, and her Carer Sarah. She has dementia and has had full-time live-in care for over two years.
We talk to the family about the challenges of finding the right care solution for a fiercely independent woman – and how the positive benefits of live-in care with Sarah has transformed all of their lives.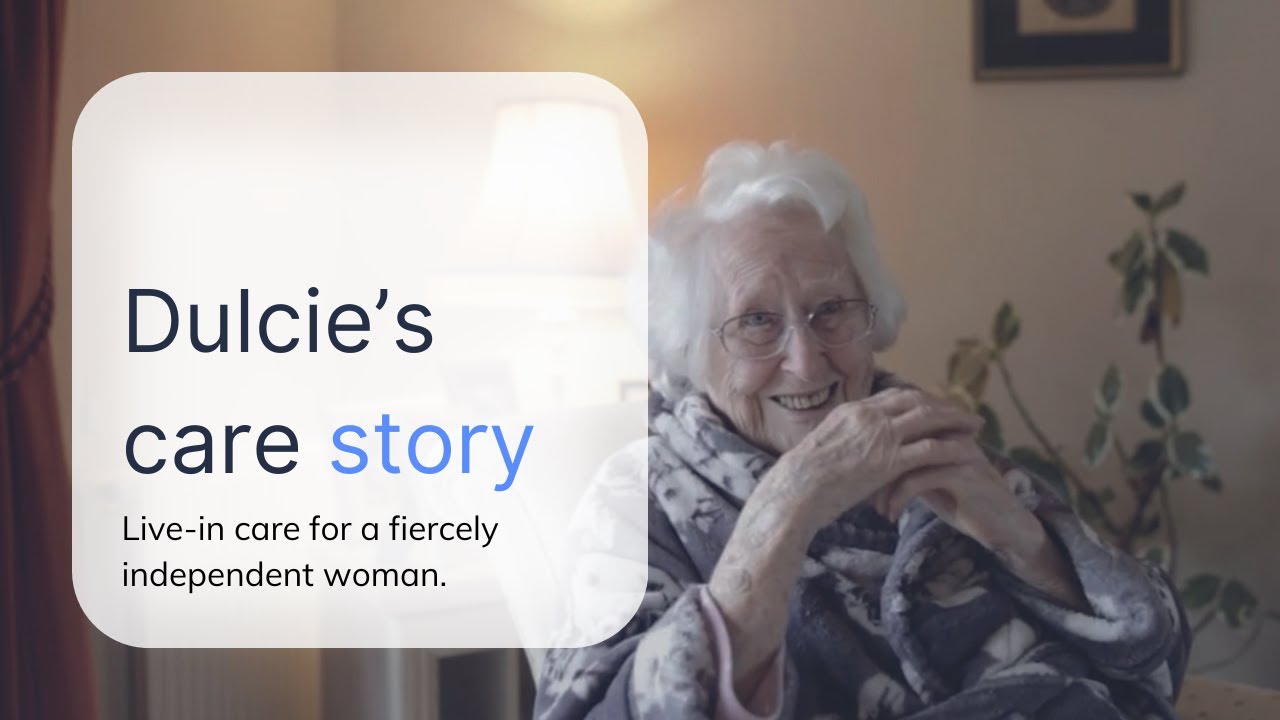 ---
Helping with medication
A variety of medical treatments can help to control the symptoms of coronary heart disease, and no two patients are likely to be on the same regime. Everyone involved with your loved one's care needs to be informed about current medication regimes. It can be helpful to make a chart showing which medicines are to be taken and when.
Pillboxes are useful as medication can be divided up for convenience, making it easy to see when each dose has been taken. Double-check that your loved one's live-in care worker knows the medical protocol and is happy to help with dispensing medicines at the appropriate time.
Caregivers need to be even more proactive if your loved one is receiving dementia care. They may forget that they have already taken that day's medicine and attempt to take an extra dose, or they could forget to take it altogether. For this reason, it's advisable to keep medication out of your loved one's reach, ensuring that only you or the caregiver has access to it.
It's also worth keeping a note of any side effects or new symptoms that occur, as this information can help your loved one's doctors and consultants to keep an eye on progress, changing medicines as necessary to make your relative more comfortable.
Helping post-surgery
In some cases, an older adult may need to have surgery to help improve their CHD symptoms. If this is the case, you'll need to understand what is required of you when your loved one leaves the hospital. Depending on the state of their coronary arteries, they may require stents or balloons, or they may require more extensive surgery.
Don't be afraid to ask plenty of questions in the hospital and ask the nurses to show you how to change any dressings if this is necessary. Be prepared to offer plenty of comfort and support to your loved one, who is likely to be experiencing some discomfort following their procedure.
Encourage lifestyle changes
Excellent nutrition and appropriate exercise are key to successful coronary care management. By making healthy lifestyle changes to your loved one's daily regime, they might successfully manage the condition for many years, so it's an integral part of any treatment protocol.
Whether you are coping with your loved one's CHD alone, or have some form of private care in place, everyone involved needs to understand the importance of fresh air, exercise and a healthy diet for your elderly relative.
Providing daily support is an essential part of elderly care, and this becomes particularly important where a long-term medical condition requires management. Encourage your loved one to get out and about, whether just for a gentle stroll to the local shops, or meeting up with friends and family for social events. Spending time outdoors and in the company of other people can help to keep your loved one's spirits up, which is an integral part of the coping process.
Regular, healthy and nutritious meals will provide your loved one with all the vitamins and minerals needed for good health. Look into diets specifically aimed at CHD patients as these will be particularly beneficial in the long term.
Always keep in mind that CHD is a condition that can be managed, so don't worry if it takes some time to work out the most effective treatment plan. Finally, don't be afraid to approach your loved one's medical team if your loved one doesn't seem to be making progress.
Call us for expert live-in care advice
Successful coronary care management for an elderly loved one consists of having a deep understanding of heart disease and being able to recognise its symptoms.
Related Questions
Coronary Care: Is There a Cure for Coronary Heart Disease in the Elderly?
While there is no cure for heart disease, with the correct type of coronary care, a loved one can manage their symptoms and continue living a healthy life.
Coronary Care: What Causes Coronary Heart Disease in the Elderly?
Knowing the causes of heart disease and providing a high level of coronary care is vital to ensure your loved one or relative can easily manage their condition.
Diabetes Care: What Causes Diabetes in the Elderly?
Diabetes care is more than just managing the symptoms, it's also about understanding the causes to help reduce the risk of developing further health issues.
Hypertension Care: Is There a Cure for Hypertension in the Elderly?
Ensure your elderly relative or loved one has a hypertension care plan in place to help manage their heart condition and prevent further health complications.
COPD Care: Is There a Cure for COPD in the Elderly?
Understanding what COPD care options are available can help ease symptoms and improve a loved one's quality of life. Here we discuss various treatment methods.