What is hypertension?
Hypertension may also be called HBP or high blood pressure and is a common but serious condition diagnosed in many older adults. Hypertension can be managed either through live-in care routine, in a private care home, as part of a dementia care package or in your loved one's own home.
There is no cure for high blood pressure, but there are ways to manage it effectively. Prescription medication will often play a large part in this, together with lifestyle changes that can improve your loved one's health and, in turn, their quality of life.
Why is it so important to manage hypertension?
Hypertension care is vital, and if left untreated and unmanaged, it can significantly raise the risk of a range of different conditions, some of which can be extremely serious and, in some cases, life-threatening. These include:
– Heart attack
Coronary artery disease
Heart failure
Vascular dementia
Stroke
Vision loss
Angina
Kidney failure or disease
Peripheral artery disease (PAD)
Shortness of breath
How best to manage hypertension as part of an elderly care routine
A healthier lifestyle can improve the wellbeing of your loved one and help any medication they may be taking for their hypertension to work most effectively.
It is also important not to overwhelm your loved one with too many instructions or requests all at once. A multitude of changes at once may be too overwhelming. Instead, perhaps try to encourage them to make one or two alterations at a time, gradually introducing more into their daily routine as they adjust to the new changes.
---
Dulcie's care story
Dulcie is over 100 years old and lives with her son Colin, his wife Mary, and her carer Sarah. She has dementia and has had full-time live-in care for six months.
We talk to the family about the challenges of finding the right care solution for a fiercely independent woman – and how the positive benefits of live-in care with Sarah has transformed all of their lives.
---
Hypertension management strategies
Regularly monitor blood pressure
As part of your loved ones home care routine, it is vital to monitor their blood pressure regularly.
You need to know what your loved one's blood pressure is to monitor and determine whether changes are having a positive effect. You can get a home blood pressure monitor, and you or their carer may choose to take readings weekly or even daily. Record measurements in a notebook, along with the date, to make it easy to keep track.
Ensure medication is taken properly
With 24-hour care at home, a carer can ensure that your loved one takes their prescribed medication regularly and accurately, as instructed. Not only can the carer make sure pills are taken on time, and a dose is never missed, but also that your loved one doesn't attempt to adjust their dosage without consulting a doctor first.
Carers can help to make sure that your loved one gets repeat prescriptions in plenty of time and ensure their doctor is made aware of any issues.
Keep a healthy weight
Maintaining a healthy weight can significantly reduce blood pressure, and this could then potentially lead to a reduction in medication levels.
Eat healthily
Heart-healthy foods can help reduce blood pressure. Reducing the amounts of fat your loved one eats can be helpful, as can an increase in their intake of whole grains, fruits and vegetables.
Consume less salt
Lower consumption levels of sodium can assist in the control of high blood pressure. Health professionals recommend that your loved one does not have more than 1500mg of sodium each day.
Regular exercise
If your loved one can manage some moderate exercise, this can help reduce blood pressure. The ideal amount of activity is at least two-and-a-half hours of moderate exercise each week.
Exercise doesn't have to mean anything too straining. Walking is a great activity and can be enjoyed inside or outside. Other forms of exercise might be activities like shopping, as this can be an exercise-boosting walk.
Give up smoking
Nicotine temporarily increases the heart rate, which then raises blood pressure. It also causes the arteries to tighten and so it is crucial to encourage loved ones to give up and help them access the support they need to stop.
Drink less
It's important your loved one cuts down on alcohol consumption as alcohol can raise blood pressure and have serious long-term effects. The recommended amount is approximately one unit per day for females or two units for men.
Manage stress
Keeping stress levels low can help maintain a healthy blood pressure level. Relaxation techniques can help with this or even a hobby such as painting or completing puzzles.
Finding the right management strategy for your relative or loved ones condition is key to their long term health and overall wellbeing. If the above suggestions are not well suited, your loved one might like to speak with their doctor about their medication options.
Call us for expert live-in care advice
Learn more about complex care
Take a look at more Elder guides on how to support those living with complex conditions below.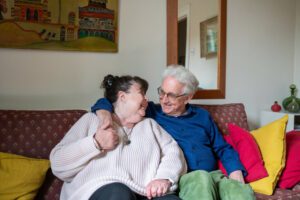 Stroke Care: How do I Care for a Loved One After a Stroke? It can be hard to watch a loved one experience the