Preparing for care
Everything you need to know to get the care that's most suited to your needs.
Or call us, we are here to help:
It's the showdown we've all been waiting for.
In the red corner, it's the heavyweight of the elderly care scene, with years of bouts to its name and a long-standing reputation as the only major contender for care in later life: it's the residential care home.
And in the blue corner, introducing the young upstart vying to upset that very reputation – new to the ring and yet to build up the same profile as its rival, but surging in popularity among those who won't count out staying at home: it's live-in care.
On the face of it, there's not much to separate the two challengers: after all, they both guarantee specialist, round-the-clock care with professional caregivers. But each of them has its own unique strengths and weaknesses, and our guide is the perfect place to get some top-class commentary on how the two match up.
We'll give you a rundown of what care homes and live-in care are and how they differ. Plus, we'll take a closer look at how arranging care works in both cases, and how this may affect your decision of – last one, promise – whose corner you fight in.
01: The basics of care homes and live-in care
There are some pretty clear differences between live-in care and care homes, but they offer the same fundamental proposition: long-term, round-the-clock care with expert professionals. That's what makes deciding between the two of them so tricky.
First things first, let's explore what we mean by both types of care, to make sure we're on the same page. Then, in the second chapter, we'll take a closer look at how they differ and what this might mean for you.
"The most striking finding is the importance of maintaining meaningful engagement with the world around you in later life – whether this is through social, creative or physical activity. Taken together, these forms of participation contribute in excess of 20 percent of wellbeing."

Age UK Index of Wellbeing in Later Life
Living in a care home
Care homes are specialist residences providing round-the-clock care and support for the elderly.
They offer a secure place for a relative to stay, with someone on hand night and day to respond to emergencies. Many provide additional medical attention, though they may not always be equipped to cater for particular needs. Likewise, facilities and amenities – single rooms, gardens, visiting schedules, special events and so on – vary from home to home.
Those living in care homes have their own bedrooms and bathrooms, but share all communal areas – lounges, dining rooms, gardens and so on – with the other residents. Staff provide meals, housekeeping services and assistance with everyday needs – dressing, mobility, personal hygiene and so on. But since the number of staff varies from residence to residence, so does the amount of one-on-one care your loved one receives.
Advantages of care homes
• 24/7 staff
• A secure and monitored environment
• Prepared meals
• Opportunities to socialise
• Supervision of healthcare and medication
• No household bills or maintenance costs
• Housekeeping services
Disadvantages of care homes
• Requires moving into a new home
• Difficult to reverse if the care recipient's wellbeing improves
• Restrictions on independence
• Greater focus on practical over emotional needs
• Negative perceptions
Live-in care
With live-in care, a caregiver moves into the care recipient's home to provide round-the-clock, one-on-one support.
This means there's always someone on hand even when you're unable to visit personally, and your loved one never has to leave the environment they're comfortable in. All they need is a spare room the caregiver can call their own. Keep in mind that as your loved one's condition deteriorates, you may need to make modifications to the house – handrails, ramps and so on – to ensure this continued independence.
Caregivers are qualified professionals with the training required to support low to mid-level needs. They're often experienced in physical and emotional support, and can help prepare meals and keep the house tidy. They can also play a key role in supervising medical plans, though they're unlikely to carry out any complex treatments themselves.
Advantages of live-in care
• 24/7 support and assistance
• No need to move home
• Continued independence
• Constant companionship
• Enables families or couples to stay together
• Housekeeping services
Disadvantages of live-in care
• Suitable only for low to mid-level needs
• The care recipient's home may need modifications
• Requires a spare room
02: Choosing between care homes and live-in care
Now we have a better understanding of these two types of care, let's take a closer look at why you might pick one over the other.
The choice you make will depend on your unique circumstances – that's why there are no strict rules when it comes to how you pick the right care for your loved one. But there are a few general principles you may want to keep in mind.
The quality of care
Unlike options such as live-in care or assisted living, whereby an older person moves into a specialist complex with help on call if required, care homes generally cater to those with needs on the more substantial side, though there's no one-size-fits-all rule for the level of care they provide.
Staff are responsible for helping with everyday tasks and mobility, as well as ensuring ongoing – and often significant – medical assistance. But given the nature of care homes, one-on-one time is limited: there are far more residents than there are staff, and care is likely to be dependent on a schedule influenced by the needs of other people.
Live-in carers are medically trained, though the depth of care they can offer is more limited than homes with in-house nurses. That means care recipients with acute medical problems – late-stage dementia, severe arthritis and so on – may require more attention than the caregiver is able to give.
But these carers have the advantage of being able to offer one-on-one support around the clock. So they can fit their schedule to around your loved one's needs, rather than the other way round, and to adapt as those needs develop.
"Many people in their sixties and seventies enjoy good health and do not need any additional support with daily living, but as we move into our ninth decade and beyond, more of us will need help."

Age UK Health and Care of Older People in England 2017
The cost of care
Expect a care home to cost you an average of £33,000 a year – or £40,000 if you require specialist care such as 24-hour nursing. This covers bills, maintenance costs, meals, housekeeping services and general day-to-day care.
Exactly how much you have to pay depends chiefly on your location: if you're living in the notoriously pricey South East of England, for example, you'll be paying £50,000 or more.
Live-in carers cost between £750 and £1400 a week. With us, you'll pay a rate of £895 – around £41,000 for the full year. But because you pay on a weekly basis, you have much more flexibility if your circumstances change. There's also no need to cover the costs of a new tenant in the house, as they'll pay for food and any additional living expenses they incur.
Since your loved one is staying in their own home, you may need to modify the property with specialist equipment like stairlifts (£800 and up) and easy-access bathing facilities (£200 and up, plus labour). You may also need to improve accessibility with ramps (£30) and handrails (£50-150).
What our customers say
"The carer you sent me is fantastic. My mum loves her. She's kind, caring and works as a team with me."
Angela, Manchester
The lifestyle
Care home staff make an effort to create as independent and inclusive a lifestyle as possible. They host events, encourage exercise and offer increased independence to low-risk residents. And for many residents, care homes can become a close-knit community where security and friendship go hand in hand.
But when they move into a care home, your loved one leaves behind the familiarity and comfort of their own four walls. They may have to move some way from their nearest and dearest, and may not be able to take all of their belongings with them (or a pet, if they have one). In short, this jump from independent to residential living can feel like a pretty significant overhaul of the way they live their lives.
With live-in care, your loved one is able to remain close to family and friends, and doesn't have to pick and choose which belongings to hold onto. In fact, there's no need to change anything about the way they live their lives, other than to make space for a new tenant.
As live-in care providers, we know how important it is to get that right, too. That's why we make the time to match care recipients with caregivers we think they'll love. This means we'll try to pair keen chefs with keen chefs, football enthusiasts with football enthusiasts and outdoorsy types with outdoorsy types.
03: Arranging live-in care
There's a big difference between the process of arranging live-in care and a care home – not least in terms of how easy it is.
Let's explore how to set up live-in care – from getting started to funding your loved one's time there – before we move onto arranging a care home in the next chapter.
"While more than three-quarters of people (77%) are happy with the idea of receiving care in their own homes, they are less accepting that they may need residential care with fewer than three in 10 (28%) saying they would be happy to go into a care home."

Just Group PLC
Getting started
When you get in touch, we'll ask a few questions about your circumstances to give us a better idea of exactly what it is your loved one needs in a carer. You'll also have an opportunity to tell us more about what your loved one enjoys doing, what they'd like to do more of, how much help they need and so on.
If you decide you'd like to give us a try, we're happy to get the ball rolling straight away. We'll take a day or so to find the perfect carer for you, and get back to you as soon as we've found them.
Meeting your carer
Your family's satisfaction is our number one priority, so we'll give you all a chance to meet the carer before they move in.
This is your opportunity to ask any questions you have. You may, for example, want to know about their:
• Previous care experiences
• Interests and hobbies
• Ability to cater for dietary requirements
It's entirely up to you if the caregiver we selected is the right person. If not, we're happy to go back to the drawing board until we find you the perfect fit.
Settling in
Once you have prepared for a live-in carer's arrival, there shouldn't be much of a transition after they move in. After all, there are no new routines and no unfamiliar environments to get used to.
It's the caregiver's responsibility to learn how your loved one likes to do things. And while it's bound to take some time to acclimatise to a new person in the house, those receiving care are able to operate as they normally would – just with daily life made that little bit easier.
Paying for care
In more traditional forms of care – such as care homes – the sale of the property you're leaving plays a key role in how you fund care.
Clearly, if your loved one is staying in their own home, this isn't on the agenda. But there are alternatives to selling up, as well as government initiatives which may help to lighten the load. Let's explore the ways of funding care now.
Lifetime mortgages
A lifetime mortgage is a tax-free loan secured against a borrower's home, which doesn't need to be repaid until they sell the property, move out or pass away.
The borrower is able to stay in their home indefinitely, and receives either a one-off payment or a regular income. They then pay off the mortgage at the end of the term, along with any interest they've accrued. The amount of equity they release from their home will vary according to their age, the value of the property and the outstanding mortgage, among other factors.
If you opt for live-in care with us, we can help get you set up with leading lifetime mortgage provider Key Retirement. You can get in touch with one of our care advisors if you'd like a bit more information.
Home reversion
Home reversion is the process of selling all or part of your property to a provider in exchange for a tax-free payment. This is usually between 20% and 60% of the property's market value, depending on the age and state of health of the homeowner.
This former owner is still allowed to live in their home rent free, and has the right to do so until they pass away or decide to sell up. Only then will the reversion provider receive its share of the property's value.
Anyone over the age of 65 can release equity through home reversion, though it's worth getting professional advice before you make any of these sorts of decisions.
Local authority funding and direct payments
To find out if you're eligible for funding from your local authority, you need to arrange a free care assessment.
This is where your loved one chats to a nurse or occupational therapist about their healthcare needs (or you can do it on their behalf if needs be). The assessment itself shouldn't take long, and you can do it in person or over the phone.
This assessor then comes back to you at a later date to tell you how much they'll contribute to a care plan, and advise on what that plan should consist of. Keep in mind that your loved one won't be eligible if they have assets in excess of £23,500.
Alternatively, the assessor may agree to contribute to your care and leave it up to you how you use it. These contributions are called '__direct payments__'.
NHS continuing funding
Through NHS continuing funding, care that takes place outside of the hospital is arranged and covered in full by the NHS.
To find out if your loved one is eligible, a GP or dedicated social services professional needs to refer them personally. A multidisciplinary panel of assessors then assesses whether their behavioural, cognitive and physical needs are significant enough to justify extra support.
If they agree to funding, they then arrange a care and support plan to meet your requirements. In some cases, they may decide to work with your local authority to cover the costs of care required, in what is known as a 'joint package' of care.
Benefits
There are a few types of benefit payments for the elderly, but you should contact the Department for Work and Pensions to find out exactly what your relative is eligible for.
A likely contender is Personal Independence Payment, or PIP, which is available to those under the age of 65. Weekly contributions depend on your needs, but range from £22 to £141. If you're over 65, you'll want to take a closer look at Attendance Allowance, which offers two rates of support: £55.65 and £83.10 a week.
Wading through forms and advice can be daunting at any point, let alone in the midst of a care transition. Fortunately, there are those who specialise in helping you through this period, including:
• Carers UK, which provides a handy online guide to make sense of benefits and entitlements
• AgeUK, which runs a National Advice Line that can answer any questions you have
04: Arranging a care home
Moving into a care home is a lot like moving into a new house.
You need to do your research to find the right one for you, and visit to make sure it meets all your criteria. And then, when you're ready to go, you need to keep every plate spinning as you transfer your life from one place to another.
In short, it's not exactly a walk in the park. Let's find out a little more about the process involved.
"In 2011 there were 8.2 million carers but by 2015 these numbers had risen to over nine million; these carers are helping loved ones who have increasingly complex needs."

Age UK
Getting started
The good news about finding a care home is there are plenty of options.
The bad news is, well… there are plenty of options.
This means you'll need to do some trawling to find the ones that meet your needs. A care home search engine such as carehomeadvisor.com is a good place to start: you can search by area, and see a breakdown of each home's ratings by various governing bodies.
Make a list of your preferred homes as you go, and once you're happy, do some more in-depth research to work out which of these you'd like to visit.
Visiting the home
By visiting the care home, your loved one has the opportunity to learn more about the facilities, food and staff, as well as get a better feel for whether this is the right place for them.
It's also the perfect opportunity to ask the questions that matter to you. Some of the key considerations to keep in mind might include:
• The home's transport links and accessibility
• The care needs the staff can accommodate
• If the home hosts trips and activities
• What the visiting schedule looks like
• The home's fees and contracts
There's a lot to think about, so it's worth having a few questions to hand when you go – AgeUK provides a comprehensive checklist you may find useful.
Settling in
Once you've all decided on where to stay, it's time to move in.
Staff try their best to make the transition easy. On the first day there, they might show your loved one round the residence, explain the daily schedule and introduce them to the other people in charge of their care. They want it to feel as much like home as possible, though the process is bound to take a little time.
Since care homes let you bring your own belongings, you can decorate your loved one's room however they prefer. It's worth remembering that given the limited space, it's unlikely there'll be room for everything, so you may need to be a little selective.
Paying for care
When deciding on a care home, you need to think about how to cover the costs.
Most people decide to sell the home they're leaving to fund the care home, but there are also government subsidies your loved one may be entitled to.
Local authority funding and direct payments
Just like live-in care, you should arrange a free care assessment with the relevant local authority. This helps ascertain whether you're eligible for governmental support, and, if so, how much you're entitled to.
The care recipient has to talk a professional through their healthcare needs, or you can do it on their behalf if necessary. This assessor then comes back at a later date to recommend a care plan, or to give you what's known as 'direct payments' – that is, a bit of extra cash without the stipulations of how you use it.
NHS-funded nursing care
NHS-funded nursing provides the financial means for a registered nurse to visit a care home resident on an ongoing basis. It is exclusively for those who live in care homes.
If your loved one is eligible, the NHS organises and pays for nursing on their behalf. This involves one-on-one care, as well as planning, supervising and monitoring healthcare tasks where required.
To receive nursing care, you'll need to undergo a couple of assessments. The first is with your loved one's GP or local social services, and the next is with a multidisciplinary team of healthcare professionals. They'll consider a range of needs, from cognitive to physical, and come to a decision on whether you're eligible for funding. If you are, you may receive as much as £155.05 a week.
Benefits
If you're under the age of 65 and suffer from a long-term health condition, you may be in the running for Personal Independence Payment, or PIP. Exactly how much you receive will depend on your specific needs.
If you're over 65, you should look into applying for Attendance Allowance, which offers two rates of support: £55.65 and £83.10 a week.
05: Dementia: care homes vs live-in care
Traditionally, care homes have been seen as the go-to for those diagnosed with dementia.
But the times, as Bob once told us, they are a-changin'. Now those with dementia needn't move from the comfort and familiarity of their home, thanks to live-in care. They can continue to maintain their independence with the support of an in-house caregiver, giving you peace of mind that they're safe, secure and well looked-after.
As with every choice you'll make about care, there's no right or wrong answer. But you do have more choice than you might have realised when it comes to dementia care. With greater awareness around the issues of dementia over the past few years, our understanding of what appropriate and beneficial care can and should look like is changing.
Living with Live-in Care: Dulcie's Story
In this short video, 100-year old Dulcie, her family and her carer talk about what it's like to receive live-in care and how it has enhanced their lives.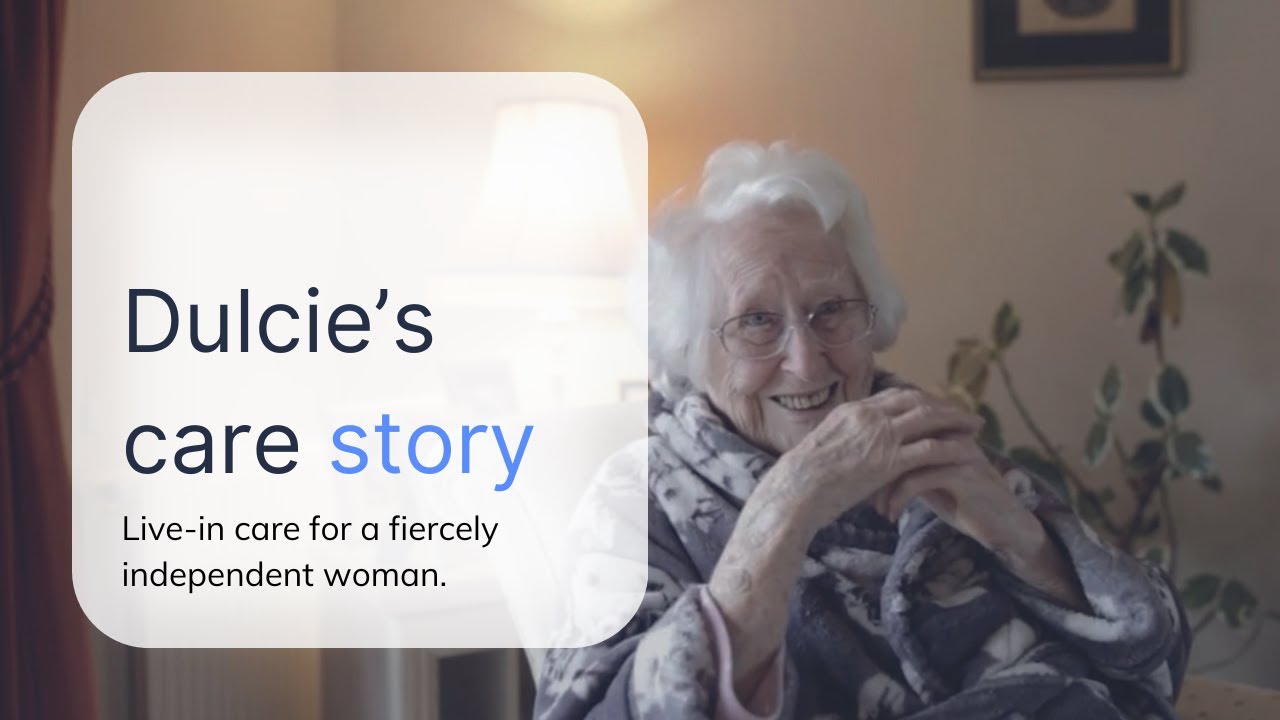 Dementia and care homes
In a care home, those with dementia have trained staff on hand to look after them around the clock.
The care home experience for someone with the early stages of dementia is, essentially, much the same as the care home experience for someone without. The staff ensure, as normal, that the residents' personal needs are met, but are generally unable to devote much one-on-one time to boosting cognitive activity.
In short, care homes provide the essentials, but they may not be able to offer the personalised care that can work to slow the onset of the condition.
Live-in care and dementia
Live-in dementia nurses are well equipped to care for a person with early to mid-stage dementia (the later stages may require a specialist nursing home). This means your loved one receives round-the-clock attention just like in a care home, as well as the companionship and stimulation they need to keep their mind active.
They can stay in touch with the people, objects and surroundings that matter most to them, and you'll be able to sleep easy knowing that they have ongoing support in an environment where they feel relaxed and comfortable.
• 850,000 people with dementia in the UK
• 808,000 are 65 or over
• By 2025, that number is expected to rise to 1.14 million.
• 62% of these cases are Alzheimer's disease
• 27% of these cases are vascular dementia
06: Talking about your care options
You, your family, the person in need of care: when its comes to discussing your care options, everyone needs to agree on the best way forward. Trouble is, that's a lot easier said than done.
For one, it can be difficult for your loved one to accept that it's time for things to change. For another, your view of what's in their best interests may not be the same as everyone else's. That's why it's important to give some thought to how best to tackle the problem – and how to resolve it.
"Our research found that more than half (53%) of people aged 45-54 say they have not given long-term care any thought."

Just Group PLC
Getting on the same page
If you need to have a conversation with a loved one, it's worth first making sure you come to some agreement with other family, friends or healthcare professionals involved in the decision. These may be the people who have some say, or simply those your loved one is likely to listen to.
It may be that you disagree with the best course of action – one of you may prefer live-in care, for example, and another care homes. Or you may agree on a preferred route, but favour different funding options. The important thing is to get up to speed with the pros and cons, and lay them out in a rational way.
This means taking the time to ask the key questions as they relate to your loved one: whether this plan has enough flexibility, if it meets your medical needs and so on. There's no easy solution to this conversation, but as long as your loved one's best interests are at its centre, there's no reason you can't come to an agreement you're all happy with.
Starting a conversation
It's important you start the conversation with the person in need of care on the best foot, and choosing the right time and place are key to that. You'll want to approach the topic when they're receptive, attentive and at ease. And you'll want to choose somewhere quiet, private and comfortable to make sure there are no interruptions after you get started.
You may want to have information to hand so you can talk them through the research you've put in. Try to make it clear that you've just taken the opportunity to learn more about the housing options open to you, but that the final decision won't be made without them. After all, it's for everyone to decide, as a unit, what the best resolution is.
Communicating effectively
To get the most out of your conversation, you need to frame it in a positive way.
This means talking about support as something to enable and enhance your loved one's life, rather than as proof of the things they can't do any more. And it means focusing on the future, as opposed to the problems as they've presented themselves in the past.
More importantly, your conversation needs to be exactly that: a conversation. Listen to everything your relative has to say, encourage them to let you know how they're feeling and take notes of their concerns and questions. Give them a chance to have their own say as to what's next, and if their preference differs from yours, use it to inform your perspective going forward.
Dealing with difficult conversations
For all your good intentions, a conversation about care brings with it the prospect of diminished independence. That's why it can often be a conversation your elderly friend or relative doesn't want to have.
They may refuse to talk about the situation altogether, or refuse to accept that their health is deteriorating. And because of this, they may insist they're perfectly capable of coping on their own.
There's no one-size-fits-all solution to a response like this, other than to be empathetic to how they're feeling. But if they push back initially, you can try:
• Asking someone they trust to try talking to them
• Visiting a GP together for a professional opinion
• Arranging a care needs assessment for an independent assessment of their needs
As the UK's leading live-in care provider, we bring expert care into your own home.
If you think live-in care might be right for your family – or if you just have a few more questions – the first step is to give us a ring on 0330 134 6372.
We'll talk to you in more detail about what it is we do and how to get started with us. We'll also find out about the person in need of care: what they like, what they're less keen on and, above all, what they're looking for in a carer.
This is really important to us, as it makes sure we can handpick someone we think is perfect for them. And since we only ever hire the top 10% of carers who come to work for us, you know that you can trust them to treat your loved one like their own family. We'll even introduce you to our choice before they move in, and hold fire till you've given them the thumbs up.
If you're happy, your own personal account manager will get you set up with a care plan. Remember, we're right by your side on every step of your care journey, and they'll be your first port of call whenever you have questions.