Most of us want to continue independent living, in our own homes for as long as possible, and it can be difficult to let people in to help you when your needs change.
It's completely normal for elderly people to feel uneasy about the prospect of care – you may feel guilty if you need extra help from a family member, or worry that it'll negatively change your relationship.
If you're looking into professional care, you may be worried about allowing a stranger into your life so intimately – especially if you need help with personal care – like getting washed and dressed. You may also wonder what'll happen if you don't get on with your carer, or if they try and impose changes you're not happy with.
Unfortunately, there are still a lot of misconceptions about the reality of live-in care, so let's dispel some of the most common myths, and look at some real customer experiences now.  
"Live-in care is too expensive compared to a care home."
Care at home can provide better value through dedicated, one-to-one care. 
With Elder, you'll have the full-time support of a single carer of your choice, rather than a staff of carers. There's no set guidelines on the ratio of carers to residents in UK care homes, so one member of staff can often be caring for multiple residents at once.
A significant proportion of care home fees go towards accommodation, housekeeping and catering, and may include services that aren't relevant to your needs, such as hairdressing or group activities. This means less is dedicated to the care itself. With live-in care your carer will work one-to-one with you full-time. They'll also adapt to your individual needs and your routine, ensuring you only pay for the care you're receiving.
You'll always get the final say on who your carer is. We want you to feel confident in your decision, so while we match you to carers that suit your needs and lifestyle, you'll have plenty of time to get to know more about them from their detailed carer profile and introductory video.
"A professional carer will move in and change too many things."
Care at home allows you to maintain your own lifestyle, in your own home. It should improve your quality of life – not take away from it. It's why with Elder the carers we work with can support with a wide range of personal and domestic tasks, and you'll be able to outline exactly which everyday tasks you want help with, and which you don't in your personalised care appraisal. 
We understand that for most of us, home is where we feel most comfortable, and is part of who we are. Live-in care through Elder means there's no need to adjust to a new routine or downsize – which often means losing possessions, and unfortunately, sometimes pets too.
It also allows people to see friends and family whenever they want, and come and go as they please. The Live-in Care Hub – an impartial resource for home care information surveyed a range of UK care homes and found that in a quarter of residential care homes residents couldn't get out and about in the grounds for a walk. 
Maintaining normality is something everyone should have the freedom to do in later life – little things, like being able to enjoy a favourite meal, or tend to the garden can mean a lot. We know staying in familiar surroundings and keeping up a regular routine is particularly important for those receiving dementia care, as it can help to combat confusion. 
Elder is an introductory care agency. This means we don't dictate how you're cared for either. You and your carer will be able to work together to protect the things that are important in your day to day life, and ensure you're supported in a way that feels as comfortable as possible.
"But I'm not ready for full-time live-in care yet" 
At Elder, we'll always aim to work with you, not against you. We'll take your lead, and move at a pace you or your loved one are comfortable with.
We're always here to listen to you or your loved one's concerns and offer as much support and information as we can to help you feel more comfortable with the prospect of care. We have our own clinical team of social work professionals and registered nurses who help you understand if live-in care is right for you.
We're also an affiliate member of SOLLA – The Society of Later Life Advisors. SOLLA can help you find trusted accredited financial advisers so that you can confidently make the right financial choices for your future care needs. 
If you're still weighing up your care options, It can sometimes help to try live in care first, without committing to anything long-term. If you're looking for long-term care, we can offer you a trial week to get a feel for what life is like with a live-in carer. You can cancel anytime during this week if it doesn't feel right for you, and only pay for the days of care you've received.
Even the odd week of respite care could make a big difference to you and your family – particularly if a family member is currently the primary caregiver. According to Carers UK, 63% of family carers are worried about continuing to care without a break, and 74% feel exhausted as a result of looking after someone they love. Having a professional carer step in for a few days or weeks creates time to rest and recharge, and may help strengthen the relationship with the person needing care too – giving everyone space to talk to different people and try new experiences.
"Isn't accepting help is a sign of decline?"
It's natural to worry that using a live-in care service and inviting a carer into the home will mean losing independence. However, people of all ages employ cleaners, gardeners and pet-sitters, and use meal services to help them manage daily tasks in their own homes.
Using outside help is often just a sign that you want to spend your time doing things you enjoy, while the things you find difficult or time consuming are taken care of.
What if I don't get on with the carer I'm matched with?
We believe elderly companionship care is just as important as caring for a person's physical health and wellbeing. It's why with Elder you'll be carefully matched with carers who fit your lifestyle and interests, as well as your care needs. For example, if you need someone that can walk your dog, or cook for specific dietary requirements – we'll work hard to find a carer with the right skills, and make a match you can feel good about.
You'll always be involved in the carer selection process – having the final say on who your carer is. We want you to feel as comfortable as possible with your carer, so can arrange a phone or video call between you, your family and a carer you're interested in, so that you can ask them questions and get to know them better.
Can I trust a self-employed carer?
Your peace of mind is incredibly important, so we go to great lengths to ensure the self-employed carers on our platform are people you can trust and get on with. 
We have a robust process in place to ensure every carer we work with meets the standards you expect and has experience providing a high quality of care. 
While we receive a huge number of carer applications, less than 10% of carers are successful in joining the Elder platform.
All carer's undergo the background checks and assessments you'd expect from a leading care provider. Carers must have an enhanced DBS/PVG check, to ensure they have a clean criminal record and are someone you can trust. They must also complete a situation and judgement assessment to ensure they can make the right decisions at the critical moments, and complete a character assessment to check they're a friendly face as well as a safe pair of hands. 
All carers are required to provide verifiable professional references, including contact information for their referee. You can also find out more about their caring history by reading feedback from other Elder customers on each carer's profile.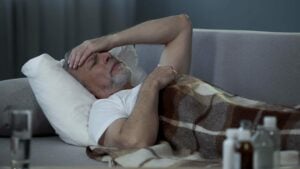 Caring for sleep problems in elderly Changes in sleeping patterns are frequent in older people, and you may notice that it progressively gets worse over
Read More »