You've reached us outside of our opening hours. Create your account to get access to My Elder, our online portal for arranging care and accessing information to support your journey to care.
What Is 24-hour Live-in Home Care?
24-hour live in care at home is when a professional carer moves into your loved one's home with them and provides support to enable them to remain living independently, whatever their physical condition.
If you need the peace of mind that comes with knowing there is someone available to call on if your parent needs help at any time, 24-hour care is an ideal solution.
There are many benefits of 24-hour care at home, and it can be a much better option when compared with the upset that a move into a care home can cause.
Familiar environment
When asked, the majority of older people will say that they would rather be able to stay in their own home than have to move to a strange place to get the care they need.
A live-in carer enables your loved one to remain in the home they love, surrounded by their possessions and memories. It also means that they can stay in their neighbourhood, with friends and neighbours close by.
If you are unable to visit your elderly parent as frequently as you would like, knowing they are in the place that they are most content is reassuring.
A move to a care home can be very distressing, particularly for people who need dementia care, and can cause them to become more confused and anxious. Staying in their own home, with the care they need, is a much better option.
What will the carer do?
Everyone has different requirements, so a care plan will be created with details of all the physical and emotional support your loved one needs. In addition to helping with personal care tasks such as washing, dressing and toileting, a 24-hour carer will also provide companion care.
The carer will be chosen to ensure that their personality, background and interests fit in with your parent's likes and dislikes. If they would like support to continue a hobby such as gardening, or to attend a regular club, the carer can support the older person to do this.
They will also help with general household tasks such as laundry and shopping, as well as preparing tasty and nutritious meals for your loved one. The level of in home elderly care, support and companionship that your relative needs will be provided, and as their condition and needs change, the carer will adapt to meet their new needs.
Maintaining your loved one's chosen lifestyle
The benefit of 24-hour care in your loved one's home means that they can continue to make their own choices. All aspects of their daily life, including what time to get up and go to bed, where to eat their meals, and how to pass the time, can be flexible and arranged according to their wishes. If your loved were to go into a care home, they would have to fit in with other residents and comply with unfamiliar and imposed routines.
Another advantage of assistance at home, compared to care in a residential facility, is that your elderly parent can keep the things they love around them. This may simply be their garden, or items that they have collected over the years.
A live-in carer will also help your loved one to care for any pet. Most care homes cannot accept animals, so parting with their much-loved pet can be distressing and upsetting for an elderly animal owner.
---
Dulcie's care story
Dulcie is one of our longest serving customers. In this video, she and her family talk through their decision to arrange care in the home rather than the care home.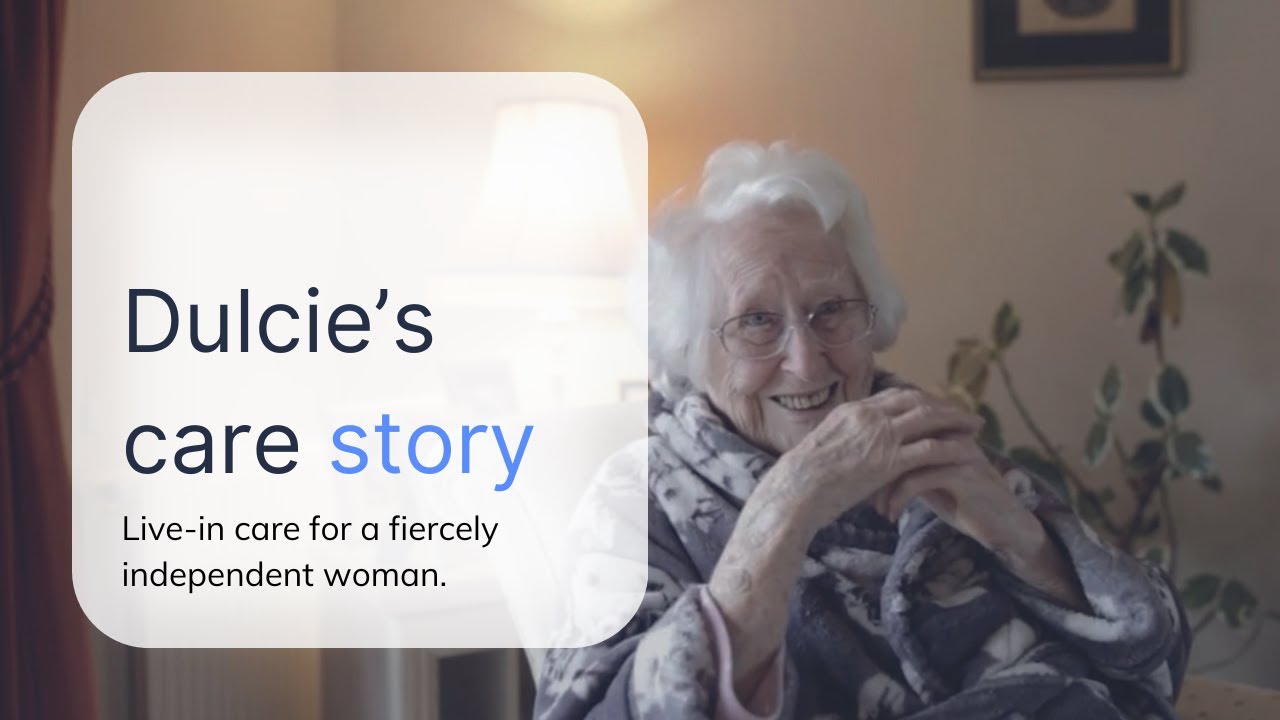 ---
Costs of 24-hour live-in home care
In comparison to care homes, live-in care is surprisingly affordable and can often work out up to 30% cheaper. As well as receiving one-to-one care, your loved one will benefit from the consistency of having a familiar carer around to help with their daily needs.
For elderly couples, live-in care is much less expensive than two places in a care home and it enables them to stay together, even if their needs are different.
Reassurance
If your loved one is at risk of falls or injuring themselves due to difficulties in recognising dangers in their environment, you may feel that the only course of action is to put them into a care home.
However, with 24-hour care at home, you will be assured that they are in the best place and that they have someone on hand at all time to help. This can improve their quality of life and improve your peace of mind.
The carer will contact you if there are any changes in your parent's condition, or if you need to know anything about their wellbeing. You can also keep in touch with your loved one's carer and ask them any questions you may have.
The carer will support your loved one to maintain relationships with friends and family through whichever medium is appropriate, whether that be by letter, phone, email or Skype. Even if you don't live close to your loved one, you will still be able to check that they are doing well.
Call us for expert live-in care advice
Live-in, 24-hour care at home is when a professional carer moves into your loved one's home with them and provides support to enable them to remain living independently, whatever their physical condition.
Related Questions
Dementia Live-in Care: How to Choose a Provider
There are many things to consider when deciding on a live-in care provider for your loved one. The right support can help those with dementia to continue to live their lives as independently as possible. There are various details that you will want to check before selecting a provider so that you can find the best possible option for your family member.
Dementia Live-in Care: What Is It?
Alzheimer's disease and other types of dementia bring challenges both to the person with the condition and to the people who are close to them. Every individual with dementia has different needs, wishes and experiences, which is why a person-centred approach to care is so important. To provide the best care for elderly people living with dementia, the caregiver has to understand the person, be aware of their history, their likes and dislikes and what is most important to them.
24-hour Live-in Care: Is It a Good Idea?
Many older people have lived in their family home for years – it is their base, the place they feel safe and secure. There is a great deal to be said for them being able to stay in a long-standing home, full of familiar things that represent their life history.
How Does 24-hour Care Work?
We are fortunate to have a variety of care options available for us to provide better care for our loved ones, depending on their circumstances. Each variant offers a level of care particular to a specific need, such as care at home, elderly care, dementia care and companion care.
Dementia Live-in Care: How Do I Pay for It?
If your loved one is living with dementia, it can be difficult to work out how to pay for the care they need. Enabling them to remain in their own home with 24/7 support from a live-in carer is the ideal situation and there are various ways this can be arranged.