Why choose live-in care?
As much as we would all love to be able to lead completely independent lives as we grow older, it is inevitable that some of us will need a degree of help with day-to-day life as the ageing process takes hold. If you have elderly parents or relatives, then you will understand their desire to remain in their own surroundings, even if they find it more challenging to cope with the practicalities of increasing old age.
It used to be the case that as a person found themselves struggling to cope with daily life in their home, they would automatically move into residential care. Nowadays, although care homes are still an option, increasing numbers of elderly people are opting instead to employ a dedicated live-in caregiver, providing help and assistance wherever it is required.
The beauty of live-in care within the home is the lack of disruption to your loved one's daily living and routine. Remaining in a much-loved environment, with familiar objects and possessions around them means that the person does not have the upheaval associated with moving into institutional care. Friends and neighbours are still close at hand, and there is no need to part with dearly-loved pets.
How does 24 hour live-in care work?
Live-in care means an experienced and trusted care giver will move into the home of the person needing care. They'll be with them 24 hours a day – seeing to their care and lifestyle needs, and supporting with household tasks during the day time, and sleeping when they sleep during the night. Many live-in carers offer occasional assistance during the night time too. This usually happens if the person they're caring for becomes unwell and needs a short period of support, if they need to get up to use the toilet, or if they wake up unexpectedly or in confusion and need reassurance to get back to sleep. Some carers may include an additional charge per each instance they are woken up to provide care during the night. Others, may offer one or two nightly wake-ups as part of their standard weekly rate.
If your loved one experiences regular night time disturbances, is prone to wandering during the night, or requires hourly checks due to complex conditions, you'll likely need to arrange a more dedicated 24-hour home care package. This will usually involve two carers – one live-in carer, and one night-time carer to come and work the night shift, while the live-in carer sleeps. This will ensure your loved one has the specialist support they need, while giving your live-in carer the opportunity to get adequate rest.
How can I arrange live-in care?
Although it's possible to source your own caregiver to come and live in your loved one's home, it can be complicated to organise.
You need to conduct interviews, check references, arrange a DBS criminal check and arrange the carer's salary, including agreeing an hourly rate, and manage their tax and National Insurance contributions as your carer's employer. You must also offer the carer a pension, and may need to take out employer's insurance too. It is far easier to let a dedicated care at-home company, such as Elder, take charge of these details, leaving your loved one free to enjoy having their own caregiver for round the clock care.
An introductory agency like Elder takes charge of all the administration and conducts all the necessary background checks to ensure that the carer is legally and morally up to the task of caring for your loved one. Moreover, Elder ensures that the caregiver is well-matched to the care recipient, so if your loved one enjoys sporting events, then a carer will be arranged who shares that passion. Making sure that interests, hobbies, pastimes and even beliefs are aligned ensures that the carer fits seamlessly into the household, becoming an additional family member without any awkwardness.
Many Elder care recipients choose to have a live-in carer throughout the year, providing help and support wherever it is needed, but there are options for respite care too, if you usually act as a carer to your elderly loved one. Perhaps you are in need of a holiday but are reluctant to 'rock the boat' and disrupt your loved one's routine.
Or maybe your elderly parent can usually manage quite well in their own home but needs some extra help following an illness. Elder can arrange one-off care packages or long-term options according to your loved one's exact needs.
Dulcie's story
In this short video, Dulcie and her family explain her reasons for choosing Elder live-in care.
They discuss how live-in care has allowed her to stay independent in her own home while making a new friend at the same time.
What does the carer do?
A live-in carer provides care at home for complete peace of mind.
Duties range from companion care, where the carer is on hand to accompany your loved one on outings and is a constant presence throughout the day and overnight, through to more complex care.
All elderly types of care can be catered for. Carers can assist with daily activities, such as housework, personal care, shopping and meal preparation, and pet care. They can also deal with the demands of dementia care and other medical conditions, where special skills are needed to cope with sometimes challenging behaviour.
For peace of mind, live-in care offers clear advantages over care homes, as the caregiver offers dedicated attention day and night to your loved one. Knowing that there is someone nearby to deal with any emergency can be reassuring for many families, especially where their loved one suffers from dementia and may be prone to wandering off and becoming lost and disorientated.
How much does 24 hour live-in care cost?
There are many factors that can influence the cost of 24 hour home care, such as the level of care and type of care – and whether two carers are needed to protect the safety of everyone involved. A dedicated overnight carer may cost anywhere from £17 per hour, to £35+ per hour, depending on needs. 
If you plan on hiring a live-in carer yourself, private carers often set their own rate. The cost of using a care agency can vary dramatically too, as each agency will likely have their own fees and differing packages of care to choose from. Most live-in. care packages for one person average between £1000 to £2000+ per week. 
With Elder the usual cost of care for one person is around £1195. This price should only be used as a guide, as rates are personalised to individual care needs. We also tailor quotes for care for couples – aloowing them to stay together at home even if they have different levels of needs. We recommend giving our care advisors a call for a personalised quote.  (added this back in as on reading the content it does make sense to have a price in here)
Unlike residential care, the caregiver can provide dedicated hours of care to your loved one, rather than having to move between residents. If both your parents require live-in assistance the financial savings become even more significant, as there is only one carer to pay for as opposed to the average cost of two beds in a residential home.
Can I get financial support towards the cost of live-in care?
Your local authority has a duty of care to those who have been officially assessed as having care needs, including for funding care.
There are many benefits you can claim to maximise income and help you afford the care you need and want. Key benefits include Attendance Allowance, Pension Credit, Carer's Allowance, Personal Independence Payment and council tax rate relief.
You can also request direct payments from your local authority, if you have had a care needs assessment, to spend yourself in line with your care needs and plan. The amount you receive will depend on your personal budget. Three points define a personal budget; The overall cost the local authority legally has to pay based on your needs, the amount you should pay, and the net amount the local authority must pay to meet your needs.
It's also worth checking your eligibility for NHS funding. This is a funding stream that covers all your care costs. It's paid for by your local NHS and is available for those who need support with long-term health needs.
NHS funding is the most difficult type of funding to get. However, should you qualify, you're able to get your full care costs covered – so it's worth starting with.
To do this, speak with your GP – asking for an NHS Continuing Healthcare Checklist. This is a quick screening test to see whether you're suitable for a full assessment. With a personal health budget, you're able to decide how your money is spent.
Quality care, with no unexpected extras
Our pricing is tailored to the care needs of the individual – so to receive your personalised quote, give our friendly team a call. With every quote we promise: 
No joining fee
No surcharges on Bank Holidays or weekends 
A one week trial period, to see if care works for you and your family
No additional fees if you need to request a new carer 
No lengthy contract or exit fee – all we require is a two weeks notice
Learn more about paying for care
We know your money matters. Take a look at more Elder guides on care costs and funding below.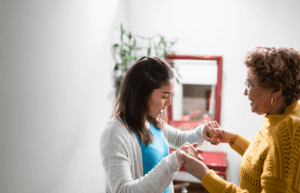 As there are so many different types of home carers, it's hard to provide a one-size-fits-all answer. Several factors will affect the right salary