You've reached us outside of our opening hours. Create your account to get access to My Elder, our online portal for arranging care and accessing information to support your journey to care.
24-hour Live-in Care: Is It a Good Idea?
Home is where the heart is
Many older people have lived in their family home for years – it is their base and the place they feel safe and secure. There is a great deal to be said for them being able to stay in a long-standing home, which is full of familiar things that represent their life history.
Familiar setting
Remaining in a known environment can be particularly important for those people requiring dementia care, for whom the shock of moving into a care setting may be upsetting at this vulnerable stage in their lives.
Establishing and maintaining daily routines in a familiar place can be an essential factor in maximising a sense of stability for those living with dementia or Alzheimer's disease.
Sense of community
Remaining at home, with at-home care, means that care recipients retain a sense of community and can continue to participate in community activities, with help if necessary. A live-in carer can support older people as they continue to live their day-to-day lives.
One-on-one care can help with things like pursuing a favourite hobby, enjoying a meal out, going to church, or something as simple as popping to the shops. However, home care is much more than a practical option and a dedicated carer will often be able to boost the confidence of their care recipient, enabling them to resume activities they may have let slip, and even perhaps trying new ones.
Bespoke care
Carers are carefully matched to each person's particular needs and can respect their routines and wishes, often becoming a functional part of the household. As long as it is appropriate and fits in with any medical or other needs, care recipients can carry on their normal life, fully supported in any way by their carer.
Being able to stay in their own home, surrounded by their things, gives a real sense of purpose to many older people, and 24/7 at-home care allows them to retain a sense of independence and decision making, while receiving targeted support.
Animal friends
Without necessity to move, recipients of care-at-home can continue living in the familiar comfort of their own property, close to family, friends and local services. Many older people are pet owners and will reap wellbeing benefits from being able to stay with, and help look after their animals.
---
Dulcie's care story
Duclie is one of our longest serving customers. In this video her and her family talk through their decision to arrange care in the home rather than the care home.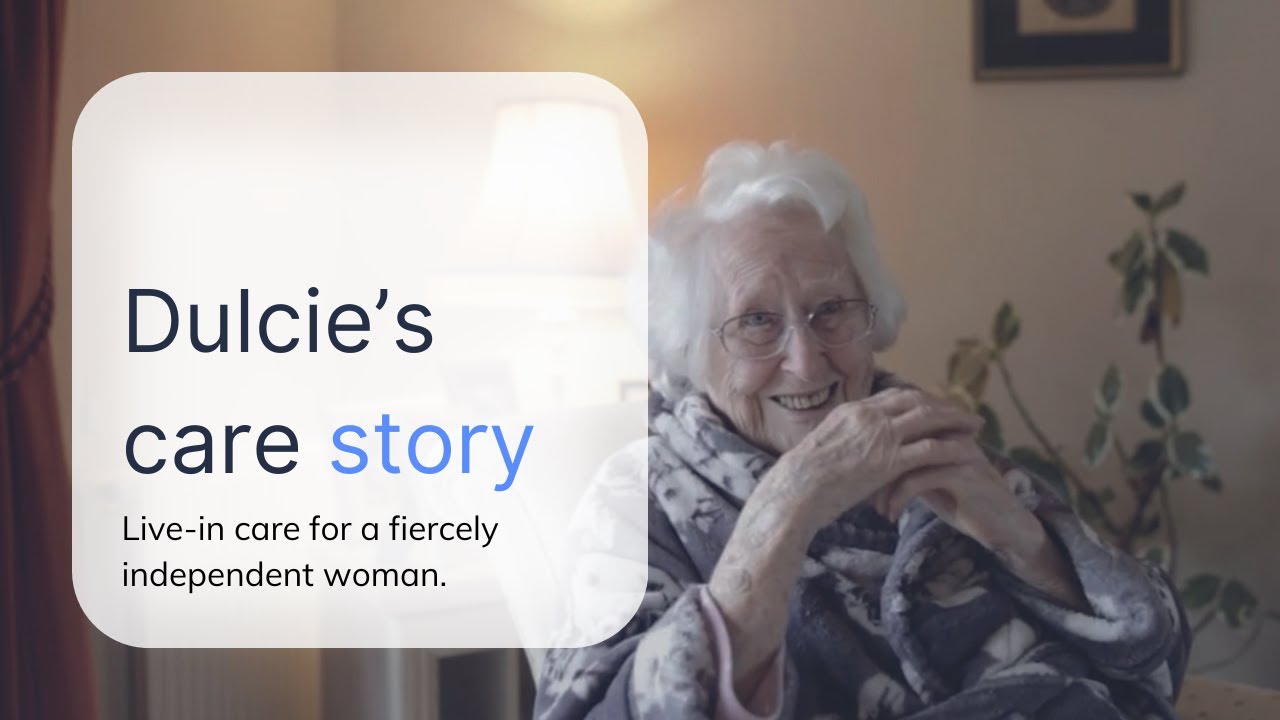 ---
Peace of mind
Another plus of live-in 24-hour care is the peace of mind such an arrangement gives to the elderly person's loved ones. Knowing that your relative is well cared for in their own home brings a great sense of security. This may be particularly true if you live far away, or even in a different country, from your relative.
Flexibility
Selecting an at-home carer is a personal process. Every care recipient is matched with a team of two carers, each of whom lives with them on a fortnightly rotational basis, for maximum stability. Factors such as hobbies, interests, outlook and day-to-day care needs are all carefully considered.
This approach means that the carer and care recipient can form a close bond, and it allows holistic and practical solutions to be part of the care package.
Such bespoke care is unique to at-home care – residential care homes are simply not set up to allow this sort of personal approach. An at-home care package is designed to be flexible, and changes can be made as and when circumstances alter.
Alternatives
There are two main alternatives to live-in care. The first is visiting care, where carers come into the care recipient's home once or twice a day.
This will often involve different carers making it unlikely that the older person will be able to build up a relationship with their carers. As an arrangement, this can be very disruptive and is unlikely to be suitable for those older people with dementia.
The other alternative is to arrange care in a residential care home setting. This can be prohibitively expensive and is often against the wishes of the elderly person, who will usually be keen to stay in their own home, surrounded by familiar possessions, if possible.
As mentioned above, moving into a care home can be an upsetting experience for many older people, as it invariably leads to a loss of autonomy and sense of self.
Live-in care is an excellent, cost-effective alternative option to care in a residential home or nursing home. It means that the older person can concentrate on physical and mental tasks that are likely to improve their quality of life, and less on more menial tasks, such as cooking or cleaning.
Using an elderly care provider such as Elder, can be seen as investing, not only in a carer, but also in a valuable companion, able to offer support, reassurance and friendship!
Call us for expert live-in care advice
Many older people have lived in their family home for years – it is their base, the place they feel safe and secure. There is a great deal to be said for them being able to stay in a long-standing home, full of familiar things that represent their life history.
Related Questions
24-hour Live-in Home Care: What's the Cost?
With an increasingly ageing population, there is a huge demand for elderly care services. More and more families are looking at alternatives to the care home model, as older people who are accustomed to living independent lives reject the idea of moving away from their much-loved homes.
How Does 24-hour Care Work?
We are fortunate to have a variety of care options available for us to provide better care for our loved ones, depending on their circumstances. Each variant offers a level of care particular to a specific need, such as care at home, elderly care, dementia care and companion care.
What Is 24-hour Live-in Home Care?
Live-in, 24-hour care at home is when a professional carer moves into your loved one's home with them and provides support to enable them to remain living independently, whatever their physical condition.
When Does Your Loved One Need 24-hour Live-in Care?
If your loved one is struggling to perform household tasks such as cleaning, shopping and cooking, or having difficulty with bathing, dressing or toileting, he or she will certainly benefit from help in the home via 24/7 live-in care.
Live-in Care: What Does a Live-in Care Provider Do?
Live-in care is, in the most basic terms, a full-time, bespoke care-at-home service that will allow your older relative to stay safely in their own home, surrounded by their treasures and familiar things.