When sight and hearing loss appear together it is known as dual sensory loss or deafblindness. This is particularly debilitating when the person affected already suffers from dementia or a physical or mental disability.
If your loved one is suffering from sensory loss but continues to live in their own home, you may be concerned for their well-being. As the senses are diminished, the risk of falls and accidents in the kitchen all increase, with large numbers of people who suffer from sensory loss finding that they scald or burn themselves whilst cooking or that they trip on furniture, rugs and other obstacles.
If your loved one is beginning to struggle with sensory loss, now might be the time to consider their elderly care options.
The effects of sensory loss
Sensory loss tends to manifest itself gradually, meaning that your loved one may not realise just how bad their hearing or vision has become. Hearing and sight loss can become an issue over time, with people slowly finding that they are less able to cope with the routine home and personal hygiene care tasks they once found easy to manage.
Vision loss can have a major impact on the quality of an elderly person's life. Not only does a reduction or complete loss of sight mean that they will struggle with day to day tasks such as cleaning, shopping and personal care, but it also places them at higher risk of a fall or some other form of accident.
It can also force them to give up pastimes and hobbies that they have previously enjoyed, such as reading, and they may become extremely socially isolated.
Hearing loss also has a profound effect on their quality of living. Hearing loss can cause sensations of vertigo and affect a person's balance, again putting them at greater risk of a falls in the home if they do not have a live-in carer in tow.
It can also mean that an elderly person will not hear early warning systems such as smoke detectors or carbon monoxide alarms, and they may also find themselves becoming withdrawn because they struggle to interact with other people.
---
Dulcie's Care Story
In this short video, Mary and Colin explain how Dulcie's live-in Elder carer, Sarah, has become part of the family.
They discuss how live-in care has allowed Dulcie to stay independent in her own home, while making a new friend at the same time.
---
What is deafblindness?
Deafblindness is the combination of sight and hearing loss, and it is thought to affect over 222,000 over-70s in the UK. That means that around one in twenty of us can expect to suffer from dual sensory loss by the time we reach 75, and the numbers are expected to rise considerably over the next few years.
Deafblindness can be a debilitating condition, not only because it can increase the risk of accidents and injuries, but because it can also leave sufferers struggling to communicate and feeling increasingly isolated and cut off from family, friends and wider society.
A diagnosis of deafblindness is particularly difficult for those in need of dementia care or care for another disability, as the condition can make day to day living a real struggle.
Sensory loss and disability
A loss of the senses can be particularly debilitating if your loved one is already suffering from a disability. If they are confined to a wheelchair or have limited mobility, they may find it even harder to get around the home and carry out the day to day tasks we take for granted. Manoeuvring a wheelchair or negotiating a safe path with a mobility aid could be made all the more difficult if they cannot see obstacles very clearly, putting them at increased risk of a fall and leaving them feeling trapped in their own home.
Elderly people who are suffering from sensory loss tend to rely more on their brains to compensate, but if your loved one's mental capacity is already being affected by dementia then they may really struggle. Those in need of dementia care can find the experience of sensory loss extremely traumatic, especially when it further hinders communication. You may find that your loved one begins to lash out and become extremely angry or distraught because they feel so vulnerable, and this can be hard to cope with.
The benefits of live-in care
People suffering from sensory loss are usually far more comfortable and happy in familiar surroundings, so the majority would benefit from home care which allows them to remain in their own home rather than face the upheaval of a move into a care or nursing home.
In their own home, they will know familiar routes around the house and where important things such as medication are stored, as well as enjoying the comfort of having all their own possessions around them.
An increasingly popular form of care, employing a companion care worker to live with your loved one can enable them to lead a more independent and active lifestyle despite sensory loss.
With live-in care, your loved one will be supported round the clock and they can help out as much or as little as required with household tasks such as cleaning and cooking, and personal care tasks including bathing, dressing and getting to the toilet.
With a care at home package from a provider such as Elder, you can be assured that your loved one is being watched over at all times and that help is on hand to prevent a fall or an accident as a result of their reduced vision or hearing.
For more information on the cost of care or the services Elder can provide, simply get in touch with us today to discuss future care options for your loved one.
Call us for expert live-in care advice
Learn more about live-in care
Take a look at more Elder guides on the benefits of live-in care.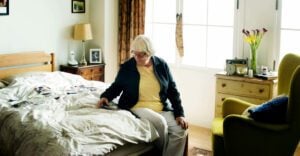 Live-in care: can it help someone overcome loneliness? Every year, the Marmalade Trust hold their annual Loneliness Awareness Week, drawing attention to the fact