You've reached us outside of our opening hours. Book a free telephone consultation and one of our care planning experts will give you a call whenever is convenient for you.
Home Care: What is Respite Care?
Who may need respite care
Respite care is important in a number of ways, both for carers and the people they care for.
Being a home carer is a role that can be physically and mentally demanding. Respite care allows a carer to recharge their batteries, safe in the knowledge that a loved one is being well cared for. It helps to prevent stress and burnout, allowing a carer to enjoy a well-earned break and return feeling refreshed and with renewed energy.
But respite care can be just as important for the care recipient, allowing them to enjoy new experiences or giving them an opportunity to test out alternative services or forms of care. Respite care in a residential home allows a loved one to develop new social bonds and prepare for full-time care if needed in the future.
Arranging respite care
If council funding is required to cover the cost of respite care, an assessment will be carried out. This will establish what level of care is needed and what type of care is best suited to meet those needs.
Even when council funding is not necessary, having a care needs assessment makes sense to find out what care will be the most suitable. Arranging care can be as quick and simple as calling Elder to discuss your requirements.
Types of respite care
There are plenty of available options when temporary care is needed. This could mean getting friends and family to help out or it could be residential care, perhaps as a trial run for moving into residential care full time.
Increasingly, it is taking the form of care at home. This could mean a live-in carer who offers support and companionship 24 hours a day, or a visiting carer who can support your loved one when needed for just a few hours a week.
Respite care can also take the form of short term nursing care in the case of illness or operation. This type of care can help support the care recipient in their own home and speed up recovery rather than requiring hospital admission.
Emergency respite care may be necessary if the regular carer becomes sick or is called away from home because of other commitments. This type of care often needs to be arranged at very short notice.
What does a respite carer do?
A respite carer will provide the same level of care and support that a loved one is used to receiving. They'll follow established routines which can be very important when caring for a loved one requiring dementia care.
Respite carers can also provide additional support including with personal care tasks. That could mean incontinence care and making sure that a loved one gets the right medication at the right time.
If a loved one is physically healthy and needs help to stay in their own home, a respite carer will provide emotional support and companionship. They can arrange trips out, take care of pets and perform domestic tasks including cleaning, washing and cooking.
---
Dulcie's story
Dulcie is one of our longest serving customers. In this short video, she talks through the reasons behind her, and her family's decision to choose full-time home care rather than the care home.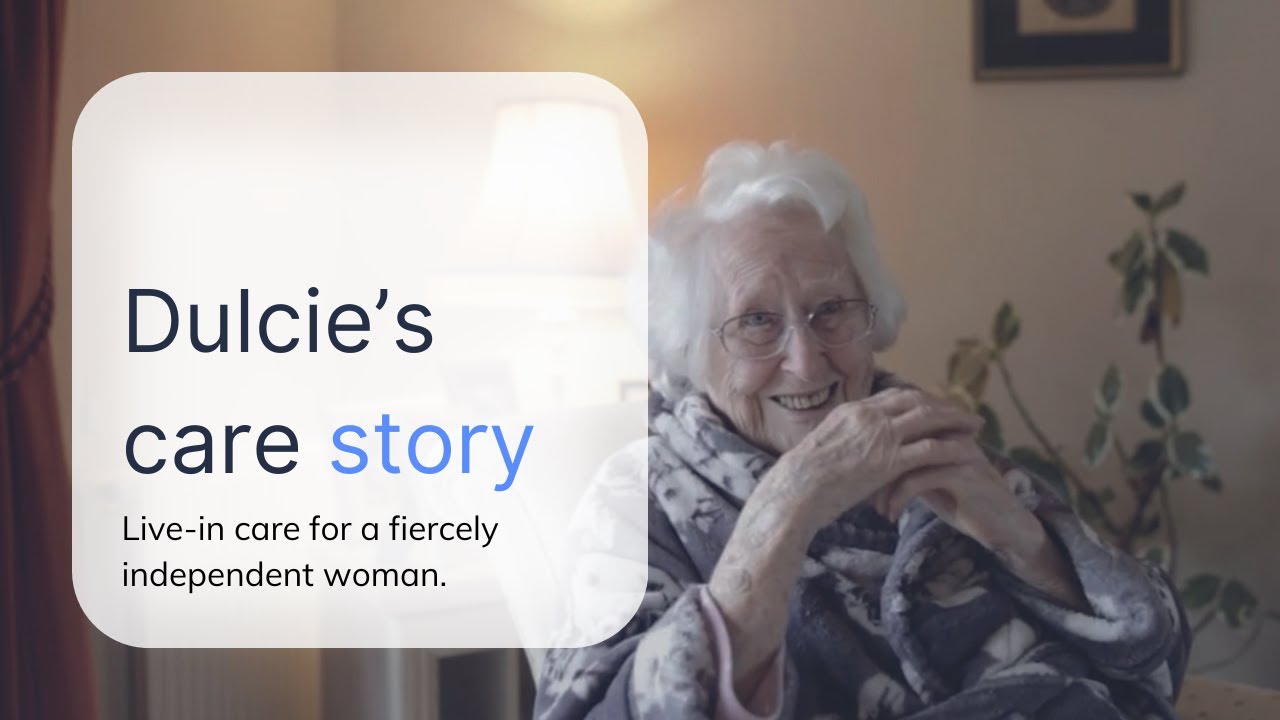 ---
What are the costs of respite care?
Costs for respite care can range from £700 to £1500 per week, depending on the type of elderly care provided. Costs can also vary depending on the length of care required. Emergency and live-in care at home will tend to carry a premium. However, a live-in carer is a more cost-effective option than respite care in a residential home.
Consider the different options carefully before making a decision. Live-in respite care is often considered to be the best option because a loved one receives the one-to-one care they're used to in the comfort of their own home.
Things to consider when arranging respite care
Live-in respite care may be the best option but it's not without its issues. For older people in small flats, there may be no spare room for a carer to stay in. For some people living with a stranger, even for a short space of time, can feel uncomfortable.
It's important that you work with a specialised introductory agency that can arrange a meeting with the respite carer in advance. They should be able to arrange a carer who has the skills and training to meet your loved one's specific needs. If the respite carer is not required to live in, they should be close at hand if an emergency occurs.
Planning ahead for respite home care
For loved ones who may need respite care in the future, it pays to plan ahead. Make sure that your loved one is consulted on every decision concerning their care.
Talk to them about the options that are available when their full-time carer needs to take a break and explain what respite care is and what it means for them. Considering their interests and specific needs, giving clear explanations and making joint decisions will mean that when the time comes for respite care, everyone is prepared.
Call us for expert live-in care advice
Respite care involves a carer taking a short break while someone else looks after a loved one. This temporary arrangement can cover all types of care at home including companion care, elderly care and dementia care. Respite care can also offer more specialised help for an older person, particularly if they're recuperating after illness or a stay in hospital or need dementia care.
Related Questions
Home care: how does it work?
Home care works in many different ways. Each person's case is different with unique preferences, physical needs and life experiences, and care at home should be as tailored as possible to the individual's requirements.
Falls at Home: Caring for Elderly Parents
When we are toddlers, we tend to fall over a lot, as we learn about balance and organising our bodies to stay upright. In middle age, we suffer few falls and those that do occur tend to be the result of tripping, slipping or suffering from an illness. As we age, we can find that we are far more likely to fall and to suffer more serious injuries when we do.
Home care: how to choose a care provider
Choosing which company to employ to provide care for yourself or a loved one is an important decision and you need to carry out some research beforehand.
Home care or nursing home: what's the difference?
Deciding whether your needs can be met by care at home or whether you need to go into a nursing home is an issue faced by many older people.
Home care: the questions you need to ask
If you are looking for in-home care for yourself or a relative, there are a number of important questions to ask potential providers of care at home before you make a decision about which one is most suitable for you or your loved one.