You've reached us outside of our opening hours. Create your account to get access to My Elder, our online portal for arranging care and accessing information to support your journey to care.
Helping the elderly get connected: technology and loneliness
We're living in a technological age, and the elderly risk being left behind. Younger generations are leading the speed of development and rush of new technology, and many older people cannot or will not keep up.
Many deem it too complicated or unnecessary – what's wrong with calling someone up on the phone? But technology can help reduce the feelings of loneliness that many elderly people experience every day.
The internet reduces depression
Michigan State University published its findings from a study involving over 3,000 retired adults in the Journal of Gerontology, showing that using the internet reduces the probability of developing depression by up to a third.
This discovery is important to America, where between 5-10 million people develop late-life depression. With a top-heavy population, which is also on the rise here in the UK, this is of significance to us too.
Getting connected
Much of the British population now uses social media to keep in touch with friends and communicate with others. In the UK alone, 38 million people use the social media website Facebook.
At the same time, there are approximately one million older people who haven't spoken to a family member, neighbour or friend for over a month. The only regular contact they have is a caregiver who provides care at home. Loneliness is a big problem and one that technology can help alleviate.
Loneliness is Bad for our Health
Feeling cut-off is detrimental to our health, and social isolation can be as bad for us as smoking 15 cigarettes a day. Obesity and lack of exercise may be less damaging to our health than being lonely, which can also carry an increased risk of developing high blood pressure.
Being miserable and alone can speed up cognitive decline and increase the likelihood of self-harm. In-home care provides company for independent living, reducing loneliness and offering the opportunity for a live-in carer to help your loved one become accustomed to using the internet on a computer or tablet.
Bridging the gap
Technology and the internet have bridged the gap between socialising and being alone. Social networking no longer requires people to get out of their homes and join clubs to meet others and technology can provide access to people, chat and discovery.
This benefit can be particularly useful in the area of dementia and Alzheimer's care where loved ones drift in and out of lucidity, allowing them to communicate as and when they wish from the comfort and security of their home.
---
Dulcie's care story
Duclie is one of our longest serving customers. In this video her and her family talk through their decision to arrange care in the home rather than the care home.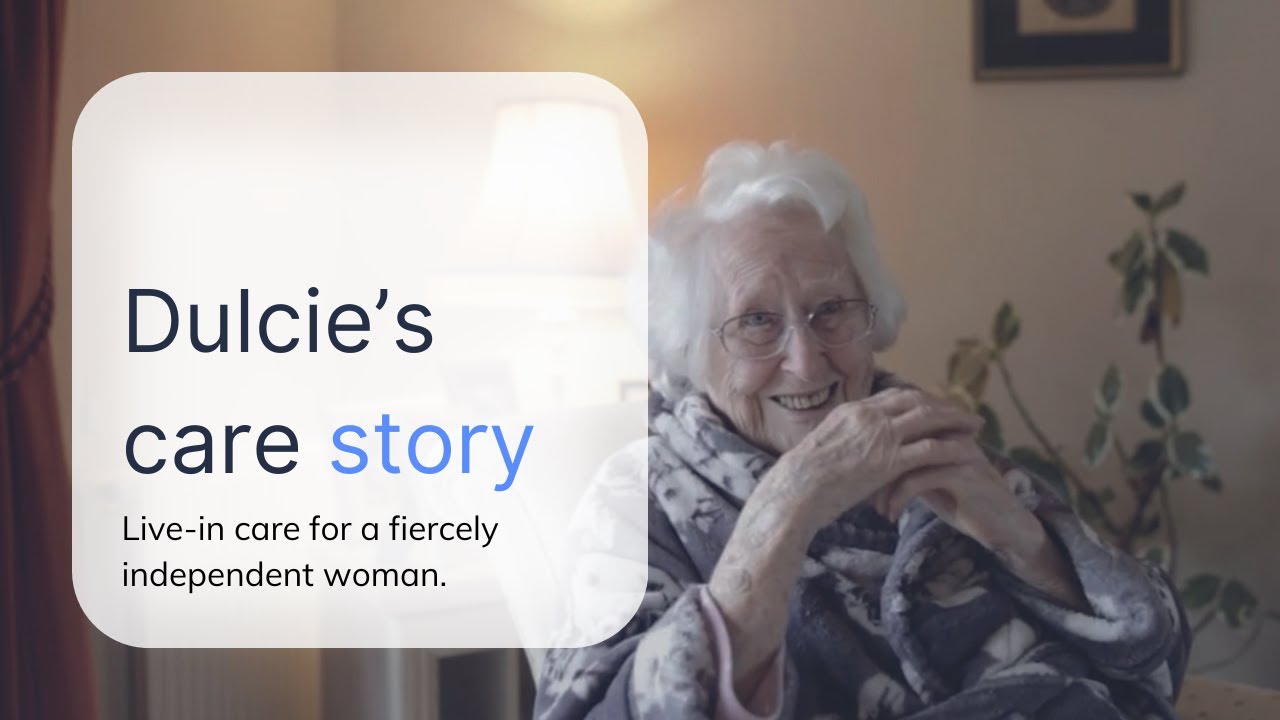 ---
Keeping in touch
Thanks to technology it is easier than ever to stay connected to family and friends who live overseas or a long way away. Email, Skype and other video and instant messaging services can help to unite people no matter where in the world they are.
Family can keep in touch on a daily or weekly basis, and share photos and other interesting snippets. Carers who provide private live-in home care can also stay in contact with their care recipient's family, keeping them up-to-date with their loved one's wellbeing.
When you arrange a carer to live in the home, it can also be a great idea to set up a Whatsapp group to keep your carer updated with all the necessarry family members. This is a really important tool to improve communication with your loved one's caregiver.
Hobbies and interests
Whatever someone's interests may be, they can keep connected with their hobby and their enthusiasm can be developed or maintained via the internet.
From cross-stitch to pedigree dogs or even astrophysics, like-minded people can make contact with each other, without the need to drive hundreds of miles or even head out to the library.
As hobbies and interests is one of the key areas a home carer is able to proivde support, technology can be a really important way to help your loved one and their dedicated care professional to bond with on another.
Discussion groups
Socially sustaining online communities provide huge levels of support for their members and can often lead to friendships developing in real-life.
There is the opportunity to get involved in forums, chatrooms, discussions on areas of interest and social media, keeping your loved one in touch with other people and discussing areas that interest them.
Maintaining a busy social life has been linked with a slowering of the onset of dementia. Online communities can really help support someone to stay socially active when getting out and about simply isn't as easy as before.
Introducing technology to the elderly
It is important to remember that while technology is a useful tool in tackling loneliness in older people, it should partner real contact with people for effective care. Help to build up your loved one's confidence with new technology slowly and with patience.
If they're using it for the first time, focus on the benefits it can bring. Start with easy and engaging lessons such as looking at photos of grandchildren or holidays, and teach them to swipe the screen to scroll through them. This can help to show how it can benefit them and their lives.
Owning a tablet is a fantastic way to stay in touch with people and reduce the feelings of isolation. Boosting well-being can alleviate the onset of depression, which in turn cuts down on the cost of social and private care.
If your loved one is without the internet or a tablet, consider getting them set-up with this modern technology, and make sure you give them some basic lessons in how to use it. It could be more beneficial than you could ever imagine in raising their spirits and keeping loneliness at bay.
When a family decides to use Elder to help find care for their loved one, we really recommend installing the internet as an essential component in preparing the house for home care.
Call us for expert live-in care advice
We're living in a technological age, and the elderly risk being left behind. Younger generations are leading the speed of development and rush of new technology, and many older people cannot or will not keep up. But technology can help reduce the feelings of loneliness that many elderly people experience every day.
Related Questions
Home care for the elderly – What is it?
The majority of older people would prefer to live independently in their own homes but unfortunately this is not always possible.
Home care: how to choose a care provider
Choosing which company to employ to provide care for yourself or a loved one is an important decision and you need to carry out some research beforehand.
Home care: How do I pay for It?
There are various ways of paying for home care and dementia care, but understanding the various options of care provision can seem very daunting at first.
Home care: how does it work?
Home care works in many different ways. Each person's case is different with unique preferences, physical needs and life experiences, and care at home should be as tailored as possible to the individual's requirements.
Home care: Frequently asked questions
Everyone's individual situation is different which is why we undertake a comprehensive free care assessment for those who are considering home care as a care option for themselves or their loved ones. There are, however, certain questions which come up time and time again which is why we've created this frequently asked questions about home care page in order to give you the information you need to assess your options.