Old age can, quite naturally, see reduced levels of activity even in those not suffering from a disability. It's all part of the normal 'slowing down' we expect as we get older.
For those who are suffering from a physical disability, however, old age can bring added complications. Whether your loved one has mobility issues or suffers from a condition such as arthritis, day-to-day living can become increasingly difficult with age, and you may be concerned that they are not so capable of looking after themselves in their own home as they once were.
If you think that your loved one is no longer managing alone, then it may be time to consider their elderly care options.
Physical disabilities and old age
We all expect to find that certain things become harder to do the further we advance into old age, with a natural reduction in muscle strength and lower energy levels simply part and parcel of the ageing process. If your loved one suffers from a physical disability, however, the challenges can be far greater.
Mobility issues can vary greatly in severity. While some people will remain active, others may find themselves increasingly reliant upon mobility aids to get around and in some instances will be completely confined to a wheelchair or to bed. Sometimes mobility problems can be brought on by other health conditions such as a stroke, or as the result of an accident or injury.
Other limiting conditions such as arthritis can also seriously impact a person's ability to carry out routine tasks, while conditions such as Parkinson's disease, Alzheimer's and dementia bring with them a range of physical side effects in conjunction with the neurological ones.
When does it become a major concern?
If your elderly loved one suffers from a physical disability and still lives in their own home, you may become increasingly concerned about how they will manage. A physical disability which limits how mobile they are might mean that your loved one becomes increasingly isolated and lonely, perhaps preferring not to leave the house and therefore ceasing to engage in the social activities and pastimes they once enjoyed.
They may also find getting to the shops harder, meaning that they no longer buy the ingredients they might need to maintain a healthy diet. Preparing and cooking meals might have become increasingly difficult, potentially leading to malnutrition and a range of other health issues associated with a poor diet.
If your loved one is still reasonably mobile despite their disability, you may worry that they will over-exert themselves in an effort to remain mobile and independent, perhaps insisting on carrying out household maintenance tasks despite finding them hard.
---
Dulcie's Care Story
In this short video, Mary and Colin explain how Dulcie's live-in Elder carer, Sarah, has become part of the family.
They discuss how live-in care has allowed Dulcie to stay independent in her own home, while making a new friend at the same time.
---
How can a live-in carer help?
Professional live-in care is becoming an increasingly popular form of elderly care among those suffering from a physical disability. With a home care package from a provider such as Elder, a companion care worker moves in with your loved one and remains with them around the clock.
Your loved one's carer will do only as little or as much around the house as your relative requests, taking on household management tasks such as cooking, cleaning and light gardening, in addition to personal care tasks such as bathing, getting into and out of bed or a wheelchair and helping your loved one to get to the toilet.
Care at home is often the preferred choice for those suffering from a physical disability in old age. While moving into a care home might further reduce their feelings of independence, receiving care in familiar surroundings and where they have complete control over the decisions made can be truly empowering.
Your loved one's carer will be able to take them to and from those all-important hospital and doctor's appointments and see that they receive the highest level of care possible. They will also be able to help them maintain an active social life, something which many disabled people living alone in old age will struggle to manage.
Knowing that your loved one is being cared for at all times can provide you with much-needed peace of mind. This type of care plan can be particularly beneficial for those suffering from dementia as well as a physical disability, since remaining in familiar surroundings can greatly improve their quality of life and is far less distressing than the upheaval of a move into residential care.
If your loved one needs specialist dementia care, they will be carefully matched to a carer who is trained to look after people with the condition, as well as those who are disabled.
Organising care at home
If you think that your loved one needs help and would benefit from companion care, then the time has come to consider an elderly care package from a provider such as Elder. We can carefully match your loved one with a carer who has specialised in care for the disabled, and we also work to ensure that your loved one's live-in carer shares some of their interests and pastimes.
That means that as well as receiving a helping hand around the home, they're also getting social interaction and friendship which is so important in later life. For more information on the home care packages we can provide, please get in touch with the Elder team today.
Call us for expert live-in care advice
Learn more about live-in care
Take a look at more Elder guides on the benefits of live-in care.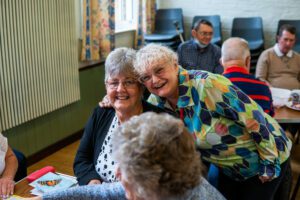 How Can Live-in Home Care Help With Learning Disabilities? Learning disabilities come in many different forms, but they all have an impact on a