You've reached us outside of our opening hours. Book a free telephone consultation and one of our care planning experts will give you a call whenever is convenient for you.
Preventing Falls: How to Care for Ageing Parents
With the majority of people wanting to live at home for as long as possible, the best way to care for your ageing parents is to ensure that their home is as safe as possible, with the aim of preventing any falls from occurring. Falls can also happen outside the home, especially in winter, so it is important to consider all the areas that you can have some positive influence over.
Falls can result in broken bones, hip fractures and head injuries. Even minor injury falls can cause an older person to become fearful or depressed, which in turn can create difficulties in staying active. Prevention is the always best course of action, helping your ageing parents to stay healthy and remain in their own home for as long as possible.
Some of the main factors that can cause a fall are:
– Gait and balance – we can lose some flexibility, coordination and balance as we age, mainly through inactivity, putting us at a greater risk of a fall.
– Vision – as our eyes age, less light reaches the retina, making trip hazards, obstacles and contrasting edges harder to see.
– Medications – some medications can cause dehydration and dizziness, that can lead to a fall.
– Environment – simple modifications can make an older person's home much safer.
– Chronic conditions – over 90 percent of the older population have at least one chronic condition such as arthritis, stroke or diabetes. These can often increase the risk of a fall due to loss of function, depression, inactivity, pain, or a combination of medicines.
Care at home is the best way to look after an older parent. Assessing whether their home is appropriate for the care they require though is also important, and there are many things you can do to make their home a safer environment for elderly care.
When it comes to falls, there are certain steps to take that can help reduce the risk of your loved one falling in the home:
Assess the home
Either carry out a falls prevention assessment of the home yourself or employ a professional to do it if you are unsure of what to look out for.
Falls occur due to balance and gait, sensory problems and muscle weakness.
Think about simple solutions, such as removing rugs, raising the height of the toilet, installing grab bars and increasing lighting in areas such as the stairs. These can all make a difference.
Long-term home care solutions include no-lip showers, one-level housing, laminate or wood flooring throughout, adding built-in lights and re-tiling showers.
Plan ahead
Once you have assessed your home, consider the long-term, five or 10 years from now. How will your loved one's physical and mental condition be – what is their budget to cover the cost of care? Is their home fit for their requirements?
Plan now for the future. Can they afford private care or even 24/7 care should they need it in the future, and is there a spare room for a live-in carer to stay in?
Mobility devices
Walking frames, walking sticks and hearing aids can help prevent falls. Ensure all rooms are well lit and check for ways you can make mobility easier around the home.
A physical therapist can assess your home and offer useful advice. Live-in care can allow your ageing parent to continue living independently at home.
---
Dulcie's care story
Dulcie is over 100 years old and lives with her son Colin, his wife Mary, and her carer Sarah. She has dementia and has had full-time live-in care for six months.
We talk to the family about the challenges of finding the right care solution for a fiercely independent woman – and how the positive benefits of live-in care with Sarah has transformed all of their lives.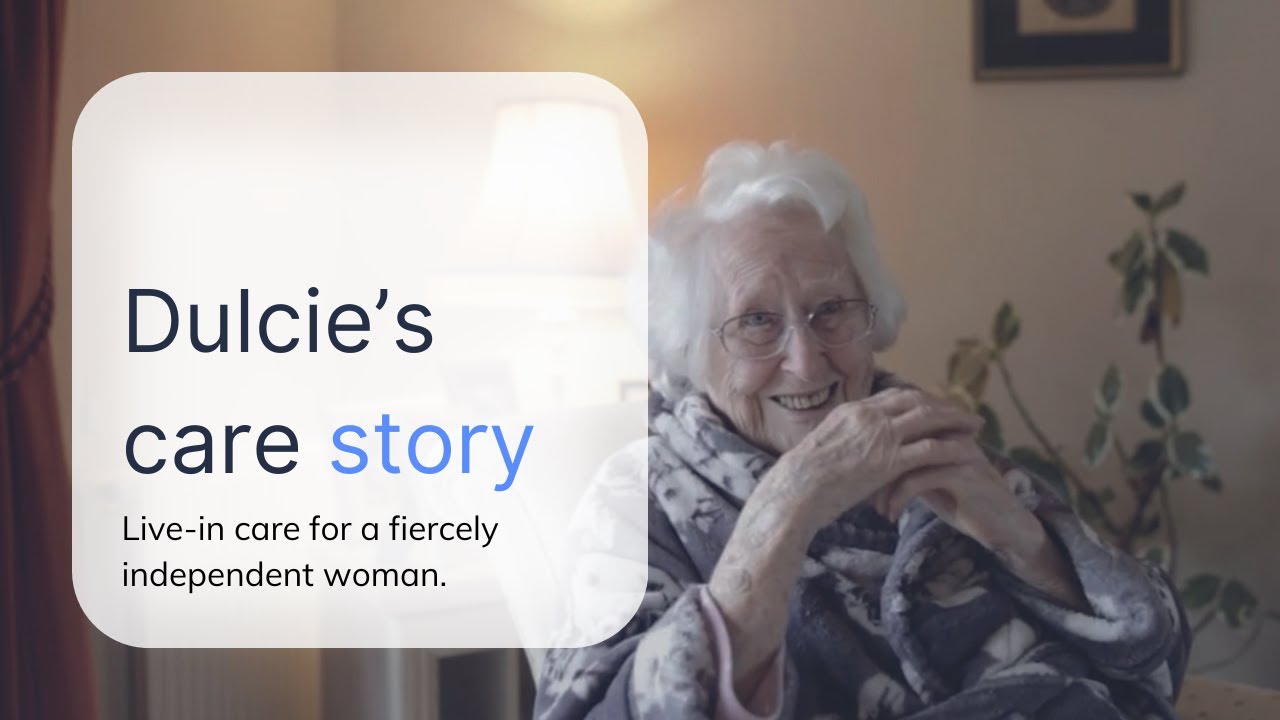 ---
Assistive technology
Modern technology is available to help enhance the home, with fridge sensors, bathroom sensors or even ones that alert you if a loved one leaves the house.
This can be particularly useful in dementia care if your loved one has a tendency to get lost when they go out alone.
Medication reminders can also play an important role in elderly care or where a caregiver is not on hand 24/7 to remind your parent.
Downsizing
Encouraging your loved one to downsize and reduce the number of possessions they have may be a good idea.
It is common for older people who have a fall to find it difficult to return home, due to factors such as stairs.
You may need to consider installing a ramp or stair lift or even moving to a house without stairs or to a flat with an elevator.
Preventing outdoor falls
Pay attention to weather forecasts and any warnings of snow or ice. Ensure your loved ones are dressed for the weather, to keep warm and dry, and that footwear is sturdy and fits well, with grippy soles.
Stock up on salt in the winter months for icy or snowy paths and driveways. Make sure the salt bags and shovels are stored away where they cannot be tripped over.
Ensure your loved one wears gloves and uses handrails wherever possible in the cold weather.
Take your time when you're out and about with older relatives to prevent them from rushing or taking larger steps than needed – both of which could result in a fall.
Live-in care
By preventing a fall, you may be allowing your loved one to live at home for longer than they might if they had complications following a tumble.
With live-in care, you can have someone trained to look out for any hazards or health reasons that may cause a fall. This will help to reduce the risk of injury.
Private live-in care is normally the best care option for your parents, as it offers them 24/7 assistance, and even if they require care for complex care situations like Alzheimer's, they can remain in their own home.
Call us for expert live-in care advice
With the majority of people wanting to live at home for as long as possible, the best way to care for your ageing parents is to ensure that their home is as safe as possible, with the aim of preventing any falls from occurring. Falls can also happen outside the home, especially in winter, so it is important to consider all the areas that you can have some positive influence over.
Related Questions
Care for the Elderly: Grooming and Hygiene Guide
Maintaining good personal hygiene is important as your loved one ages, but it is not always easy to intervene if you feel they are not coping well. Poor hygiene can result in uncomfortable infections and skin complaints, so to avoid this, you or your loved one's caregiver may have to encourage them tactfully to accept some assistance. They may be more willing to agree to the support on offer if they realise that it will enable them to retain a level of independent living.
Cancer: How to Care for Ageing Parents
Cancer is typically a disease that affects older people. In 90 percent of all cancer cases, the person is over 50 years of age. The majority of these cases occur in people aged between 50 and 74, but a third of all cases are in those aged 75 and older. Prostate, breast and lung cancers are all quite common in older people, but this section of the population is susceptible to all form of cancer.
Death of a Spouse: How to Care for Ageing Parents
Losing a parent is hard, but harder still for your surviving parent, who must now face life alone after many years as a partnership. Your surviving parent is likely to be overwhelmed by feelings of grief and loss and will need huge amounts of understanding and sympathy over the coming weeks, months and years.
Frequently Asked Questions About Live-in Care
Elder's expert live-in care advisors answer questions for hundreds of people looking for care for themselves or their loved ones every day. Below you'll find the answers to some of the most frequently asked questions that our customers ask before making the decision to use Elder to take the stress and strain out of caring for someone in need.
Finances: How to Care for Ageing Parents
Difficult as it might be to contemplate, there may come a time in your parents' lives when they are no longer able to make decisions about their own finances. Choosing to step in and take over the management of your loved one's financial arrangements can be tricky. Even if they can see it is in their best interests, many elderly people will still find it hard to accept and may view it as a loss of independence.