You've reached us outside of our opening hours. Book a free telephone consultation and one of our care planning experts will give you a call whenever is convenient for you.
How Can Live-in Home Care Help With Fragility?
As many people grow older, they become more fragile and at risk of falling, illness or injury. If your loved one has problems with moving about, becomes unsteady while walking, or has difficulties when getting in or out of a chair or bed, you may worry that they are at risk of falling. This is when they could benefit from quality live-in care and support in their own home.
Age-related changes
Many older people become more forgetful, and this has traditionally been regarded as a normal part of ageing, but scientists have discovered that it is possible for people to remain alert and able as they grow older, although remembering things can take longer.
In recent years a change known as mild cognitive impairment (MCI) has been identified, and in some cases, this can eventually progress to Alzheimer's disease.
As the bones and joints of older people have suffered from wear and tear through the years, osteoporosis and arthritis are common conditions in old age. Osteoporosis causes the bones to become weak, and women particularly can be at risk of fractures. Arthritis causes pain and inflammation in the joints, often making mobility difficult.
Falls are increasingly common in older people and can be the result of various changes in the body. Because hearing and sight are sometimes impaired, or age and muscle strength is often decreased, falls are more likely.
Coordination, reflexes and balance are not as good as they once were and some older people are prescribed medication that can cause dizziness, so there are many factors that can make falls a risk, especially for older people living alone.
Reducing the risk of falls
There are many changes you can make to help your loved one that will reduce their risk of falling. For example, you can the safety of their environment and remove hazards such as too much clutter, fraying carpets and loose tiles.
You can change where things are kept so that your loved one does not have to stretch or bend to reach for objects. If your loved one lives alone, ensure that they do not have to climb to reach anything and that there is good lighting throughout the house.
Encourage your loved one to wear shoes with good support around the house and not to wear loose slippers that might contribute to a fall. They may benefit from using a walking stick or other mobility aid, and there are many adaptations such as installing handrails that can also help.
---
Dulcie's Care Story
In this short video, Mary and Colin explain how Dulcie's live-in Elder carer, Sarah, has become part of the family.
They discuss how live-in care has allowed Dulcie to stay independent in her own home, while making a new friend at the same time.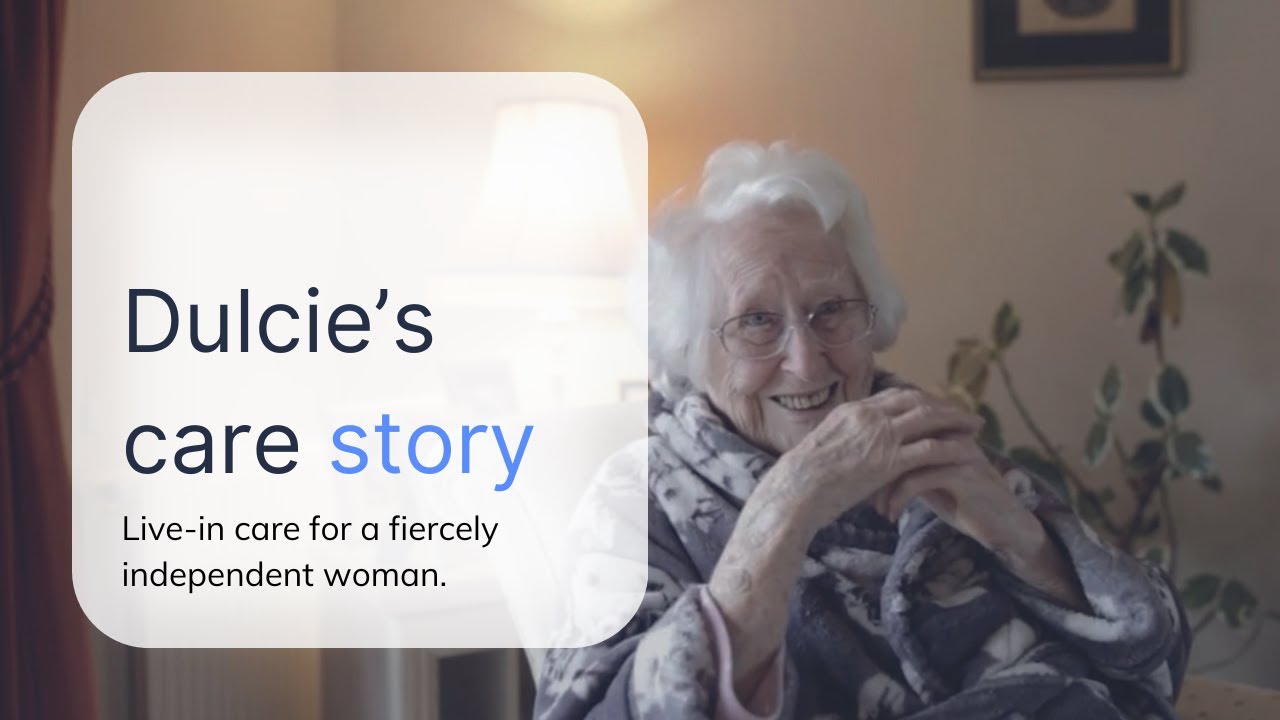 ---
How care at home can help?
If you contact a provider such as Elder, they will arrange for your loved one to have a full needs assessment that includes their mobility, any moving and handling needs and risk of falls before selecting an appropriate live-in carer for them.
The assessment will be used to create an individual care plan detailing all your loved one's needs and wishes and how these will be met on a day to day basis. In addition to having the necessary elderly care training and experience, the live-in carer will be selected to relate well to your loved one and provide company as well as support.
With a professional care at home, they will help with all the domestic tasks that have become difficult as your parent has become more fragile, and will be there 24/7 to help with all their physical and emotional needs. This companion care service will give you peace of mind as you know that your loved one will always have someone to call on if they need help at any time.
What can the live-in carer do?
As well as ensuring that your loved one's home runs smoothly and providing the care and support they need in their activities of daily living, a live-in carer can help with most aspects of their life.
Supporting and encouraging your parent to take regular gentle exercise can help to improve their core strength and balance which, in turn, will reduce their risk of falling. They can accompany your loved one on walks if this is appropriate or help them with getting out and about, and to follow an exercise plan devised by a physiotherapist.
Taking any prescribed medication correctly is another important factor, and the carer will be able to manage your loved one's medication and report any side effects to the doctor. If your loved one uses any mobility aids, a live-in carer will support them to use them and will see if there are any problems that could be solved by different equipment of adaptations to the home.
If your loved one has any ongoing health conditions such as diabetes, heart disease or arthritis, these can be carefully managed so that they do not cause any further problems.
Hearing tests and eye tests can be arranged, and your loved one's live-in carer will escort them to these appointments. If you arrange for insurance cover, the carer may be able to drive your parent's car and take them wherever they need and want to go.
For people living with Alzheimer's disease or other forms of dementia, a live-in carer who is experienced in dedicated one-to-one dementia care can be chosen so that their emotional needs are met, and reassurance can be provided if they become anxious or confused.
Call us for expert live-in care advice
If your loved one has problems with mobility, becomes unsteady while walking, or has difficulties when getting in or out of a chair or bed, you may worry that they are at risk of falling. This is when they could benefit from live-in care and support in their own home.
Related Questions
Keeping Seniors Active: How to Care for Ageing Parents
As people age, it's inevitable that they begin to slow down, but this shouldn't mean they cease to be active. Keeping fit and healthy in old age is important, for both physical health and emotional wellbeing, and finding ways to keep your loved ones active is a positive step in caring for them. Staying active can help preserve a sense of independence too, as well as helping to lower the risk of heart disease, stroke, diabetes, depression or dementia – all conditions associated with a sedentary lifestyle.
Preventing Falls: How to Care for Ageing Parents
With the majority of people wanting to live at home for as long as possible, the best way to care for your ageing parents is to ensure that their home is as safe as possible, with the aim of preventing any falls from occurring. Falls can also happen outside the home, especially in winter, so it is important to consider all the areas that you can have some positive influence over.
Care for the Elderly: Grooming and Hygiene Guide
Maintaining good personal hygiene is important as your loved one ages, but it is not always easy to intervene if you feel they are not coping well. Poor hygiene can result in uncomfortable infections and skin complaints, so to avoid this, you or your loved one's caregiver may have to encourage them tactfully to accept some assistance. They may be more willing to agree to the support on offer if they realise that it will enable them to retain a level of independent living.
Finances: How to Care for Ageing Parents
Difficult as it might be to contemplate, there may come a time in your parents' lives when they are no longer able to make decisions about their own finances. Choosing to step in and take over the management of your loved one's financial arrangements can be tricky. Even if they can see it is in their best interests, many elderly people will still find it hard to accept and may view it as a loss of independence.
Frequently Asked Questions About Live-in Care
Elder's expert live-in care advisors answer questions for hundreds of people looking for care for themselves or their loved ones every day. Below you'll find the answers to some of the most frequently asked questions that our customers ask before making the decision to use Elder to take the stress and strain out of caring for someone in need.