With planned industrial action set to take place across the NHS over the coming weeks, we've looked at which services and regions are likely to be affected, and how this may impact elderly people.
Why do nurses go on strike?
Industrial strike action is usually in response to poor pay or working conditions. For NHS staff, and particularly nurses, pay is the biggest reason for this month's strike and Health Unions and the Royal College of Nursing are asking that pay should at least match inflation. Without inflation-proof pay rises, many nursing staff could struggle in the ongoing cost of living crisis. And, with 2022 seeing an increase in the number of nurses under 45 years old leaving the profession, due to a multitude of factors including pay, those who do stay are under increasing pressure, and facing longer hours. 
However, it's important to remember that the decision to strike is not taken lightly. The strikes scheduled for this December will be the first in the Royal College of Nursing's 106-year history. 
How long will the nurses' strikes last?
The strikes for nursing staff are due to take place on the 15th and 20th of December in England, Northern Ireland, and Wales. Not every hospital will be affected by the strikes. In England, only 44 out of 219 NHS Trusts are set to be impacted, and six Trusts in Wales will face strike action. If you're unsure if your hospital is striking, you can check by searching for your local NHS Trust on the following websites – 
Are any other health professionals striking? 
Some professionals from the ambulance service are due to strike this month on the 21st and 28th of December. This will likely include paramedics, emergency care assistants, and call handlers. 
What happens to patients during a strike?
Unlike other services, health care can't and won't completely stop. There are strict measures in place to ensure patients are kept safe on strike days. Under trade union laws it is a criminal offence to strike if it endangers human life, and life-preserving care must be provided at all times. This means nursing staff will still be working in essential services such as intensive and emergency care. Other services, such as chemotherapy or urgent testing will not be included in the strike action. However, some appointments may be moved to ensure there is enough staff available to run other essential services safely. 
It's important to remember that nurses and health professionals do what they do because they care about people, and ensuring the safety of their patients will always remain a top priority. 
The strikes will impact some non-urgent services and elective procedures though. 
How will the nurses' strikes affect me or my elderly loved one? 
Steve Barclay, Secretary of State for Health and Social Care, along with the majority of NHS Trusts are advising that if you have a hospital appointment or operation scheduled, you should attend it as normal unless you've been told in advance that it's been cancelled. 
If it has been cancelled, your hospital should be in touch to inform you of when it will be rescheduled. 
If you or a loved one needs urgent medical care, it's important to still come forward for help without delay. You can do this either by calling 999 or visiting your nearest A&E in an emergency, or by calling 111 if you need advice or support. 
What about Ambulance services?
During the emergency services strikes, some 999 calls will be prioritised over others, and the public is asked to only call 999 in the event of a medical or mental health emergency.
The ambulance service prioritises calls by assigning them a category. Category one calls are the most urgent and assigned to any medical situation that's considered life-threatening, such as if someone has stopped breathing. Category two calls are 'emergencies' and are often assigned to serious heart conditions and strokes. Category three calls are considered an 'urgent problem' and are assigned to health conditions that require hospital treatment, and a Category four call is for 'non-urgent problems', where an individual's condition is stable, but transportation to a hospital is required. 
It is likely that Category three and four calls will be increasingly difficult to cover during strike action. For the elderly, this may mean that in the event of a fall, an ambulance may be unable to attend, unless there is a need for a rapid assessment, and they may need to make other arrangements to get to a hospital. 
Reducing the risk of falls 
Of course, preventing falls at home is important at all times, but being extra vigilant about the risk factors of falls is even more crucial during strikes when emergency support is likely to be stretched.
If you or a loved one is prone to poor balance, living with visual impairment, or has fragile bones due to conditions such as osteoporosis, ensuring someone is around on these days to offer support with daily activities could provide peace of mind. You may also wish to check that your loved one has the right assistive devices such as grab rails, anti-slip bathroom mats, and alarms that can notify family members of a potential incident, all of which have been thoroughly tested prior to strike action. 
Browse the latest blogs and tips on living well in later life.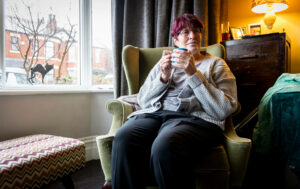 We've shared our advice to help older adults stay healthy and well as the weather starts to get cooler, and the days get shorter. 
Read More »