You've reached us outside of our opening hours. Create your account to get access to My Elder, our online portal for arranging care and accessing information to support your journey to care.
What kinds of meals will a home carer cook?
Ensuring that an older loved one receives the proper nutrition can be a daunting task. A home carer can make sure that their nutritional needs are met through healthy and well-balanced meals adapted to their specific dietary requirements.
Eating healthy meals means that your loved one will have more energy to stay active for longer. They should feel better health-wise and be more resistant to illness. A home carer will focus on creating meals that deliver the right levels of nutrition while also being delicious to eat.
Nutrition and home care
A healthy diet depends upon eating a variety of foods to maintain a healthy weight and meet the body's changing nutritional requirements. Diets with a high proportion of sugar and fats link to a variety of health conditions including diabetes, heart disease, stroke and obesity.
Older people enjoying care at home will have help deciphering food labelling and making healthy choices. Cooking and meall preparation is one of the central domestic tasks a home carer will look after.
Following the Government's current advice, the Eatwell Guide, those receiving elderly care should eat at least five portions of fruit and vegetables a day, including fresh, frozen and tinned foods.
Healthy balanced meals will also include a portion of starchy energy-giving carbohydrates, including wholegrain bread for sandwiches and brown rice or potatoes as part of a hot meal.
A portion of fruit or vegetables is roughly the amount that fits inside the palm of a hand. A diet rich in plant matter can guard against certain types of cancer and heart disease. A home carer may also provide a glass of freshly squeezed fruit juice or a smoothie as one of the five a day.
It is important to keep oils and fats to a minimum. A home carer may substitute full fat with semi-skimmed milk and half fat cheese. When cooking they may cook with healthy unsaturated fats high in Omega 3, such as olive oil.
Protein, minerals and vitamins from meat, eggs poultry and plant-based sources such as lentils and tofu are the final part of the nutritional equation. Healthy meals should include lean meat and at least two portions of fish a week for optimum health and nutrition. A home carer will follow these guidelines accurately.
Maintaining a healthy weight
Poor appetite can be an issue for older people, leaving them feeling tired and low on energy. While there are health implications in being underweight or overweight, it can be challenging to maintain a healthy weight when a loved one only feels like eating a little.
Eating smaller meals with healthy snacks six times a day can be a solution. A home carer will produce smaller portions with no loss of taste or nutritional value.
A bowl of Bircher muesli is quick to prepare and is ideal for breakfast, while wholewheat toast with nut butter makes a nutritious snack. Lunch could include a salmon wrap with avocado, spinach and tomatoes, while dinner could be stir fry vegetables with prawns or chicken served with rice or wholewheat spaghetti.
For older people receiving dementia care, it can be vital for a good cognitive function that they remain properly hydrated. Delicious smoothies or milkshakes can be a tasty way to hydrate while receiving important nutrition.
A carer can also monitor the fluid intake of clients with heart problems or urinary incontinence so that they're hydrated but not uncomfortable.
If your loved one is eager to lose or maintain weight, carers can provide healthy meals that promote gradual weight loss or maintenance that can be easily maintained.
A carer can also encourage gentle exercise and start a food diary for your loved one. Doing this is really important in fostering mobility – which can help your elderly parent reduce their risk of a fall at home.
---
Colin and Dulcie's story
Dulcie is 102-years-old and lives with her son Colin, his wife Mary, and her Carer Sarah. She has dementia and has had full-time live-in care for over two years.
We talk to the family about the challenges of finding the right care solution for
a fiercely independent woman – and how the positive benefits of live-in care with Sarah has transformed all of their lives.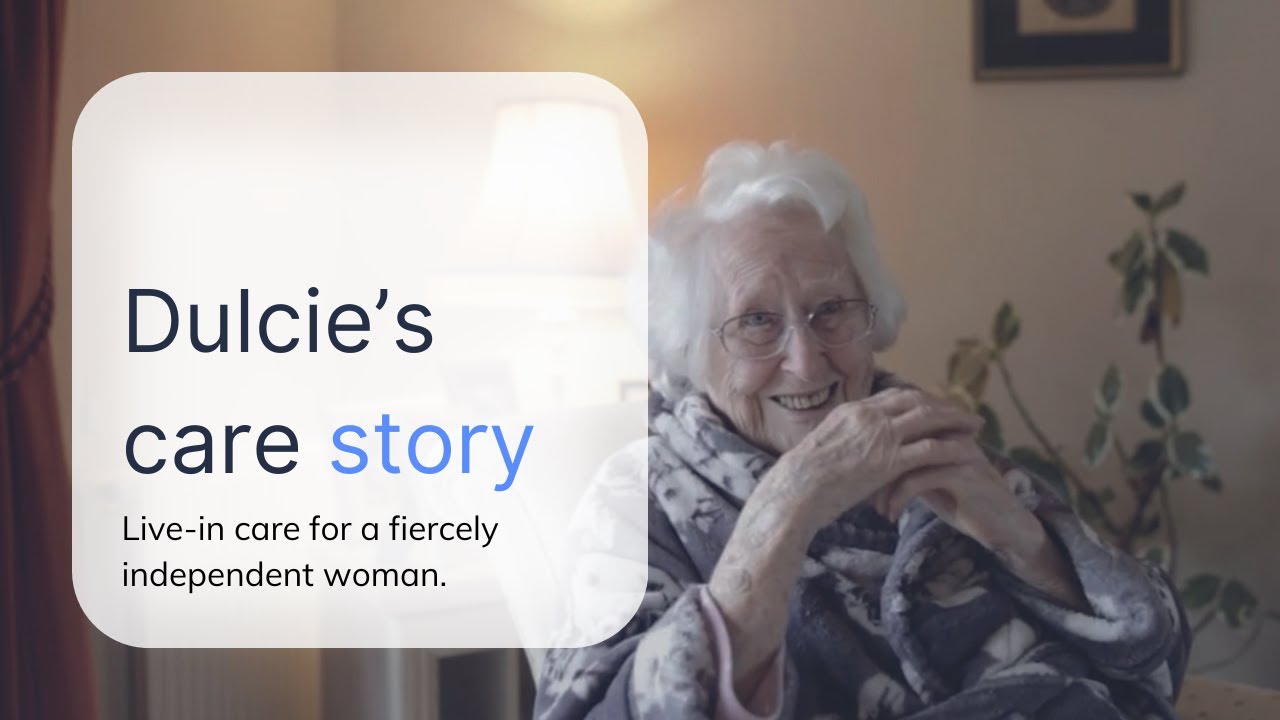 ---
Healthy, nutritious and delicious
Loss of appetite can occur as tastebuds change. That's why the meals prepared by a elderly carer must be delicious, healthy and nutritious.
Carers can liaise with clients to plan menus. Meals can a really important aspect in an elderly person feeling independent in their own hom. Menus can be made using herbs, spices and chilli to boost diminished taste buds and bring flavour and interest to mealtimes.
Eating and drinking well is an essential way to maintain an interest in proper nutrition. Clients enjoying care at home can expect to enjoy the same delicious meals they've always loved.
Home carers can adapt old favourites if the client has problems chewing or swallowing. Carers are happy to provide meals for the freezer that can be reheated with ease.
Purees and dips, and easy to eat foods such as slow-cooked stews and mashed potato can all help tempt a client to start enjoying their food again.
Support with nutrition
If a loved one is not as safe as they once were in the kitchen, then live-in care from Elder could be the answer. Perhaps burners are left on with no pan, or the fridge is empty or filled with rotten food. These can all be signs that an older person needs some help in the kitchen to keep themselves well-fed.
Home carers can prepare meals from scratch, or heat a ready meal and add some fresh vegetables on the side. They can cater to various dietary and nutritional requirements, whether that's preparing three healthy meals a day or blending diabetic drinks.
When there are real concerns about a loved one's ability to look after themselves and to eat and drink well, home care could be the solution. Whether a home carer is required to cook favourite suppers or create tempting menus, they can prepare the nutritious and healthy meals your loved one craves.
Call us for expert live-in care advice
Healthy eating is an important part of your loved ones overall wellbeing. Here we look at the benefits individualised home cooked meal plans can provide.
Related Questions
Home care: what does it provide?
Home care is a good way of providing elderly care and care for people who are recovering from illnesses or have mobility issues.
Home care: how to find a carer
People usually want to remain independent and in their own homes for as long as they can, but as they grow older there is often a need for some support with this.
Home care: how to choose a care provider
Choosing which company to employ to provide care for yourself or a loved one is an important decision and you need to carry out some research beforehand.
Home care: How do I pay for It?
There are various ways of paying for home care and dementia care, but understanding the various options of care provision can seem very daunting at first.
Home care: the questions you need to ask
If you are looking for in-home care for yourself or a relative, there are a number of important questions to ask potential providers of care at home before you make a decision about which one is most suitable for you or your loved one.
Home care: what are the costs?
The costs of home care to an individual can vary widely and are dependent on many different factors. These include the type of care needed, how many hours a week you need a caregiver to be present, your own financial situation, where in the UK you live and whether you are eligible for any assistance with your care fees.