You've reached us outside of our opening hours. Book a free telephone consultation and one of our care planning experts will give you a call whenever is convenient for you.
How to Make Homes Safer for Older People
Whether due to slower reaction times or simply not being able to see and avoid risks, elderly people are far more likely to suffer a fall or other injury when at home. Those in the over-65s age bracket account for the vast majority of hospital admissions and the highest incidence of serious injuries.
It's important, therefore, that as our loved ones age, we do everything within our power to prepare a home for home care – making it as risk-free as possible.
For those whose loved ones continue to live at home, either alone or with an elderly partner who may not be able to help in an accident, their safety can be a constant worry.
Here are a few key things that can be done to help make homes safer for older people. Ideally, these should be done before a home carer comes to help after hospital discharge.
Rearranging furniture
Sometimes furniture can be positioned in such a way as to clutter a room and cause unnecessary obstructions, increasing the risk of trips and falls. Rearranging the furniture in your loved one's home, so that there are clear through-paths within rooms, and plenty of space to manoeuvre walking aids or wheelchairs is a quick and easy way of making the home safer.
Low tables should be placed close to the walls, along with armchairs and any large potted plants.
Ensuring there is adequate floorspace not only makes getting around easier but minimises the risk of your elderly relative banging their head on a hard surface should they stumble. Also, ensure that you tuck away any wires and flexes from appliances and freestanding lighting.
Adding extra grab rails and supports
Adding grab rails in the bathroom can help a loved one get in and out of the bath or shower and use the toilet without the need for assistance, preserving their privacy and dignity as well as their safety. As some people are prone to dizzy spells, especially in warm temperatures, fitting a grab rail close to seating in the kitchen might also be a good idea.
If your loved one is receiving support in the form of daily visits from care workers, they may still be left alone for many hours at a stretch. Being able to use the bathroom as and when they want can help them feel in control and more independent.
Installing supports around the house is vital for maximising elderly mobility and independence, and reducing the likelihood of a fall or hip fracture.
---
Dulcie's care story
Duclie is one of our longest serving customers. In this video her and her family talk through their decision to arrange care in the home rather than the care home.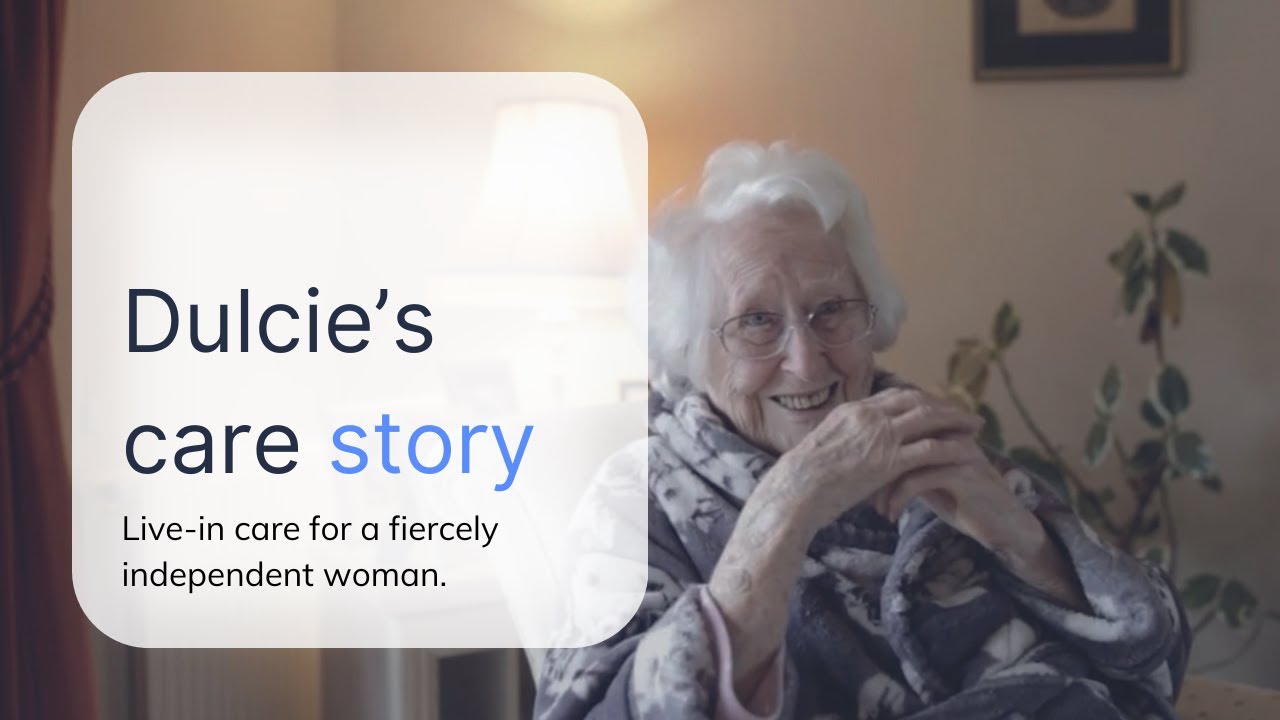 ---
Installing ramps and stairlifts
Replacing steps to the front and rear of your loved one's property reduces the risk of them tripping as they come and go from the house. This can pose a particular danger in the autumn and winter when slippery fallen leaves or ice present an added risk.
Converting the steps to a ramp and adding a sturdy handrail will help keep your loved one safe and mobile, as well as helping them feel confident about getting out of the house.
Fitting a stairlift indoors can be beneficial to those with mobility problems. If your elderly relative is still living in their own home a stairlift enables them to access upstairs rooms, rather than facing the disruption of converting their house to introduce a downstairs bedroom.
Automatic cut-offs for gas and cookers
One of the many ways elderly relatives like to maintain a sense of independent living is by continuing to cook their own meals, rather than rely on 'Meals on Wheels' services or waiting for a caregiver that only comes once or twice a day. If your loved one is receiving dementia or Alzheimer's care, however, being left alone in the kitchen can be extremely dangerous, and we would recommend that you call Elder to discuss live-in care as a solution.
Those with memory problems can struggle to cope with basic daily tasks and may leave cooking unattended or forget to turn off appliances. As well as an increased risk of fire, there is also a danger that they may burn themselves on dishes they didn't realise were hot, or scald themselves when they run taps.
There are devices which can be fitted to cookers and gas-powered equipment so that they will automatically cut out if left unattended. If your loved one wishes to continue cooking, then fitting one of these safety devices is a good idea.
Employing a carer
Of course, no home can be made entirely free from hazards, and you may feel the only way you and your loved one can have full peace of mind is by knowing there is someone always on hand to offer them care and support and to ensure they remain safe. If your elderly relative is reluctant to move into a care home then employing a live-in carer can be a good alternative option.
Private care at home is more affordable than most people realise and in-home care packages can be tailored to your loved one's needs.
The live-in home carer can help with a range of tasks, from helping your relative wash, clean and cook to taking them to appointments and social events.
Home care agencies, such as Elder, work hard to match their clients with a caregiver who shares their interests and hobbies. As such, they can provide much-needed companionship and mental stimulation as well as keep your loved one safe and comfortable.
Whether your loved one remains in their own home or moves in with you, a few simple adaptations to their living space can make a huge difference in keeping them safe and comfortable.
Elderly care in the home is available for the day or overnight – depending on your loved one's needs they may require one or two carers.
Call us for expert live-in care advice
Whether due to slower reaction times or simply not being able to see and avoid risks, elderly people are far more likely to suffer a fall or other injury when at home. Those in the over-65s age bracket account for the vast majority of hospital admissions and the highest incidence of serious injuries.
Related Questions
24-hour Live-in Home Care: What's the Cost?
With an increasingly ageing population, there is a huge demand for elderly care services. More and more families are looking at alternatives to the care home model, as older people who are accustomed to living independent lives reject the idea of moving away from their much-loved homes.
Home care: what does it provide?
Home care is a good way of providing elderly care and care for people who are recovering from illnesses or have mobility issues.
Home care: what are the costs?
The costs of home care to an individual can vary widely and are dependent on many different factors. These include the type of care needed, how many hours a week you need a caregiver to be present, your own financial situation, where in the UK you live and whether you are eligible for any assistance with your care fees.
Home care: the questions you need to ask
If you are looking for in-home care for yourself or a relative, there are a number of important questions to ask potential providers of care at home before you make a decision about which one is most suitable for you or your loved one.
Home care or nursing home: what's the difference?
Deciding whether your needs can be met by care at home or whether you need to go into a nursing home is an issue faced by many older people.
Home care: how to find a carer
People usually want to remain independent and in their own homes for as long as they can, but as they grow older there is often a need for some support with this.
Home care: Frequently asked questions
Everyone's individual situation is different which is why we undertake a comprehensive free care assessment for those who are considering home care as a care option for themselves or their loved ones. There are, however, certain questions which come up time and time again which is why we've created this frequently asked questions about home care page in order to give you the information you need to assess your options.