You've reached us outside of our opening hours. Book a free telephone consultation and one of our care planning experts will give you a call whenever is convenient for you.
How to Make Homes Safer for Dementia Patients
While some people diagnosed with dementia will move into a residential home where they can receive 24/7 care, other families will choose to help their loved one remain in their own home.
As many living with dementia can find change distressing and do not cope well with communal living, in-home elderly care is often the best option.
Surrounded by familiar things and surroundings, a loved one can retain a sense of independent living with private care at home, at the same time as receiving all the support they need to carry out basic daily tasks, which may become more difficult as the condition progresses.
If your loved one has a dementia diagnosis and needs home care, it is vital to ensure their house is as safe and free from risk as possible. Whether you are their caregiver or you have found a live-in carer to support them, there are certain things you can do to minimise dangers around the home and provide your loved one with a safe environment.
The Challenges of Dementia
People with dementia face a number of challenges that may make continuing to live at home difficult. As the condition progresses, their judgement will become impaired, and they may forget how to work household appliances, or not remember to turn them off.
Being unable to recognise particular rooms or items around the home may become an issue, and they may experience difficulties with balance, mobility and depth perception, meaning they are more likely to d a fall or hurt themselves on furniture. People with dementia can also become easily confused or fearful, particularly when things go wrong or routines are disrupted.
If you want to support your loved one to live in their own home, you need to take a critical look at each room and evaluate how these challenges might affect them. Pinpointing areas of risk and taking steps to prepare your house for home care should be a priority.
Kitchens and Bathrooms
If you live with your loved one or employ a full-time Alzheimer's caregiver for them, it is unlikely they will be left unsupervised in the kitchen. Nevertheless, fitting cookers and gas-supplied appliances with automatic cut-offs is a sensible precaution. Also, make sure that all smoke detectors and carbon monoxide alarms are fully functioning, and remove kitchen rugs or mats to reduce the risk of your loved one tripping on them.
You or your loved one's private live-in care worker should schedule a regular fridge clear-out, to remove any food which has gone past its use-by date.
You should also store cleaning products, knives and other sharp tools in a locked drawer so that you can supervise their use. Someone with dementia might not be able to work out where things are stored, and labelling cupboards and drawers can help. Try and group similar items together, to reduce the likelihood of your loved one injuring themselves as they hunt for what they need.
In the bathroom, ensure that all taps are clearly marked in red and blue to minimise the risk of your loved one scalding themselves with hot water. Again, remove any mats which might pose a trip hazard and install grab rails around the toilet and the shower or bath. You should also add textured pads to any potentially slippery surfaces, and remove the lock from the bathroom door, to ensure your relative cannot accidentally lock themselves in.
Medication should be kept locked away, as should any cleaning products, and always supervise your loved one if they are using a hair dryer or razor.
---
Dulcie's care story
Dulcie is one of our longest serving customers. In this video, she and her family talk through their decision to arrange care in the home rather than the care home.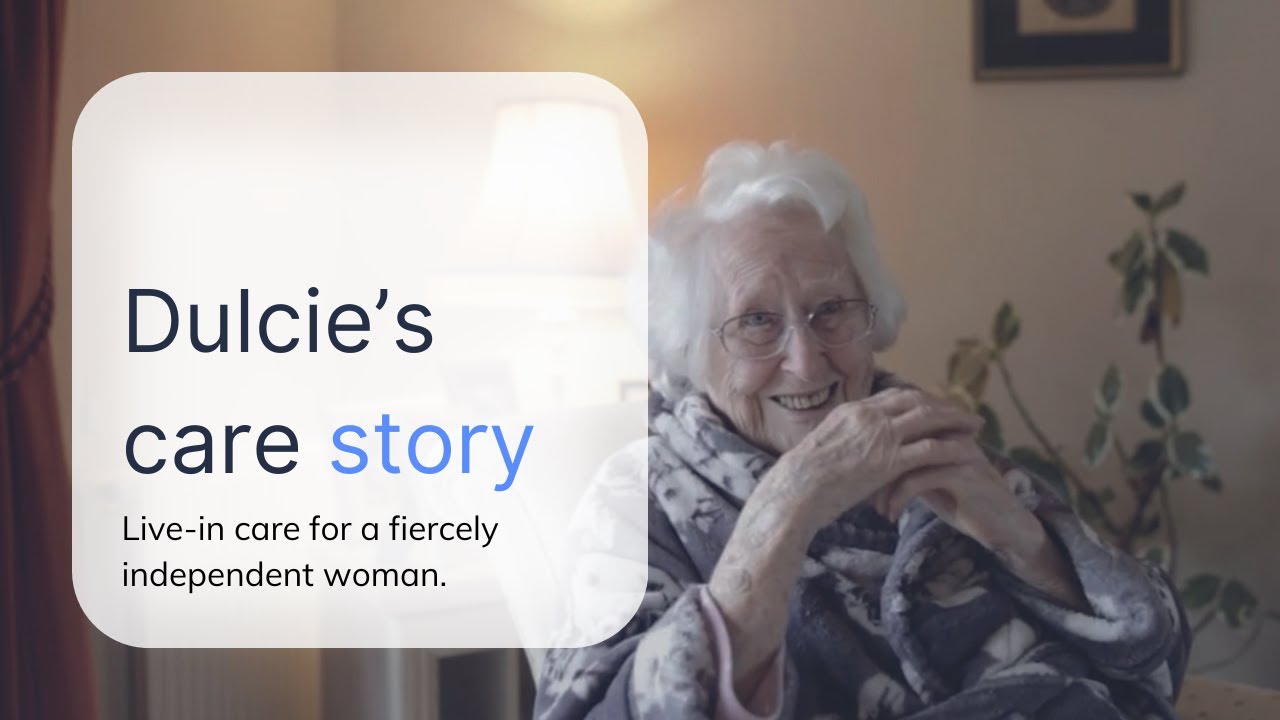 ---
Bedrooms and living rooms
It's sensible to avoid the use of electric blankets and monitor the use of heating pads. Installing night lights both in the bedroom itself and between the bedroom and bathroom can be of great help to someone with dementia.
In the other areas of the house, remove any objects which might cause an obstruction and increase the likelihood of a fall, and ensure that all rugs are either removed or securely fastened down. Make sure that all rooms are well-lit and that there is plenty of room to manoeuvre, particularly if your loved one needs a wheelchair or walking aid. It is also a good idea to disguise outdoor locks, if possible, to prevent your loved one from leaving the house without you being aware of it.
Additional Advice
All power tools and objects with sharp edges should be kept securely locked away, and chemicals or paints should be stored in a garage or shed, which your loved one cannot access. Make sure that car keys are never left unattended and lock outer gates when they're not in use, to minimise the risk of your relative wandering out into the street.
If you are unable to provide your loved one with the care they need, then employing a live-in carer is a good option. With support from a caregiver trained in dementia care, you can be sure that your loved one is looked after round-the-clock, and someone is on hand should there be any accidents or injuries.
A live-in carer will also be able to monitor dangers in the home, and because they are present 24/7, they can routinely assess any potential hazards and supervise cooking and bathroom trips if necessary. This is likely to sigificantly reduce the chance of a critical moment. Although, if there is an emergency your home carer will be able to help.
Maintaining a sense of independence and control is important for those with dementia, as is having the familiarity of their own living space and routines at home. With sensible precautions and a few minor adaptations to their house, you can enable your loved one to continue living at home for as long as possible.
Call us for expert live-in care advice
While some people diagnosed with dementia will move into a residential home where they can receive 24/7 care, other families will choose to help their loved one remain in their own home. As many living with dementia can find change distressing and do not cope well with communal living, in-home care is often the best option.
Related Questions
How to Care for Elderly Couples
When a couple has lived together for many years, they usually want to stay together, but this can be difficult if one of them needs specialised elderly care. There are now various alternative ways of ensuring that your elderly parents receive the support they need while also being able to continue living together.
How should I pay a home carer?
Deciding how to pay for care is not always straightforward. We explore the different options available for care funding.
How many hours will a home carer work?
Home care is almost always the best choice when a loved one wants to keep their independence. A home carer can work for up to 48 hours a week providing a range of care services. The hours that they work caring for your loved one will depend on the type of care at home they need.
How do I choose a home care agency?
If you have a loved one who is in need of care or is likely to be in need of care in the near future, you will no doubt have a lot of questions. Choosing a home care agency can be a daunting experience, particularly if it's something you've never had to think about before. Here is a brief guide to help you choose the right care agency for your loved one and ensure that they receive the quality care they deserve.
How do I arrange home care for myself or a family member?
Are you thinking about home care for yourself or a loved one? This article will help you to understand the different options that are available.
How do home carers charge?
If your loved one needs care, care at home is one of the best ways for them to maintain their independence. The first step in understanding the costs for your loved one's situation is getting a care needs assessment from your local council. Once you understand what care support you're entitled to, you can start calculating the costs.
How can a home carer help after a hospital discharge?
After a hospital discharge your loved ones needs can change for various reasons. Here we discuss how a carer can ensure an easy transition once returning home.
How are home carers insured?
When choosing a carer, you must take the time to check that they are insured properly. We discuss the different types of insurance and what to look for.
Home Care: When Is It Appropriate?
There are many different times home care can be helpful. Sometimes just a short period of care at home is enough to make a difference, but more often families may decide that they need an extended period of elderly care in the home for an older family member.
Home Care: What's the best way to hire a carer?
There are a number of ways in which you can hire a home carer. You can use a specialist such as Elder to provide your loved one with a carefully vetted and matched carer, or you can employ a carer directly. You will no doubt want to consider all options when making the decision in order to find the most suitable solution for you and your loved one.
Home Care: What is Respite Care?
Respite care involves a carer taking a short break while someone else looks after a loved one. This temporary arrangement can cover all types of care at home including companion care, elderly care and dementia care. Respite care can also offer more specialised help for an older person, particularly if they're recuperating after illness or a stay in hospital or need dementia care.
Home Care: What is Palliative Care?
Palliative care is the support, care and treatment needed by someone who is living with what is often called a life-limiting condition or illness. This type of care is also known as supportive care and may extend to family and friends, as well as the primary care recipient.