You might be wondering what happens when the carer takes holidays and whether or not you need to provide holiday pay. This article aims to explain holiday entitlement in the UK for part and full-time workers and to outline your responsibilities as an employer. 
If you're directly employing someone, you have legal obligations to anyone you employ when it comes to holidays and holiday pay. This includes home carers, including those who work just a day or two a week.
That is, of course, unless you use a live-in care agency, such as Elder, where the carers are self-employed and therefore responsible for their own holiday. If this is the path you're going down, it's still really important to have a think about the costs you have to cover for your home carer.
Holiday entitlement in the UK
All employees who work full-time hours are entitled to 28 days of paid holiday each year. This works out at 5.6 weeks per year. There are eight bank holidays in the UK (New Year's Day, Good Friday, Easter Monday, two May bank holidays, the August bank holiday, Christmas Day and Boxing Day). The entitlement of 28 days may or may not include the bank holidays.
This means that if an employee is required to work on some or all of the bank holidays, they must still receive 28 paid days of holiday each year. If the employee is not expected to work on bank holidays, they're entitled to paid bank holidays, together with an additional 20 days of holiday.
You don't need to give the carer bank holidays off, but if they are not required at certain times of year due to family members being around, for example, it might make sense to use some of the bank holidays as part of the carer's holiday entitlement.
Part-time workers are also entitled to paid holidays, the number of which can be calculated on a pro rata basis. For example, a carer who works 2.5 days per week will be entitled to 14 days of paid holiday a year.
To calculate the holiday entitlement of part-time employees, multiply the number of days per week worked by 5.6 (the number of weeks of holiday to which a full-time employee is entitled). For example, someone who works three days per week will be entitled to 16.8 days of paid holiday (3 x 5.6 = 16.8).
In short, if you choose to employ your home carer directly, holiday should be a serious consiration when weighing up the cost of care.
---
Dulcie's story
Dulcie is one of our longest serving customers. In this short video, she talks through the reasons behind her, and her family's decision to choose full-time home care rather than the care home.
---
What a home carer does
Home carers fulfil vital and varied roles, helping to provide care for elderly, infirm individuals or those living with disabilities in the comfort of their own home.
Home care is an increasingly popular alternative to residential care for anyone who is able to and wants to maintain a higher level of independence. It enables care recipients to remain in the familiar and comfortable surroundings of their own home.
Home carers can undertake a wide range of tasks, but the needs of each individual will be unique. Many care recipients require assistance with bathing and dressing and other personal care. Others might be relatively independent but need help with general household tasks.
Some care recipients require assistance to ensure that they take any necessary medications or treatments safely and at the right times. Home carers can also prepare meals and accompany care recipients to appointments, such as medical and dental appointments.
Benefits of home care
There are many reasons why people choose a home carer rather than residential care. Many recipients wish to remain in their own home in familiar surroundings rather than have to move into a care home, and live-in care makes this possible.
It also provides peace of mind to family members and friends who are worried about the care recipient being left alone for long periods of time.
Many carers have specialist qualifications and experience, enabling them to take expert care of individuals with different needs. Dementia care is a large part of elderly care, so if this is a concern, you will be reassured to know that many carers are experienced in this field.
Elderly companion care is another key element of care at home in many cases, with carers able to provide companionship for lonely or vulnerable individuals. Carers can accompany care recipients to social events if required, such as get-togethers with friends or regular hobbies.
Your obligations as an employer
To recap, if you employ a home carer, whether for yourself or someone else, you'll be responsible for providing them with the legal minimum number of paid holidays per year. For a full-time carer, this means you will have to pay a minimum of 28 days holiday.
The holidays can include the eight UK bank holidays, or, if you require the carer to work on some or all of these days, they can be given at other times of year.
In many cases, you will be able to request that the carer takes their holidays at times that are most convenient for the care recipient. It's advisable to agree holidays as far in advance as possible to enable you to make alternative care arrangements.
Depending on the level of care required and the nature of any specialist care needed, this might be undertaken by a temporary carer or by a family member or friend.
A great way to avoid this situation is by engaging the services of a self-employed carer, through a company like Elder. This means you're able to
Call us for expert live-in care advice
Learn more about home care
Take a look at more Elder guides on how to  arrange and adjust to care at home.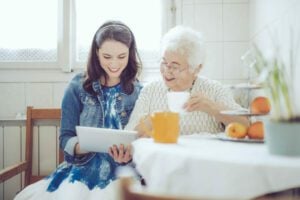 It's natural to need a little help with things as we age. However, if you or a loved one is finding daily tasks more