Just remember, elderly care at home isn't just a matter of looking after your loved one. It's about taking good care of yourself, too. Fortunately, there are a few things you can do to make it all go smoothly:
Do your research
Get into a routine
Look after your health
Take time for yourself
You could also ask a live-in carer, who will move in to provide 24-hour care, to help share the load. Private live-in care is our specialty and, if you decide it could benefit you, we can have the perfect carer on your doorstep in as little as one day.
Do your research
First things first, you'll want to make sure you're clued up on care at home.
The more you learn, the more prepared you'll be for the challenges that come your way. There are plenty of elderly support websites, including ours, where you'll find care guides and resources on elderly care, dementia care and home care – everything from how to make home adaptations for loved one to disability-friendly trips you can take together.
These sites are also a great place to connect with others and learn more about support groups in your area. There are lots of people in the same position as you, and they often gather together to share advice and lend an ear. You may even find volunteers offering help for carers – such as transportation or housekeeping – to shoulder some of the weight.
You should also look into whether you're eligible for financial aid. As a caregiver who works more than 35 hours a week, you may be eligible for carers' allowance (normally around £62.70 a week). If you work 20 hours a week or more, you may be in the running for National Insurance credits. There are also a number of other means-tested benefits available: you can find out more using an online benefits calculator.
Get into a routine
When both you and your loved one find your groove, you'll get a lot more done, a lot more quickly.
This might be as simple as agreeing on a time you start and end the day, which can make all the difference to mum and dad's sleeping patterns. Or maybe the time you the administer their medication and serve up their meals. And if there's a lot to get done, you want to make a list of tasks and tick them off throughout the day.
Remember, setting a routine is a team effort and requires an honest conversation. Make sure your loved one feels they have control over their own schedule, but take the opportunity to voice any concerns and suggestions you have. If you're open with each other, you'll be better placed to see each other's point of view – and there'll be less risk of disagreements further down the line.
Ask for professional help
There's no need to take on the responsibility of home care all on your own when there are people to lend a hand.
Live-in carers move into a spare room in your parent's home and give them one-on-one, 24-hour support. This means there'll always be someone else around to get up in the night, or pop out to the shops, or whatever else you want them to do.
If your loved one has been diagnosed with dementia, live-in carers are also qualified to offer low- to mid-level Alzheimer's care. They will take the lead on medication or cognitive exercises, or, if you'd rather manage that sort of thing, they will be happy just to play a supporting role. How you work together is entirely up to you.
If you choose to arrange live-in care, you and your elderly parent will have the choice of who comes to stay with them. You'll be offered a range of highly qualified candidates and given a breakdown of their likes and hobbies, and you'll be able to find the one who will come to feel like family.
Look after your health
When you spend so much time looking after someone else, it can be easy to forget to take care of yourself.
But it won't do either of you any good if you burn out, and there are easy ways to stop things from getting out of hand. Setting health goals, for example. Make sure you're getting enough sleep (at least 7 hours, if you can) and eating a healthy and balanced diet (including taking on plenty of water). Try to give yourself a few hours throughout the week for physical activity, too. It'll help get you in shape and out of the house.
Remember, help for carers is out there. Be sure to let your GP know you're a carer so they can assess your health accordingly. They'll make sure you're getting what you need, and they'll give you additional information about small things you can do to improve your lifestyle. They might even put you in touch with other caregivers in a similar situation to you.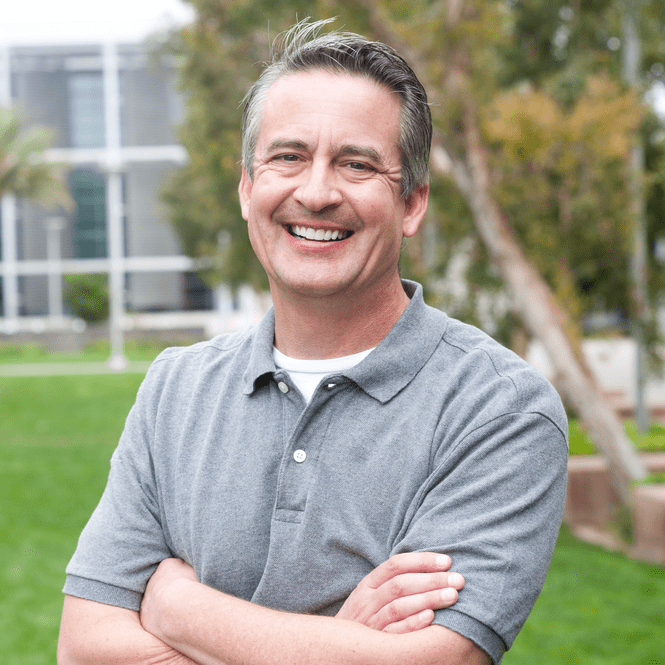 What our customers say
"The security and patience of live-in care has meant my mother has relaxed and her general disposition has improved to no end."
Mark Swansea
Take time for yourself
Care at home is a tough job, and you'll need some "you" time if you're going to stick at this for a while.
That means taking moments during the day and the week to yourself. Even if it's just a five minute breather. It's important you find some way to decompress in the short term, or things risk getting on top of you.
In the longer term, you'll want to make sure you take a more sustained break from things – a holiday, or a week to focus on yourself. If you have family or close friends around, they may be able to take the reins for a little while. If you don't, taking a break is still an option.
After all, there are plenty of care companies out there who will help in the short term. In fact, most communities offer some sort of respite care, including in-home respite, adult care centres and short-term nursing homes. A quick Google should track these down.
Related Questions
Alzheimer's: How to Care for Ageing Parents
There may come a time when we realise our parents or relatives aren't able to live alone any longer. Old age and age-related issues such as Alzheimer's create safety concerns, and these become a constant worry. However, we neither want them to move into a home nor do they wish to live in residential care. The question then arises whether live-in care is an option. Can care given by a live-in caregiver be a better option, and is it an affordable one? Read more »
Cancer: How to Care for Ageing Parents
Cancer is typically a disease that affects older people. In 90 percent of all cancer cases, the person is over 50 years of age. The majority of these cases occur in people aged between 50 and 74, but a third of all cases are in those aged 75 and older. Prostate, breast and lung cancers are all quite common in older people, but this section of the population is susceptible to all form of cancer. Read more »
Care for the Elderly: Grooming and Hygiene Guide
Maintaining good personal hygiene is important as your loved one ages, but it is not always easy to intervene if you feel they are not coping well. Poor hygiene can result in uncomfortable infections and skin complaints, so to avoid this, you or your loved one's caregiver may have to encourage them tactfully to accept some assistance. They may be more willing to agree to the support on offer if they realise that it will enable them to retain a level of independent living. Read more »
Death of a Spouse: How to Care for Ageing Parents
Losing a parent is hard, but harder still for your surviving parent, who must now face life alone after many years as a partnership. Your surviving parent is likely to be overwhelmed by feelings of grief and loss and will need huge amounts of understanding and sympathy over the coming weeks, months and years. Read more »
Dementia Live-in Care: How Does It Work?
People living with dementia often find change confusing and threatening. This is why arranging for care in their own home can be the best possible option if they are no longer be safe to be left alone. Live-in care is gaining in popularity, and specially trained staff are available to provide Alzheimer's support as well as other types of care. Read more »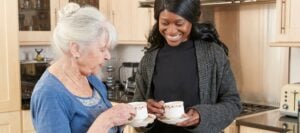 About us We're the UK's leading live-in care specialists, providing the alternative to the care home What we do Stories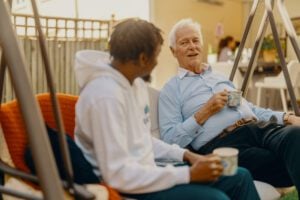 Customer stories Find out what live-in care is like from families who have arranged it themselves.   Trustpilot Every family

Elder Standards – what you can expect Arranging live-in care for a loved one is a big decision. It's important
Would you like to book a better time to talk?
Click the button below to schedule a chat with an Elder care specialist.