Motor Neurone Care: Is There a Cure for Motor Neurone Disease in the Elderly?
Motor neurone disease (MND) affects the nerves responsible for everyday functioning such as swallowing, breathing and walking. There's no cure available at the moment, but being informed can help a loved one to better understand and manage their condition.
The right treatment and care can help to slow the progress of the disease and improve their quality of life. Additionally, with support from a live-in carer, your loved one can receive personalised practical and emotional comfort.
About MND
Motor neurone disease usually affects people over the age of forty. Diagnosis is more common in women than men, and around 7 in every 100,000 people in the UK have MND. Approximately 5 in every 100 people with the disease have a family history, but for the majority diagnosed with MND, the reason is unknown.
The disease gradually destroys the nerve cells it attacks, meaning symptoms will worsen over time. The exact impact of MND on a loved one's life will depend upon the type of disease they have. Home care can help those affected to adapt as their symptoms change and develop.
Types of MND
Amyotrophic lateral sclerosis (ALS) is the most common form of MND. It affects the muscles in the face, arms and legs, causing stiffness, weakness and muscle deterioration.
Progressive bulbar palsy affects the muscles used for chewing and swallowing, affecting 1 in 5 people with MND.
Frontotemporal dementia with motor neurone disease (FTD-MND) is a rare form of MND that causes personality changes and memory difficulties and may require specialised dementia care.
Progressive muscular atrophy is less common, with symptoms first appearing in the hands and feet.
Primary lateral sclerosis is another rare type of MND with symptoms appearing in the legs before affecting other parts of the body.
Symptoms and diagnosis of MND
The symptoms of motor neurone disease can come on gradually over weeks or months. Early symptoms may include:
– Weakness in the legs causing your loved one to trip or have difficulty climbing the stairs
– Weak grip that causes trouble with holding things or fastening clothes
– Weight loss and noticeable thinning of the muscles
– Muscle cramps and twitches
– Difficulty swallowing and slurred speech
If a loved one shows any of these symptoms, they should see their GP as soon as possible. They'll be referred to a neurologist if there is a suspicion that the cause of the symptoms is motor neurone disease.
There are no specific tests for MND. However, a GP may use the following measures to rule out other causes and confirm their diagnosis:
– Blood tests
– MRI Scan of brain and spine
– A lumbar puncture that collects fluid from the spine with a thin needle, also known as a spinal tap
– An electromyogram (EMG) or nerve conduction tests to establish the level of electrical activity in the muscles
Motor neurone care
There's no cure for motor neurone disease, but a team of medical specialists can help to manage the effects of MND on your loved one's life:
– A physiotherapist will help with physical and mobility problems, so that movement and breathing is easier
– An occupational therapist can help with managing everyday tasks using adapted equipment for greater independence
– A dietician will advise on eating, healthy diet, hydration and maintaining a healthy weight
– A speech and language therapist can help with slurred speech and problems with swallowing
---
Colin and Dulcie's story
Dulcie is 102-years-old and lives with her son Colin, his wife Mary, and her Carer Sarah. She has dementia and has had full-time live-in care for over two years.
We talk to the family about the challenges of finding the right care solution for a fiercely independent woman – and how the positive benefits of live-in care with Sarah has transformed all of their lives.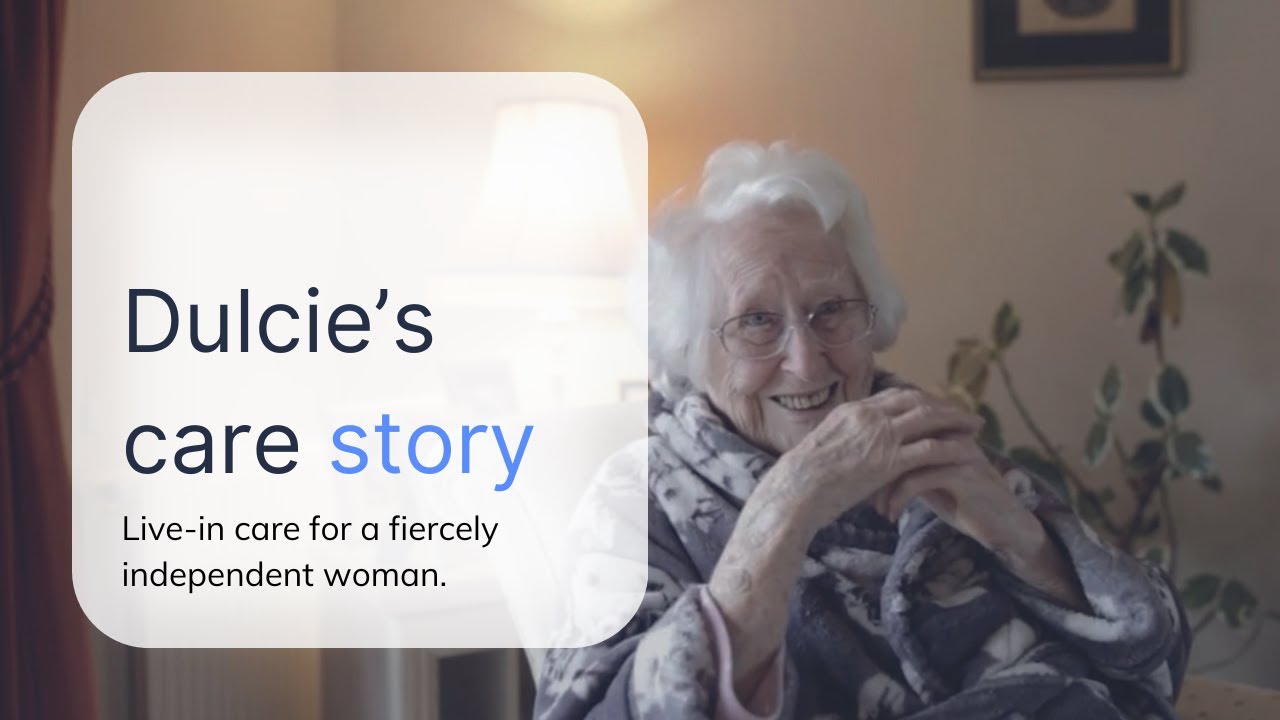 ---
Treatment for MND
Treatment options include medicines to manage symptoms, tube feeding, breathing and ventilation support and complementary therapies. There are also treatments currently in development that could prove effective in the future.
Medicines
Riluzole is the only drug licensed and approved for the treatment of MND. The drug has proven to have a modest impact on the progress of symptoms of amyotrophic lateral sclerosis. There are also medicines to manage the production of saliva or thin it down and numerous medications available to help ease any pain.
Tube feeding
Tube feeding can help people with MND to stay hydrated and well-nourished. The tube can provide some or all of a loved one's nutritional and hydration needs and can help to prevent chest infections.
Breathing and ventilation support
In addition to physiotherapy to help with breathing, people with motor neurone disease may require assisted ventilation through:
– Non-invasive ventilation using a breathing mask
– Tracheostomy ventilation where a tube is inserted into the windpipe and a machine does the breathing
Complementary therapies
These types of therapies work alongside medication and other treatments to help reduce anxiety and stress and ease symptoms. People living with MND and receiving elderly care may find these types of therapies helpful.
Carers should make sure that practitioners are fully qualified and registered with a professional body. A GP should be consulted before trying any complementary therapies.
Standard complementary therapies include:
– Reflexology
– Massage
– Acupuncture
– Medication
Treatments in development
Researchers are currently developing new treatments for MND that may prove effective in the future. These include:
– Gene therapy to switch off the genes that cause MND
– The use of Interleukin-2 to protect nerve cells from damage
– Stem cell research to create new motor neurones
Prognosis and support
Living with motor neurone disease can be challenging. However, people receiving private care at home and specialist motor neurone care can usually continue to live independent lives until the late stages of the disease.
MND does not affect sight, hearing, touch and other sensations, and the bladder and bowels usually remain unaffected.
While the diagnosis of MND may seem daunting, it's important to remember that there is a great deal of support available for people living with MND and also for their carers, including counselling and therapy to help manage feelings of anxiety and depression.
Call us for expert live-in care advice
While there is no cure for motor neurone disease, with correct motor neurone care and support for your loved one, it can help to reduce the impact of symptoms.
Related Questions
Coronary Care: How do I Care for a Loved One with Coronary Heart Disease?
Successful coronary care management for an elderly loved one consists of having a deep understanding of heart disease and being able to recognise its symptoms.
Diabetes Care: What Causes Diabetes in the Elderly?
Diabetes care is more than just managing the symptoms, it's also about understanding the causes to help reduce the risk of developing further health issues.
Hypertension Care: How do I Care for a Loved One with Hypertension?
Correct hypertension care is crucial in maintaining good heart health. Here are some ways to help ensure your loved one's condition is carefully monitored.
Motor Neurone Care: How do I Care for a Loved One with Motor Neurone Disease?
If your loved one or family member requires motor neurone care, it's vital to gather plenty of resources and information to better understand the condition.
Motor Neurone Care: What Causes Motor Neurone Disease in the Elderly?
Providing motor neurone care can be challenging, so it's important to understand the disease. Here we take a look at the different symptoms and causes of MND.