Quick summary:
Although there's no cure for dementia, there is a range of therapies that can help people living with the condition remember the past through sensory triggers such as sight, smell, touch, and sound.
There's no right or wrong complementary therapy, it's simply a case of finding out which one works for you. There's an ever-increasing number of things to try, we go through just a few of them here.
It is advisable to discuss any proposed complementary therapies with your loved one's doctor to ensure that there will not be any harmful reactions with their current treatment. The doctor may be able to recommend a reputable local practitioner or possibly refer your loved one through the NHS.
Although complementary therapies can help people who are living with dementia, it is important to retain a realistic view and not expect a magical solution to their problems.
Some of the most widely practised complementary therapies are outlined below.
Aromatherapy and dementia
Aromatherapy can have a calming effect on some people in the early or middle stages of dementia. In the later stages of the disease, some people's sense of smell is reduced, so aromatherapy is less effective.
The scent from essential oils is used in a variety of ways and can relieve stress and promote well-being. Chamomile, lavender and lemongrass are all used to promote relaxation.
The oils can be warmed in an oil burner to release the scent, a few drops can be added to a bath, or a small amount can be dropped on to a pillow or a tissue.
Because scent can evoke powerful memories and feelings, it can be a good idea initially to give your loved one a tissue with a drop of the essential oil so that you can judge their reaction to it.
Aromatherapy can also be used for massage, but this isn't suitable for everyone. If your loved one has a skin condition such as psoriasis or eczema or has allergies or delicate skin, it should be avoided. Some people find being touched an uncomfortable sensation, so massage would not be suitable for them either.
Essential oils can be irritating to skin, so they always need to be suitably diluted before they are massaged into the skin. Only continue with aromatherapy if your loved one is enjoying it. Oils that promote relaxation are best used at bedtime.
Massage for dementia
Although massage has been widely used in elderly care, it is important to ensure that your elderly relative enjoys it. If they do, it can help with relaxation and give them a feeling of well-being.
Weighted blankets can also be used to provide your loved one with the same sensation of deep touch stimulation that massage provides.
Discover more of our articles on dementia
From dealing with a diagnosis and understanding the implications to getting advice on how to live well with the condition, our extensive resources will help guide you through what can be a tough and emotional moment.
Music therapy for dementia
Music can be used to soothe agitation and evoke memories from the older person's youth. You could search for a professional music therapist, but this is also something you could try if your loved one has care at home, by using an MP3 player or an iPod.
You will probably have a good idea of the music your relative enjoys, and you could play something up-tempo during the day to stimulate them to be active, perhaps tapping their feet, clapping their hands or even dancing.
Observe them to see how they are reacting, only continuing if they appear to be engaged and enjoying it. Towards evening, more soothing music may help them to relax before bedtime.
Art therapy for people with dementia
Art therapy can be carried out in small groups led by a leader trained in art therapy, but it can also be facilitated at home if your loved one has companion care.
Their carer can provide safe materials such as children's watercolour paints or brightly coloured clay, and the older person can use these to express whatever they want.
Because there is no right and wrong, there should never be a sense of failure, and your loved one's self-esteem may be boosted by being able to create a piece of art.
Pet therapy for dementia patients
Pet therapy is widely used in residential homes where elderly people rarely experience the enjoyment of being close to animals. It has been shown to help people to deal with problems arising from health issues such as heart disease and cancer, but it is also very valuable in dementia care.
If your elderly relative is fortunate enough to have care at home, provided by one of the best live in care agencies, such as Elder, they may well be enabled to keep a beloved pet. Interacting with pets has been shown to increase levels of oxytocin, the "feel good" hormone, in the body.
A reduction in agitation and blood pressure has also been linked to interactions with animals and having a pet at home can benefit the caregiver as well as the person who is living with dementia.
Doll therapy and dementia
Dolls can be used in dementia care and can be useful, particularly in the later stages of the disease. Some people will enjoy holding a doll, and it may evoke memories of when their children were young.
Sometimes, having a doll seems to give the elderly person a new sense of purpose, they may become generally more lively and sometimes communicating with the doll leads to improved communication with others.
The doll should be gradually introduced – perhaps letting the person who has dementia find it themselves. If they appear to be interested in the doll, it can be useful as a way to communicate with them.
Ensure that your loved one does not become so attached to the doll that they neglect their own well-being, for example, giving it their food. If this occurs, remove the doll at meal times.
Visitors or other family members may initially think that doll therapy is treating the person with dementia like a child, but if you explain the benefits, this should soothe their concerns.
Not everyone will be interested in a doll, but you could try introducing a cuddly toy as an alternative if you feel they might benefit from this type of complementary therapy.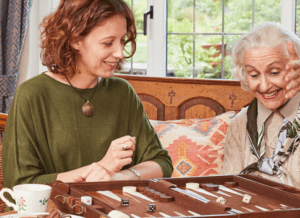 Paying for care Paying for care isn't as daunting as you might think. Read our guide on paying for care, and use our care funding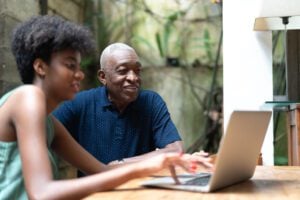 NHS Continuing Healthcare – your complete guide NHS Continuing Healthcare covers every penny of your care costs. It's available for anyone with long-term health needs.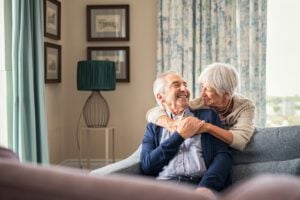 Local authority care funding – everything you need to know If you need live-in care or have to move into a care home, local authority