Alternative therapies might help a person manage some of the symptoms of dementia – these might be psychological symptoms such as feeling agitated, or physical symptoms, such as being unable to get a good nights sleep. 
Complementary therapies should be approached in the same way as any 'person-centred care'. This is because individuals experience dementia in different ways, what may help one older person may work for someone else, so you may have to try different therapies before finding one that is beneficial. 
Although there's no cure for dementia, there is a range of alternative therapies that some find beneficial in managing symptoms related to dementia, such as restlessness, low confidence, and confusion. 
Some therapies may help people living with the condition remember the past through sensory triggers such as sight, smell, touch, and sound.
There's no right or wrong complementary therapy, it's simply a case of finding out which one works for you. There's an ever-increasing number of things to try, we go through just a few of them here.
How to find dementia therapy
It's always advisable to discuss any complementary therapies you're considering with a GP, to ensure it's suitable and won't negatively interfere with any current treatment. The doctor may be able to recommend a reputable local practitioner or possibly refer your loved one through the NHS.
Although complementary therapies do sometimes have positive effects on people are living with dementia, it's important to retain a realistic view and not expect a significant change or improvement in quality of life. Complementary therapies are not a replacement for medical treatment. 
It's also important to state that very few clinical trials have been done into complementary therapies. The Alzheimer's Society, for example are careful to state that for many of the below therapies there is little conclusive evidence of how effective they may be. 
Aromatherapy and dementia
Aromatherapy is centred around the belief that the sensory stimulation of certain scents can have a beneficial effect on a person. 
Aromatherapy used concentrated herbal products and essential oils, and some people believe certain scents can have a calming effect on patients with dementia. 
Scents like chamomile, lavender and lemongrass are often used in aromatherapy to promote relaxation. Studies have indicated that lemon balm – a herbaceous plant in the mint family, may have some positive effects on cognitive performance in people with mild to moderate dementia. 
Some scents may also evoke memories, for example a floral smell may be reminiscent of a special someone's perfume, or a strong herby smell may bring back memories of a cooking a particular meal. 
The oils may be warmed in an oil burner to release the scent. Some people choose to add a few drops to a warm bath, or a small amount may be dropped on to a pillow or a tissue.
If introducing a new scent, Dementia UK advise putting a small drop of scent on a tissue and offering this first, to see how a person reacts to a certain smell. Some oils may have a different effect than expected. 
Only continue with aromatherapy if your loved one is enjoying it. Oils that promote relaxation are often best used at bedtime.
For more information on aromatherapy and dementia, Dementia UK has clear guidance.
Massage for dementia
Massage is a physical activity that involves rubbing and and kneading the body's soft tissue. It's best performed by a qualified practitioner, who'll be able to introduce touch gradually and will understand which techniques to use to encourage feelings of trust and reassurance. 
Massage may be beneficial across all stages of dementia, but particularly in cases of advanced dementia, as it engages people through their sense of touch and smell, rather than requiring them to understand or process information. It can usually be done in a person's own home, or in a care home. 
Aromatherapy is often used for massage, but this isn't suitable for everyone. If your loved one has a skin condition such as psoriasis or eczema or has allergies or delicate skin, it's often best avoided, or you should at least seek advice from a doctor. Essential oils can be irritating to the skin, so they should only ever be used according to the instructions on the label. For example, the majority will state they should be well diluted before they are massaged into the skin.
Some people find being touched an uncomfortable sensation, so massage would not be suitable for them. Dementia UK advise that you should always ask a permission and explain what's going to happen before a massage. 
Music therapy for dementia
You'd be hard pushed to find someone who doesn't have an opinion about music, a favourite song or artist, or a genre they enjoy. Music plays a big part in most people's lives – it can help us celebrate  or remember special people and moments and can bring us together – either through watching a performance, dancing to it, or singing along.
Therefore music can be a powerful tool to bring back memories or engage with individuals with dementia. So much so that Music for Dementia – a UK campaign group is leading the call for music therapy to become a key part of dementia care. Their work brings together and amplifies key research into the impact of music, including:   
Music therapy has been found to reduce agitation in 67% of people with dementia
Depression can be reduced by as much as 40% in care settings through singing
Singing in care homes may half anxiety among residents with dementia. 
In collaboration with UK Music, Music for Dementia has also released the 2022 Power of Music report, which outlines how music can improve the well-being of the nation, not just of those living with dementia. You can read the report here. 
According to Dementia UK, music can also help people with dementia to express their feelings, reminisce, and encourage physical activity through dance. It can also be a social activity and help reduce isolation. Playing certain types of music may also help create a sense of calm, which could be beneficial during activities that a person finds stressful, such as when they're receiving personal care. 
If you're interested in trying music therapy, you could search for a professional music therapist, or look into local singing and music groups. The Alzheimer's Society runs Singing for the Brain groups around the UK, and offers an online directory for finding local independent groups too. 
If your loved one has care at home, you may wish to try seeing how they respond to music simply using an MP3 player or an iPod. You will probably have a good idea of the music your relative enjoys, and you could play something up-tempo during the day to stimulate them to be active, perhaps tapping their feet, clapping their hands or even dancing. Playlist for Life is a UK charity that helps people curate personalised playlists of songs that reflect their life story, and offers guidance on the best way to incorporate playlists into daily living. 
Observe them to see how they are reacting, only continuing if they appear to be engaged and enjoying it. Towards evening, more soothing music may help them to relax before bedtime.
If you're interested in exploring music therapy further, Dementia UK have a free fact sheet here.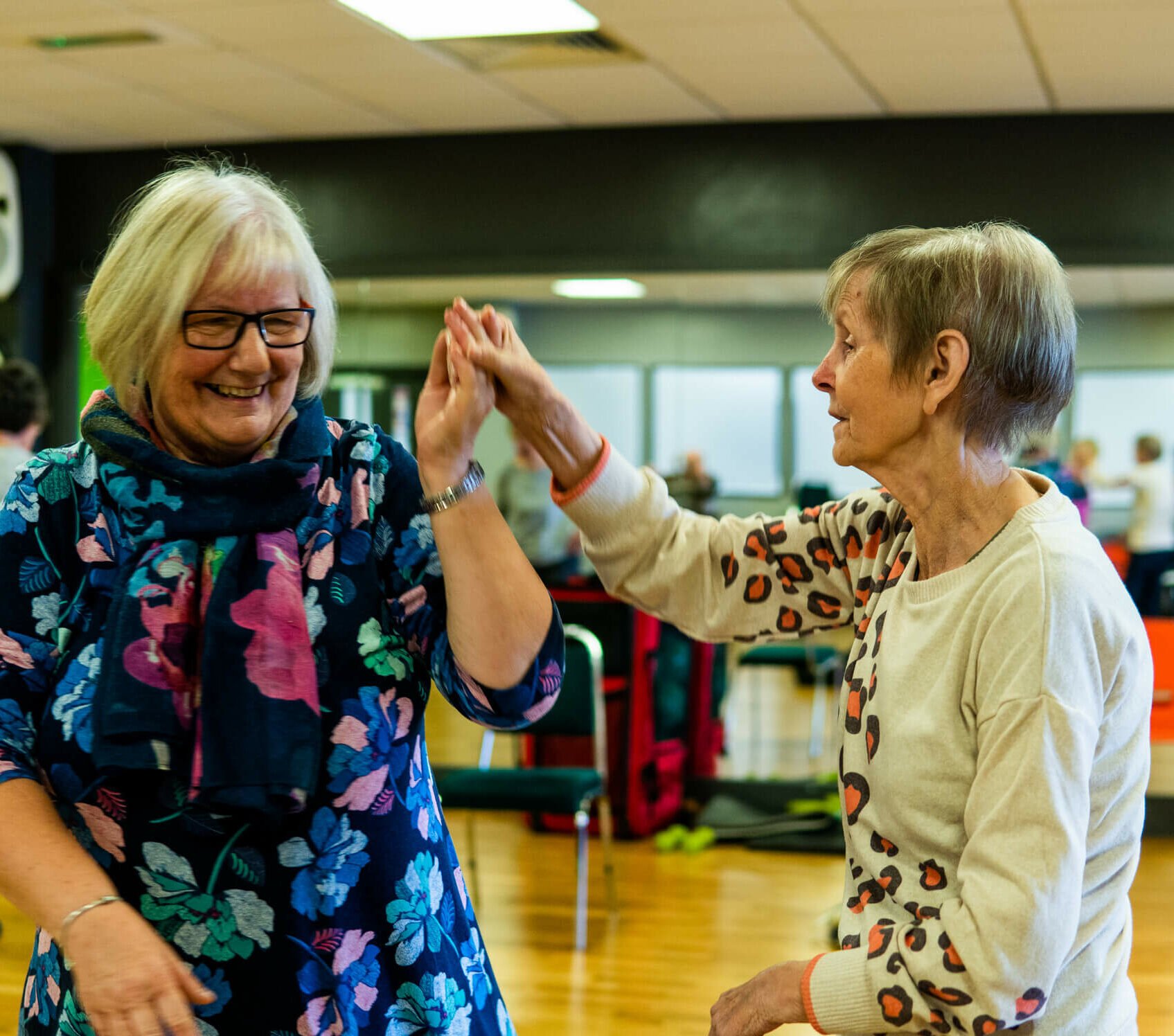 Art therapy for people with dementia
Creating art – whether through paint, clay, collage, and even poetry can be a great way for people with dementia to express themselves. It can engage attention, and provide a sense of accomplishment. 
Art therapy can be carried out in small groups led by a leader trained in art therapy, but it can also be facilitated at home if your loved one has companion care from professional caregivers. Arts 4 Dementia is a great resource for finding nearby classes and group events, and also have links to resources for family caregivers on activities that you may wish to try at home, such as this guide to arts and crafts for people with Alzheimer's. 
Because there is no right and wrong, there should never be a sense of failure, and your loved one's self-esteem may be boosted by being able to create a piece of art.
Pet therapy for dementia patients
Pet therapy is widely used in residential homes where elderly people may not be able to experience the enjoyment of being close to animals. Spending time with animals has been linked to improved empathy, lower blood pressure, and sharper memory. 
For a person with dementia pet therapy may provide a source of comfort, and a visit from a therapy animal may help brighten their day. 
If your elderly relative is fortunate enough to have care at home, they may well have the support they need to care for an existing pet – meaning they can enjoy the companionship and routine pet ownership brings, but get help with some of the more involved areas of pet care, such as exercising, cleaning litter trays, or visiting the vets. 
If your loved one doesn't have a pet, there are a number of ways they can still interact with animals. For example, Give a Dog a Bone is a charity that has set up a number of social spaces in Scotland where people can enjoy a cup of tea and a chat while interacting with dogs. They even arrange group dog walks too. Wag and Company arrange home visits from companion dogs and specially trained volunteers in the North East of England, and many local community centres and care homes arrange regular animal visits from organisations such as Pet Pals. 
Jan and Jeff's Elder story
Carer Jan regularly takes her Bedlington Whippet Jeff with her when caring for people in their own homes. We spoke to Jan about the positive impact Jeff has had, and what makes him the perfect therapy dog.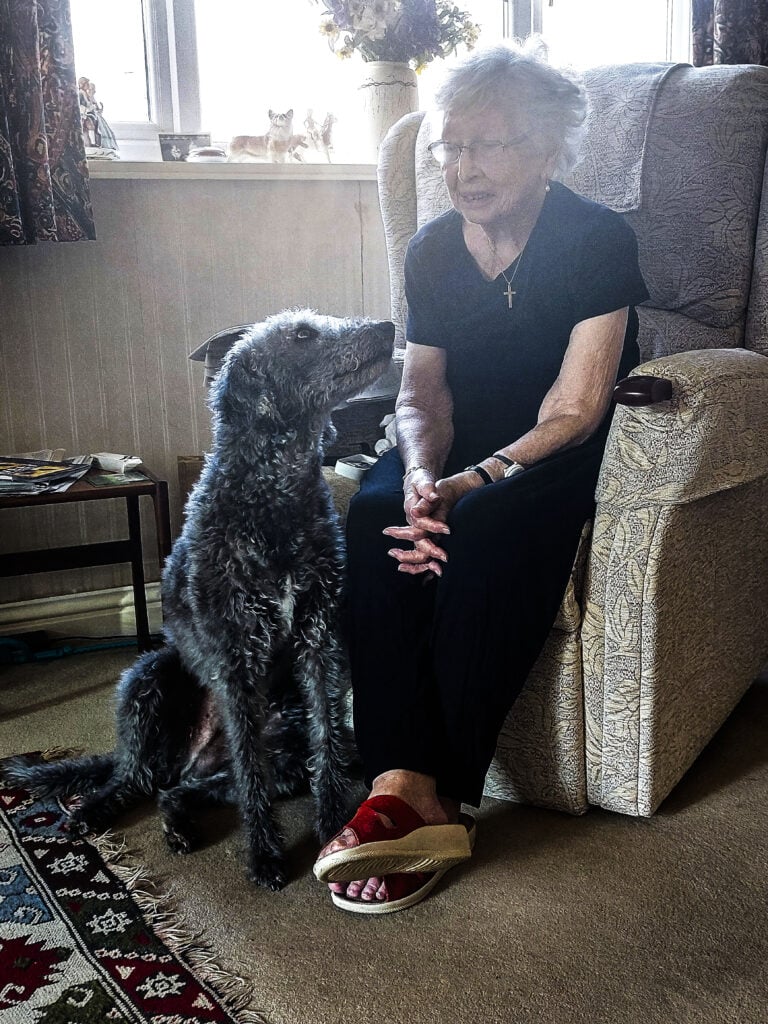 Doll therapy and dementia
Dolls can be used in dementia care and can be useful, particularly in the later stages of the disease. Some people will enjoy holding a doll, and it may evoke memories of when their children were young.
Sometimes, having a doll seems to give the elderly person a new sense of purpose, they may become generally more lively and sometimes communicating with the doll leads to improved communication with others.
The doll should be gradually introduced – perhaps letting the person who has dementia find it themselves. If they appear to be interested in the doll, it can be useful as a way to communicate with them.
A person with dementia may become attached to the doll, so it's important to ensure they don't neglect their own well-being in the process, for example, giving it their food or avoiding social things because they feel they have to care for the doll instead. You may choose to suggest babysitting the doll for them at these times. 
Visitors or other family members may initially think that doll therapy is treating the person with dementia like a child so it's important to discuss the benefits of doll therapy with those close. 
Not everyone will be interested in a doll, but you could try introducing a cuddly toy as an alternative if you feel they might benefit from this type of complementary therapy.
Doll therapy can come with lots of complex emotions and things to consider. For more guidance on getting started with doll therapy take a look at Dementia UK's website. 
Reminiscence therapy and dementia 
Reminiscence therapy is all about helping a person reconnect with their long-term memories. It can take many forms, and as you've seen a lot of the therapies above can help with reminiscence. 
It usually involves discussing life events and experiences to evoke memories and keep the mind active. Some people use meaningful photos, videos and objects as prompts. Creating a memory box of special items, or scrapbook together can be a nice activity to do together, and used as a prompt in the future. 
Some people find starting off with a particular topic in mind useful. Dementia UK suggest the following ideas – 
Childhood and family holidays
Food likes, dislikes 
Pets and animals
School days
Music, such as performances they've attended, or favourite albums
Light therapy and dementia 
This is another therapy where a lot more evidence and research is needed into it's effectiveness. Some researchers believe bright-light therapy may help reduce problems with sleep and night-time behaviour.  In a few small scale studies they found that sitting in front of a special light box  can 'reset' the internal body clock, and increase nighttime sleeping. 
However, with the research still in its infancy the Alzheimer's Society state that they can't recommend using light therapy as a therapeutic intervention for people with dementia until more clinical studies have been completed. 
The Elder Interview: Nigel Franklin, CEO of Arts 4 Dementia
We encourage artistic stimulation across all sorts of art forms – we've helped run workshops in painting and drawing, dance, music, opera, printmaking and heritage in museums, for example. The important thing is that even years after the memory has gone the creative part of the mind can still be working well – for us, it's about unlocking parts of the brain and the only limit really is the imagination of the workshop facilitator.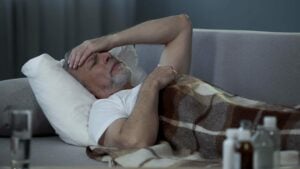 Caring for sleep problems in elderly Changes in sleeping patterns are frequent in older people, and you may notice that it progressively gets worse over
Read More »