The similarities between care and nursing homes
Care homes and nursing homes provide 24-hour care, with staff on hand round-the-clock to support and assist with personal care needs. Carers are there to help your loved one eat their meals, bathe, get to the toilet and to entertain them with a variety of fun and mentally stimulating activities, in addition to distributing medication and helping them if they become ill.
The differences between care and nursing homes
Although it may seem as though the terms are interchangeable, there are some significant differences between care homes and nursing homes. While both types of home offer elderly care and supervision from staff, nursing homes also have full-time registered nurses on duty round-the-clock. This means that they are better able to care for residents with more complex needs, such as those requiring help to treat or manage diabetes, Parkinson's disease and the after-effects of a stroke, as well as those requiring dementia care.
Nurses are also qualified to administer drugs through injection and to apply complex wound dressings if needed. In care homes, district nurses are usually called out for such tasks and with multiple visits to make and multiple patients to see, their arrival time can be difficult to predict. This may disrupt other parts of the day such as meal times or social events.
---
Dulcie's care story
Duclie is one of our longest serving customers. In this video her and her family talk through their decision to arrange care in the home rather than the care home.
---
The benefits of care and nursing homes
The major benefit of a care or a nursing home is the peace of mind which comes with knowing that your loved one has round-the-clock supervision and support from qualified members of staff, either with or without medical qualifications.
You can also be assured that they have companionship and interaction with other people their own age, and deep and meaningful friendships often flourish in residential homes. The mental stimulation provided by talking and socialising with fellow residents and staff can help keep your loved one happy and ward off the feelings of loneliness and depression which so often affect those who live alone in their own homes alone.
When your loved one moves into a care home or a nursing home, you know that they are receiving healthy, nutritious meals and are no longer burdened with cooking and shopping. These are tasks which those in need of care often find difficult to manage or give up on altogether. You can also be confident that they are receiving whatever medication they require in the right dosage and at the right time, something which can often be a struggle when living alone, particularly for those suffering from dementia.
The downsides of care and nursing homes
Of course, there are downsides to life in a care home or nursing home. While they may receive round-the-clock supervision, your loved one may not enjoy the level of one-to-one care they need and deserve.
However well-qualified and dedicated they may be, care home staff often find themselves stretched in terms of the amount of time they can spend with each resident. With large numbers of people to attend to, the time they spend with your loved one can often seem rushed and they may not always be able to fully see to their needs.
Because they are under so much pressure, schedule-wise, the times at which staff conduct certain tasks may not be convenient for your loved one. They may be required to get out of or go to bed at a certain time, for example, without necessarily being ready to do so. They also have less control over other daily decisions we often take for granted, such as when we eat our meals and what we decide to eat.
Feeling that they have been stripped of independence and freedom of choice can have a negative impact on the mental well-being of an elderly person, particularly if they are used to living a full and active life.
Alternatives to care homes and nursing homes
With so many negative headlines surrounding the standards of care in care homes and nursing homes, many people are looking at alternatives when it comes to elderly care. One increasingly popular form of care is care at home, whereby your loved one remains in their own home and a live-in carer moves in with them to offer 24-hour care and support.
Home care gives your loved one the opportunity to remain in familiar surroundings while benefiting from the one-to-one assistance they may need to continue to live independently. This approach is particularly beneficial for those in need of dementia care. Your loved one's carer will assist in a range of daily tasks, including shopping and preparing nutritious meals, taking your loved one to and from various appointments and social events, and help with personal care tasks, such as bathing and going to the toilet.
With companion care, many elderly people build up a deep bond of trust and friendship with their live-in carer and enjoy the mental stimulation of having someone nearby with whom to chat and share their hobbies and pastimes.
Elder specialises in providing tailored care-at-home packages, and we always attempt to match your loved one with a live-in carer who shares your loved one's interests and has a similar personality and world-view.
Care in the home can be an affordable and more comfortable alternative to living in a residential home, allowing your loved one to lead a full and active life for longer.
Call us for expert live-in care advice
Learn more about 24-hour care
Take a look at more Elder guides on round-the-clock care.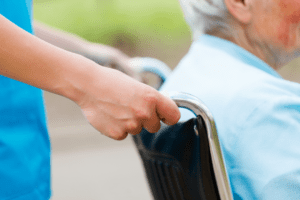 Care Homes Vs Nursing Homes – What's the Best Option? At some point, your loved one may reach a stage where they require 24-hour