You've reached us outside of our opening hours. Create your account to get access to My Elder, our online portal for arranging care and accessing information to support your journey to care.
Live-in care in Daventry
At Elder, we provide high-quality and affordable live-in care for the elderly and those in need throughout Daventry.
Or call us, we are here to help
What is live-in care?
As your elderly parent or other loved one grows older you may worry about how they are going to manage in the future, particularly when they reach the stage of needing full-time care. Most elderly people are reluctant to leave the familiar environment of their own home, so live-in care can be the ideal alternative to a care home.
To find out more about Elder's live-in care service, contact us and speak to our care advisors who will be happy to give you all the information you need. Lines are open seven days a week from 8am until 8pm.
Why is live-in care in Daventry preferable to a care home?
Live-in care gives our customers peace of mind because they know their loved ones are being cared for, and kept safe, in the comfort of the home they love. Because Elder's dedicated carers are there only to look after your relative, the attention they receive is aimed specifically at meeting their needs. There is no competition from other residents, as there would be in a care home.
Often a person's community can be as important as their home, and with live-in care your loved one will be supported to continue seeing friends and neighbours. They will be able to carry on enjoying their hobbies and activities as far as possible.
Live-in carers can move into your loved one's home in Daventry or in surrounding villages such as Norton, Welton and Staverton to supply all the care they need. If your elderly relative is living wit dementia or has Alzheimer's care needs, Elder's carers can provide the complex care they may require.
The carers who work with us are highly trained and have experience of caring for elderly people with a wide range of conditions, so you can be confident the care they deliver will be some of the best your loved one could receive.
How does live-in care work?
Your loved one's unique needs will be documented in an individual care plan, prepared exclusively for them, and the live-in care giver will use this as a basis for providing the support and assistance needed on a daily basis.
If your relative enjoys certain activities, for example, cooking, their cxarer will support them to continue to do this and concentrate on tasks that your loved one would like help with, such as cleaning or ironing. Any changes in your loved one's abilities or preferences will mean that the care plan is adapted to reflect these changes.
Your elderly relative may need assistance with different aspects of personal care, such as washing and dressing, or they may need someone to ensure they take their medication appropriately, and the dedicated carer will do whatever is necessary to keep them safe and comfortable.
If your loved one is a car owner, our carers will also chauffeur them to any appointments they need to attend such as physiotherapy at the local Danetre Hospital. The live-in carers can help their care recipients by collecting any medication that is needed from a local service such as Spackman & McKenzie's pharmacy.
Live-in care in Daventry and the surrounding area
Whether you're looking to arrange specialist dementia care, individually-matched live-in care, or just need to put in place short-term respite care, we're able to help. Take a look at our list of local locations below.
What our customers say
"It is reassuring to know that my father is being cared for by someone who understands his needs and his dementia symptoms."
Patricia, UK
How can Elder's live-in care service enhance your loved one's life?
Having a live-in carer around whenever your loved one needs assistance can give your relative the confidence they need to get out and about, and enjoy activities beyond their home. The carers we work with will talk to your relative and find out what they like to do and accompany them, for example, on gentle walks or on trips to local attractions.
If your loved one likes shopping, a drive out to the Heart of the Shires shopping village can make a good day out.
The paths around Daventry Country Park are suitable for less mobile visitors, with wheelchair-accessible bird hides. So, even if your loved one's mobility is poor, they can still enjoy fresh air and wildlife with their live-in carer.
Nearby, the National Trust property Canons Ashby also attracts visitors who enjoy visiting both the house and the terraced gardens.
In the centre of town, Daventry Museum is a friendly place with many interesting exhibits and level access at the rear.
Why choose Elder?
The carers who work with us always have at least one year experience and go through a face-to-face interview, care exam and DBS check (PVG check in Scotland) before they join. But, it's about more than simply ensuring the carer has the professional and trusted experience required to do the job. Our care planning experts go to huge lengths to make sure your elderly relative and their carer have the best possible chance of really getting along.
That means taking the time to listen to your loved one's case, building up a picture of what's important to them, and using that information to match them to carer we're confident they're going to get along with. Our unique character-matching process focuses on hobbies, interests and specific preferences.
The carers we work with normally care on a rota basis with one other carer, often working two weeks on and having two weeks off. Thus, your loved one will benefit from great continuity of care and get to know the carers really well and feel comfortable with them.
Your carer will know the importance of encouraging their care recipients to remain as physically active as possible, with all the health benefits this brings. If your loved one has pets, our carers will ensure they're cared for and fed regularly, if this has become difficult for your elderly relative to manage alone. Pet ownership is associated with health benefits, such as lower blood pressure and reduced stress, so it's important they're not separated in their later years.
How much does live-in care in Daventry cost with Elder?
Standard live-in care with Elder is £1225 per week. There are no hidden costs, and you're free to add additional extras only if you want them, so you can plan your budget with confidence.
Because we try to ensure the carers who work with us earn higher than industry rates, we're able to work with only the most experienced and skilled carers available.
Dulcie's care story
Dulcie is one of our longest serving customers. In this video, both her and her family talk through their reasons for asking Elder to help them with their care decision. It was a truly life-changing decision.
---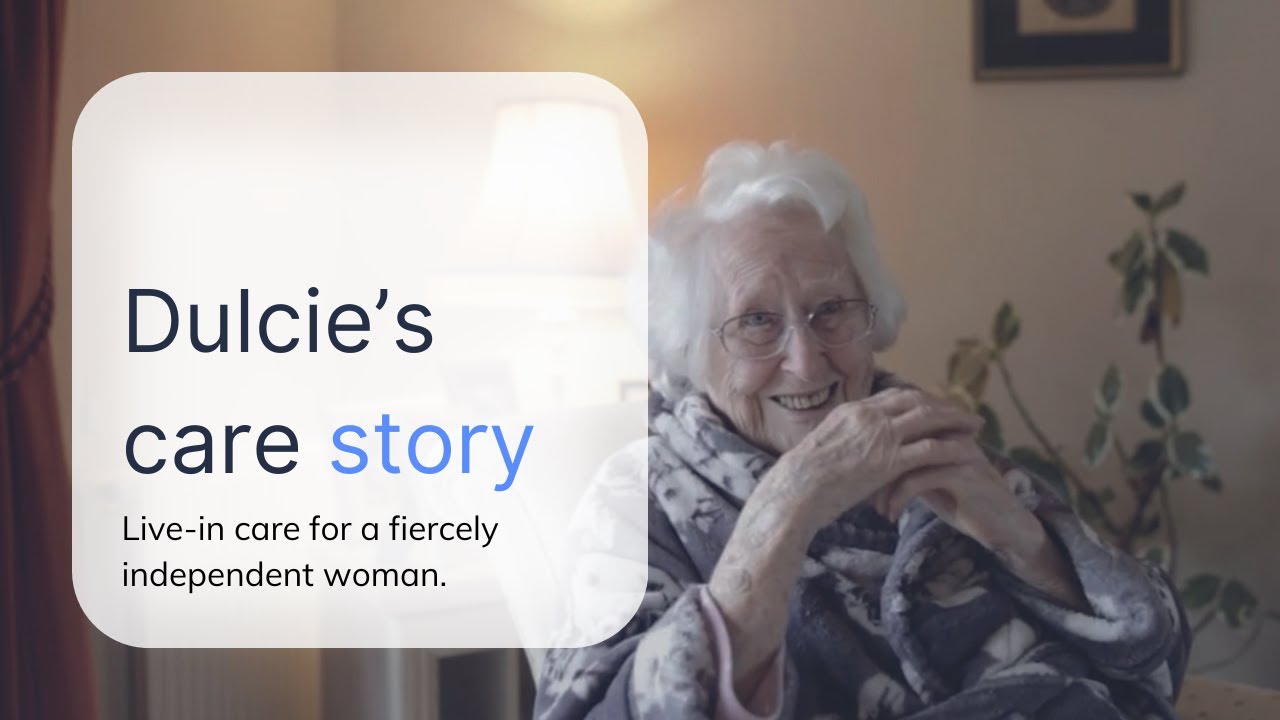 ---
Local Resources for Carers in Daventry
The adult social care page has links to support, help and advice for older people in the region and their families and carers.
– Contact form: https://northamptonshire-self.achieveservice.com/service/contact_northamptonshire_county_council#_ga=2.68035345.1086105598.1537360898-826332139.1537360898
– Address: Northamptonshire County Council, One Angel Square, Angel Street, Northampton, NN1 1ED
– Call: 0300 126 1000
Regular music therapy and singing group for those with dementia and their carers.
– Email: [email protected]
– Address: Greens Norton Community Centre, Towcester Road, Greens Norton, NN12 8BL
– Call: 01832 736670
Day centres for people with dementia in the Daventry area, with regular Monday and Wednesday meetings.
– Contact form: http://www.housingcare.org/service/ser-info-6341-alzheimers-soci.aspx
– Address: Alzheimer's Society Northamptonshire, Christian Fellowship Centre, Shadowfax Drive, Overstone Lodge, Northampton, NN3 8DB
– Call: 07866 039092
A useful resource, packed with information, support, advice, meetings and events for the elderly in and around Daventry.
– Email: [email protected]
– Address: Age UK Northamptonshire, 31 Billing Road, Northampton, NN1 5DQ
– Call: 01604 611200
This service from Daventry District Council arranges for home adaptations and grants for elderly people in the region who wish to remain in their own homes.
– Email: [email protected]
– Address: Daventry District Council, Lodge Road, Daventry, NN11 4FP
– Call: 01327 871100
Regular activities and support group meetings for anyone in the region who works in a caring role
– Email: [email protected]re-carers.org
– Address: Northamptonshire Carers, 123 Midland Road, Wellingborough, Northamptonshire, NN8 1LU
– Call: 01933 677837
Get live-in care of the highest standard
Give us a call, drop us an email or simply fill out the form and one of our specialist care team will get in touch as soon as possible.
Read More About Care in Daventry