We've been featured in…
Exceptional full-time dementia care where the heart is
We're the UK's leading specialists for dementia live-in care, matching your loved one with a dedicated care professional who moves into their home.
These experienced, vetted carers help with everything from personal hygiene to daily household tasks, ensuring your elderly relative is safe and happy in place they love most, their own home.
A vetted dementia carer you can trust
We understand your loved one's safety is paramount. That's why we go to great lengths to ensure their carer is someone the whole family can trust.

All the professionals we work with have full background checks, referencing and certificates to prove they reach the standards you expect.
More affordable than you think
People often think dementia care is unaffordable. Follow our four-step plan to get everything you're eligible for:
Claim all the benefits you're entitled to
Apply for NHS Continuing Healthcare
Get funding from your local council
Use your assets
A truly personal touch
We match an expert, vetted carer to your loved one based on their needs and personality.

That means taking the time to paint a picture of the kind of person they are in order to find them someone they'll genuinely get on with.
Speak to an expert
Interested in finding out more about dementia live-in care from Elder? Get started by booking an appointment with one of our expert care advisors.
Real life story: Colin and Dulcie's story
Dulcie is 102-years-old and lives with her son Colin, his wife Mary, and her Carer Sarah. She has dementia and has had full-time live-in care for over two years.
We talk to the family about the challenges of finding the right care solution for a fiercely independent woman – and how the positive benefits of live-in care with Sarah has transformed all of their lives.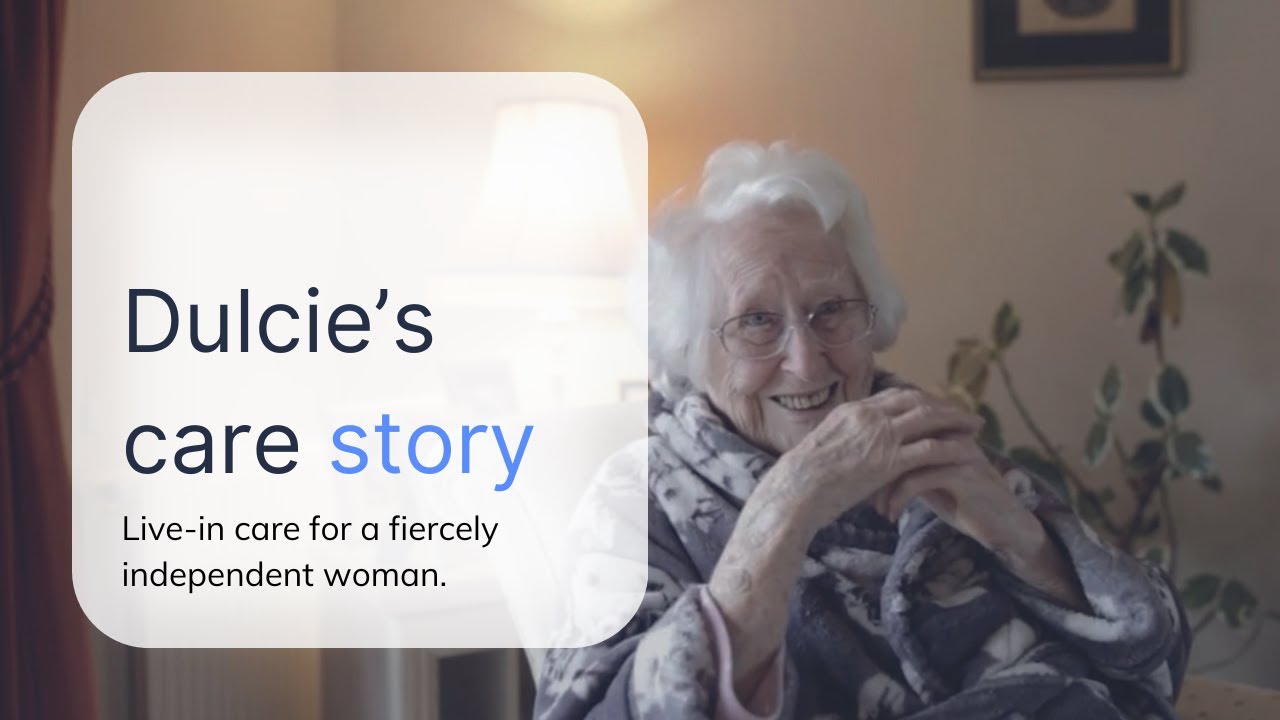 For nearly every need
From those who simply require someone to keep them company to those with complex dementia needs, we're able to find a carer to suit nearly every situation.
Always a vetted, English-speaker who has undergone a full background check.
Available nationwide
We help families up and down the UK – from the Land's End to John o' Groats, regardless of how rural the location. We'll also arrange all the travel directly with the carer.
Other ways to get in touch
Our advisors are able to help you navigate the complexities of arranging care, as well as tailoring a bespoke plan to your family's needs.
Frequently asked questions
Do you offer hourly care?
No, we are purely a live-in care provider. If you're looking for hourly care, we do offer a less intensive package called Home Help. It is significantly better value than hourly care. However, bear in mind, we wouldn't recommend this as a comprehensive solution for those with more complex needs, such as dementia.
What training will the carer have?
We guarantee that, if your loved one has dementia, they'll get a carer with experience of looking after someone with the condition. We also meet all of our carers face-to-face, undertake a full background check and take references of their work history.
Can I meet the carer before they arrive?
The way we're able to pass on such a competitive price is by having minimal bricks and mortar establishments. So we're unable to arrange in-person meetings ahead of the carer arriving. However, we'll send your family a full CV and personal introductory video so you can get an idea of the type of person we've selected. Once care begins, you have a trial week to be sure it's right. If you're not happy, your family is free to leave, no strings attached.
Will they be English speaking?
Yes, it's a requirement for all carers working with us to be able to speak fluent English. If they're not British nationals, we'll make sure their qualifications are up to the same, rigorous standards we have in the UK.
Can I use local authority funding?
Yes, many of our customers use support from their local authority in the form of direct payments. To claim from your local council, start by arranging a care needs assessment with them. After this your loved one's liquid (that's not including their property) assets will be assessed. In England, if they have less than £23,250 they'll be eligible for government support.
How do you pay us?
When it comes to payments, we try to minimise the stress for everyone involved. Your family pays for care weekly, usually by direct debit. You will only ever pay in arrears, after care has been received.
What happens when the carer has time off?
We understand the importance of continuity for those living with dementia. However, the carers we work with are only human, and do require time off. You can expect your family's primary carer to be with you for four weeks at a time, usually taking one or two weeks off. During this period, we'll arrange for a respite carer to step in.
How quickly can care be arranged?
If the need is urgent, we're able to put care in place in as little as 24 hours. However, usually we'd ask for longer. The more notice our team has to build up a picture of your loved one's needs, the more likely the carer is to be a good fit. If you require for care to be in place quickly, often we'll find a carer based solely on experience and then will subsequently put the time in to find a more suitable, long-term match further down the line.
What facilities will the carer need?
The carer will need their own bedroom to use for sleeping and as a place to relax when they are taking a break. It is best to provide a television and internet access for them since they will be spending so much time with your loved one. The carer will prepare meals and probably eat with your loved one, so separate dining facilities will not be needed. We'd recommend budgeting £30 per week for the carer's food. However, if you'd like us to arrange it, we can add it to your weekly payments.
If your loved one likes to get out and about and they are well enough to do so, it can be a good idea to supply a car that the live-in carer can use. Having a car to use can also help with shopping trips and transport to appointments or daycare sessions, especially if your loved one lives in an isolated area. Please bear in mind, for carers with cars we do ask for an additional fee. This is passed directly on to the carer.
Will I need any special equipment?
There are various pieces of nursing equipment you can buy that can make caring for your loved one at home easier.
If they spend a lot of time in bed or need their position changed at regular intervals, it is worth opting for a hospital bed. In addition to raising and lowering to the optimum position for the carer to work, it will help them to keep your loved one in a comfortable position and sit them upright for meals. Hospital beds also have side rails to use if the person is at risk of falling. Extra equipment such as pressure relief mattresses will also minimise the development of pressure sores.
Usually, the district nursing service will advise on the best specialist equipment for nursing your loved one and providing care at home. They should also be able to organise the supply of these items from NHS stores, although some items may have to be purchased privately.
If your family member has mobility issues, it is worth looking into the various aids that can help them – from walking aids such as Zimmer frames to the installation of a stair lift. If your loved one is unable to stand, you will need a hoist so that the live-in carer can reposition them when necessary. Equipment such as a mobile commode is useful for toilet and personal hygiene tasks such as showering.
How does live-in care work on a daily basis?
A live-in carer provides companionship for your loved one when family members are unable to be around. They will be chosen on the basis of shared interests and hobbies, as well as for the ability to meet your loved one's medical and healthcare needs.
In a typical day the carer and your loved one might play games together or share activities such as cooking or gardening. They will also your loved one with getting dressed, personal hygiene and administering medication. Put simply, the carer will try to support your loved one to carry on doing the things they enjoy, but ensure that they do not put themselves at risk.
You will be notified of illness or a fall, or anything else that you need to be aware of and the carer will also contact health care professionals such as nurses or doctors if they need to.
Do I have to arrange care permanently?
No, we can arrange for temporary care. If you usually care for your loved one, but are going on holiday, or just need a bit of time off, live-in care is the perfect cover. Please be aware, our prices vary for those on a temporary arrangement.
How can we keep your loved one safe?
The carer is on-hand to help. With their usual shift hours around 12 hours per day. So you can have the peace of mind of knowing that your loved one is safe and cared for. To provide additional peace of mind, there are many aids available to alert the carer to potential problems.
If your loved one is prone to falls and needs someone with them, a pressure mat placed beside the bed can trigger an alarm that lets the live-in carer know if the person gets up in the night. Similarly, alarms can be installed close to doors so that your loved one cannot wander off without their carer realising.