You've reached us outside of our opening hours. Book a free telephone consultation and one of our care planning experts will give you a call whenever is convenient for you.
How Can Live-in Home Care Help With Osteoporosis?
Osteoporosis is a silent condition that attacks the integrity of bones, making them weak, brittle and liable to fractures or breaks. Women are affected by the condition more frequently than men, but anyone over the age of 60 has the potential to develop osteoporosis.
There are no early warning signs to indicate that someone's bones are affected, meaning that the first indication that something is wrong usually occurs when an older person experiences a broken or fractured bone.
What causes osteoporosis?
Some people will inherit genes that predispose them to osteoporosis, but there are several other factors that can also affect a person's likelihood to develop the condition.
Women are more likely than men to develop osteoporosis and tend to experience symptoms at an earlier age, which is likely to be linked to hormonal changes which take place during the menopause – as the levels of estrogen in the body fall, bones tend to become weaker. Women's bones also tend to be inherently weaker than those of men, making it more likely that they will develop the condition at an earlier age. However, men over the age of 70 can also be prone to developing osteoporosis.
There are several other risk factors which increase a person's likelihood of developing the condition, including being excessively overweight or underweight, drinking excess amounts of alcohol, smoking, lack of exercise and a poor diet lacking in essential vitamins and minerals.
Osteoporosis prevention and treatment
Once osteoporosis has affected a person's bones the damage is irreversible, but with careful treatment, the condition can be halted, which is why early detection is so important. If you suspect that your elderly loved one may be susceptible to developing osteoporosis, then you should encourage them to undergo a bone density scan. This is a specialist type of X-ray which detects whether someone's bones are becoming porous and fragile. Early detection is key to preventing the condition from progressing further, so a bone density scan is an important diagnostic tool.
Quitting smoking and reducing alcohol intake are extremely important if further deterioration of the bones is to be prevented. At the same time, the sufferer's diet needs to be adjusted to include foods high in Vitamin D and calcium, along with a carefully considered exercise program to maintain current bone density levels.
The importance of live-in care at home
Older people with osteoporosis dread the thought of a fall, which can result in painful fractures and breaks, with the hips, spine, and wrists being particularly vulnerable. The fear of hurting themselves often leads to them adopting a sedentary lifestyle to minimise the risk of falls, but this is counter-productive as it causes increased stiffness, loss of balance and an increased likelihood of losing balance and falling.
A well trained live-in caregiver will ensure that your loved one is offered a diet rich in the vitamins and minerals required to ensure healthy, strong bones. They will encourage your loved one to engage in beneficial activities such as weight-bearing exercise, to preserve their bone density. They will also organise stimulating days out, which ensures that your loved one gets sufficient fresh air and exercise to maintain mobility levels.
---
Dulcie's Care Story
In this short video, Mary and Colin explain how Dulcie's live-in Elder carer, Sarah, has become part of the family.
They discuss how live-in care has allowed Dulcie to stay independent in her own home, while making a new friend at the same time.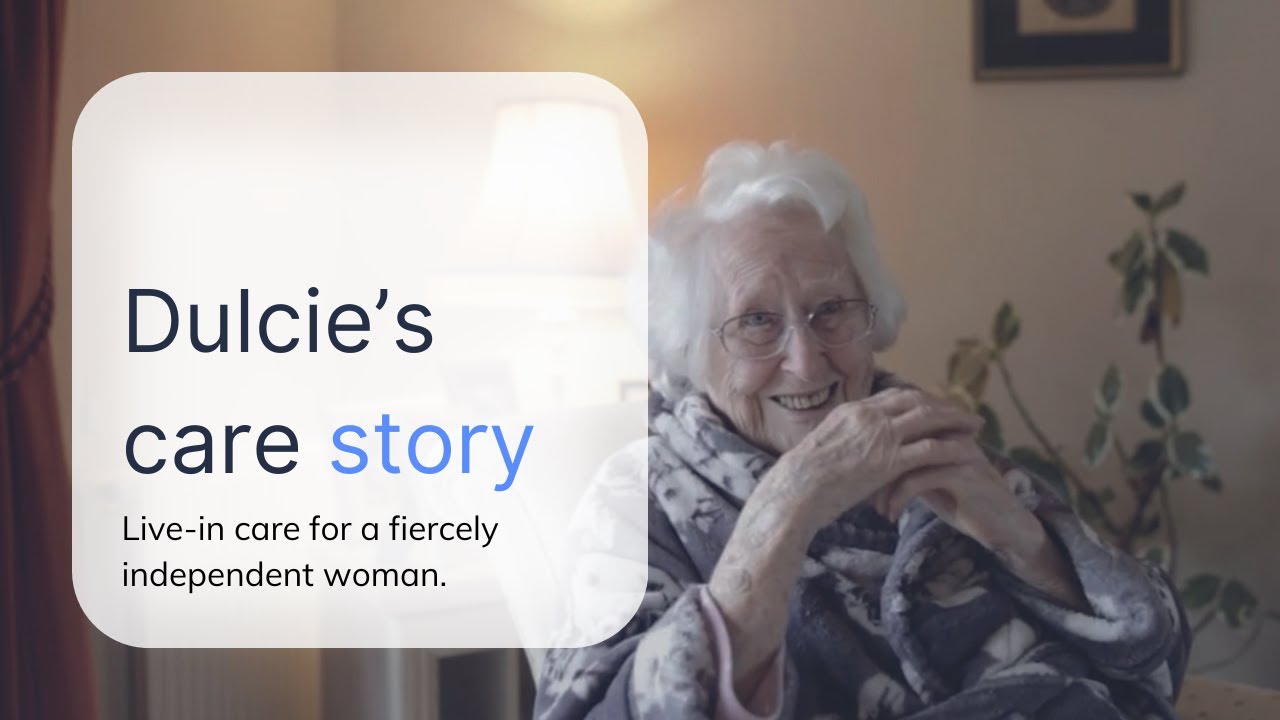 ---
The benefits of a live-in caregiver
Live-in elderly care is becoming an increasingly popular option, as more and more elderly people look for alternatives to the more traditional residential care home.
But it's not just the preserve of dementia care, or for elderly people who require a high degree of nursing care.
Caregivers can also provide important companion care services, offering a helping hand in the home whenever it is needed, whether that means undertaking housework, keeping a loved one company, or more complex tasks such as personal care.
One of the principal benefits of choosing home care for your elderly loved one is that it gives you complete peace of mind. You can rest assured that they're well looked after at every hour of the day and night, by a single dedicated carer.
Even in the best run care homes, it is impossible to maintain staffing levels at a 1:1 ratio, and changing shift patterns mean that the care home is unable to provide the constant levels of attention that a home carer can provide.
Live-in care service providers such as Elder go to great lengths to see that carers are carefully matched with care recipients, to ensure that both parties are completely compatible.
This ensures that your loved one and their carer will have plenty of common ground, enabling them to form a friendship, which is imperative when they are sharing the same living space.
Your loved one can remain in their much-loved home, surrounded by a lifetime's possessions and memories. Meanwhile, you can relax in the knowledge that your loved one is safe, happy, secure, and in the capable hands of a compassionate and experienced live-in carer.
Call us for expert live-in care advice
A well-trained live-in caregiver will ensure that your loved one is offered a diet rich in the vitamins and minerals required to ensure healthy, strong bones. They will encourage your loved one to engage in beneficial activities such as weight-bearing exercise, to preserve their bone density, and organise stimulating days out to maintain their mobility levels.
Related Questions
How Can Live-in Home Care Help With Fragility?
If your loved one has problems with mobility, becomes unsteady while walking, or has difficulties when getting in or out of a chair or bed, you may worry that they are at risk of falling. This is when they could benefit from live-in care and support in their own home.
How Can Live-in Home Care Help With Loneliness?
Older people may have lost their spouse, and as their closest friends pass away or move to be nearer to their families, they can quickly experience the isolation of loneliness, particularly if they have any health problems that make it hard for them to get out and about. But even those in perfect health may find that loneliness has a profound impact on their day-to-day lives.
How Can Live-in Home Care Help With Arthritis?
If you have a loved one who is finding their daily activities increasingly difficult due to arthritis, you will want to help them in the best way you can. Arthritis can make it difficult or impossible to manage daily tasks, but live-in home care can provide all the help and support that your loved one needs to enable them to enjoy the best possible quality of life they can in the comfort of their own home.
How Can Live-in Home Care Help with Stroke Recovery?
A dedicated live-in carer is an ideal solution for stroke recovery. The carer will be trained in all aspects of post-stroke care and can help with your loved one's rehabilitation, taking the pressure of care away from family members who may not have the knowledge and skills needed to provide round-the-clock support.
Live-in Care: How to Find a Carer
If you have decided to employ a live-in carer to provide care and support for your loved one, there are various ways you can go about finding a suitable person. This form of elderly care offers the best way of helping an older person to remain safe and independent in their own home when their care needs increase.