You've reached us outside of our opening hours. Book a free telephone consultation and one of our care planning experts will give you a call whenever is convenient for you.
Home Care: What is Palliative Care?
There may come a time when your loved one finds themselves in need of a home carer who can help to improve their quality of life as they face a life-threatening illness or condition.
This is known as palliative care and is the focus of this short guide aimed at ensuring that you have the information you need if you have to consider this care at home option, or another similar choice, for a relative or friend.
Understanding palliative care
First and foremost, it is vital to understand what palliative care is. Fortunately, it is not as confusing as it may seem.
In short, palliative care is the support, care and treatment needed by someone who is living with what is often called a life-limiting condition or illness. This can, for example, be someone 3. This type of care is also known as supportive care and may extend to family and friends, as well as the primary care recipient.
Aims of palliative care
The main aim of any sort of palliative care is to maintain or enhance the quality of life of your loved one, ensuring that they remain as well and active as they can for as long as possible. This type of companion care can include a variety of facets but may feature:
– Pain management and the managing of any other physical symptom.
– Support on a psychological, emotional or spiritual level.
– Social care including many traditional features of elderly care or dementia care, such as help with eating, dressing or washing.
– Support for the loved ones of the main care recipient.
---
Dulcie's story
Dulcie is one of our longest serving customers. In this short video, she talks through the reasons behind her, and her family's decision to choose full-time home care rather than the care home.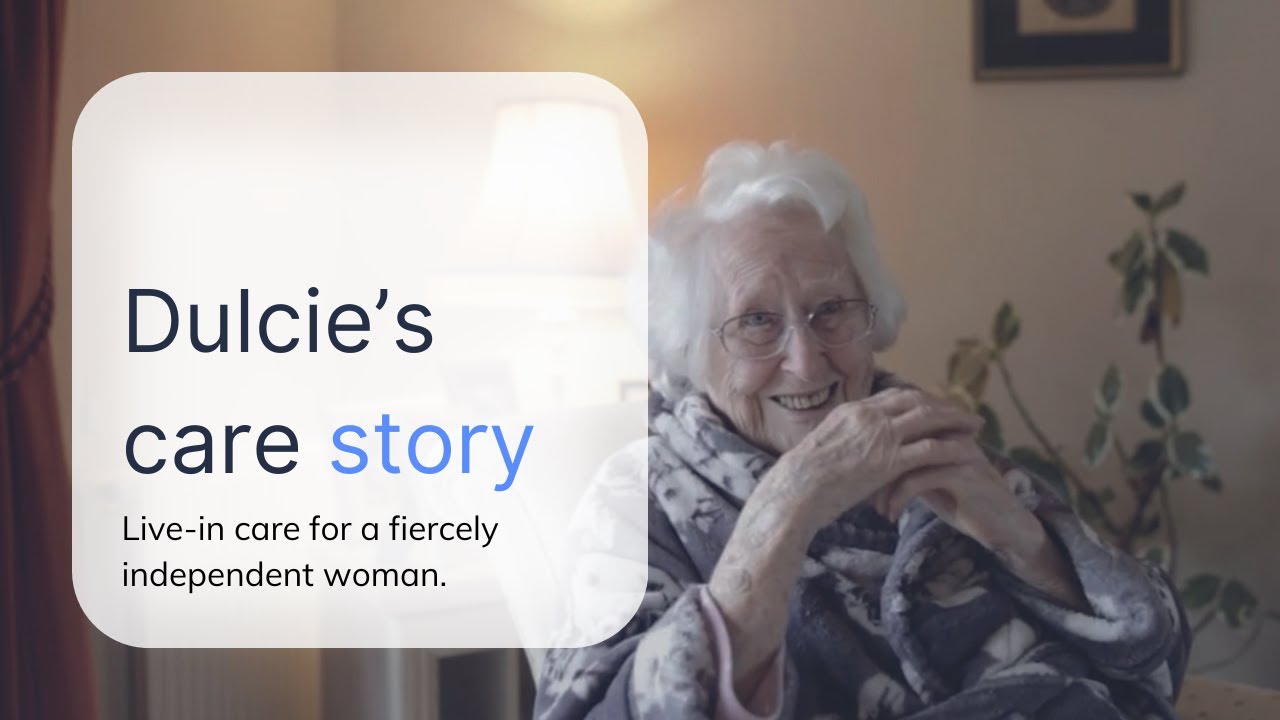 ---
What is a life-limiting illness?
Palliative care is provided for someone with a life-limiting condition and this is generally classed as an illness that cannot be cured and is likely to cause death. Some people may refer to this type of illness as terminal or they are routinely referred to as 'life-threatening'.
In some cases, this type of illness may be called a progressive condition, referring to the way in which it will get progressively worse over time, or said to be at an 'advanced', meaning serious, stage. Common examples of life-limiting conditions and illnesses include those living with dementia, motor neurone disease or MND and advanced cancer.
When can you access palliative care?
Palliative care can actually be organised at any stage of your loved one's illness and arranging it does not mean that they are likely to die any time soon. In fact, many people receive personalised palliative care for years and years.
It is also very common for people to receive this type of elderly care alongside other treatments or therapies and whilst taking all types of medicines aimed at controlling illnesses, such as radiotherapy or chemotherapy.
Having said this, palliative care can also include looking after someone who is coming to the end of their life, something which is also referred to as end of life care.
End of life care
This involves support, care and treatment for someone near to the end of life and is a vital aspect of palliative care. In general, end of life care is provided for those who are believed to have a year or less left to live but, in some cases, someone will actually receive it for a very short period as timeframes are notoriously difficult to predict.
If your loved one requires end of life care, you can be assured that the objective is to make them as comfortable as they can possibly be. The care will including everything from managing physical symptoms to offering emotional support and care for both your relative or friend and their loved ones.
End of life care will also often involve talking to you and your loved one about what to expect as their life draws to a close and should ensure that all of your wishes and needs, and those of your loved one, are fully adhered to.
It may also include some practical help such as assistance with making a will or accessing financial support.
Where to find palliative care
The most appropriate source of palliative care will depend upon the type of support and care that your loved one needs. You could make use of the services of a reputable private agency to provide home care or your loved one could be cared for in a nursing home, a care home, a hospital or a hospice.
If you think that your loved one might benefit from palliative care, you can speak to their GP or other healthcare professionals or you can speak to a care agency that specialises in home-based palliative care.
This is the first step to determining precisely what type of care your loved one will benefit from, what form this should take and where it should be carried out.
If you're opting to arrange palliative care in the home, choosing a home care provider can be a confusing task. You should consider whether you'd like to opt for an introductory agency, such as Elder, where you're matched to a self-employed carer. Or, alternatively, you'd like to go with a fully-managed service.
Common myths
There are many misconceptions that surround palliative care. To ensure that you have the facts that you need, here are a few of the most common – along with the truth behind the myth.
You can only receive palliative care in a hospice or care home
This is certainly not the case as palliative care can be provided in a range of different settings, the most popular alternative to the care home is care at home. A live-in carer is able to help with this.
Palliative care is only available once you have stopped having your condition treated
Having palliative care does not mean that the medical professionals have given up on your loved one and is often provided alongside medical treatments such as radiotherapy or chemotherapy.
Palliative care is only suitable if your relative is nearing the end of their life
Not true: Palliative care can be accessed at any stage of an illness and can continue for long periods of time.
Call us for expert live-in care advice
Palliative care is the support, care and treatment needed by someone who is living with what is often called a life-limiting condition or illness. This type of care is also known as supportive care and may extend to family and friends, as well as the primary care recipient.
Related Questions
Home care: how does it work?
Home care works in many different ways. Each person's case is different with unique preferences, physical needs and life experiences, and care at home should be as tailored as possible to the individual's requirements.
Home care: what does it provide?
Home care is a good way of providing elderly care and care for people who are recovering from illnesses or have mobility issues.
Home Care: When Is It Appropriate?
There are many different times home care can be helpful. Sometimes just a short period of care at home is enough to make a difference, but more often families may decide that they need an extended period of elderly care in the home for an older family member.
How do home carers charge?
If your loved one needs care, care at home is one of the best ways for them to maintain their independence. The first step in understanding the costs for your loved one's situation is getting a care needs assessment from your local council. Once you understand what care support you're entitled to, you can start calculating the costs.
How many hours will a home carer work?
Home care is almost always the best choice when a loved one wants to keep their independence. A home carer can work for up to 48 hours a week providing a range of care services. The hours that they work caring for your loved one will depend on the type of care at home they need.