You've reached us outside of our opening hours. Book a free telephone consultation and one of our care planning experts will give you a call whenever is convenient for you.
Osteoporosis care: How do I care for a loved one with osteoporosis?
Caring for a relative or loved one with osteoporosis can be challenging, especially if they want to remain independent and continue living in their own home.
If you are struggling to support your loved one or relative living with the condition, looking at how to get additional help, or even considering live-in home care might be an ideal solution. It is vital to have a deep understanding of the disease to provide the best care possible for those living with osteoporosis.
Preventing falls and accidents
Preventing falls is a crucial part of managing osteoporosis, as it is one of the most significant risks to those living with osteoporosis. Falls for those with osteoporosis can cause fractures far more quickly than individuals with healthy bones. There are some actions that you can take in the home to prevent falls and bumps insofar as is possible, such as:
– Removing trip hazards such as rugs, doorstops and wires
– Moving furniture with sharp edges
– Place anti-slip mats to the base of the bath and shower, in addition to the bathroom floor
– Encourage regular sight and hearing tests
Arranging and attending appointments
Your loved one or relative with osteoporosis is likely to have numerous medical appointments, including physio, hearing and the GP. It may be beneficial to have a calendar that is displayed in your loved one's home, showing all upcoming appointments. This way, everyone is aware of the next appointment, including yourself, as well as any live-in or additional carers.
Medication
One of the other main areas of treatment for someone with osteoporosis is taking medication that promotes bone growth. Many individuals can manage and administer their medicine themselves, but if not, ensure that this is included in their osteoporosis care plan.
Follow a healthy lifestyle together
A healthy lifestyle is an essential component of osteoporosis care. Stopping smoking and cutting down on caffeine, alcohol and processed foods is vital. It's also important to prepare meals that are rich in calcium, vitamin D, vitamin K and zinc.
Weight-bearing exercises can also make a real difference in promoting healthy bone growth. Pilates can help to maintain a healthy back and also assist with balance, which helps to prevent falls.
It's not always easy to find the time or money to follow a healthy lifestyle, but it can become easier if combined with regular day-to-day activities. Exercising or cooking together is a good way of encouraging a loved one to remain active. Even researching healthy recipes and shopping for ingredients can be a shared activity and one that can incorporate walking or cycling.
Try to make a specific activity a weekly event, such as the weekly grocery shop. It may not always be possible, but to have it built into both of your weekly schedules can be helpful.
Dulcie's care story
Duclie is one of our longest serving customers. In this video her and her family talk through their decision to arrange care in the home rather than the care home.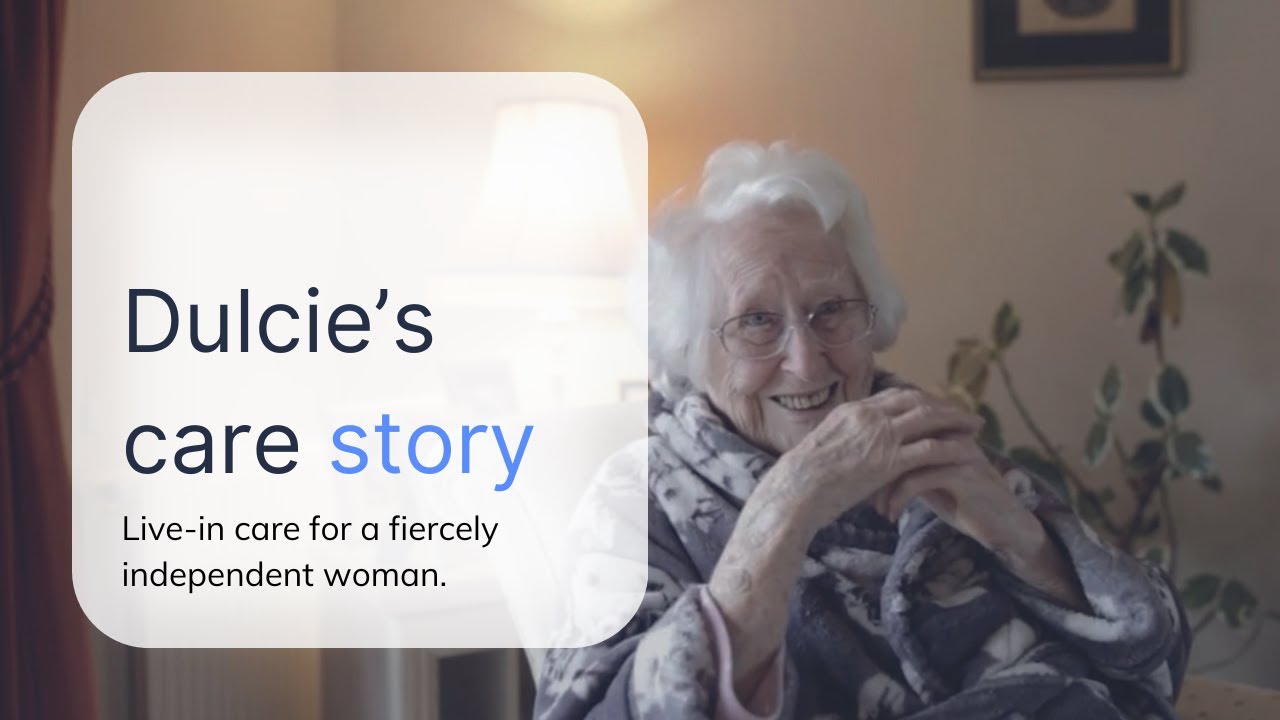 Managing depression
Individuals with osteoporosis have a higher incidence of depression. This is because of an increase in the stress hormone cortisol that occurs as a result of bone weakness. It's essential to acknowledge any signs of depression.
Try to keep the lines of communication open and be aware of any changes in behaviour that might indicate that your loved one has started to experience feelings of depression. Seeing a GP or talking with a counsellor can help you better understand depression and how to manage it best.
Draw up a care plan
When developing an osteoporosis care plan, you should collaborate with your loved one's GP, any live-in carers and most importantly, with your loved one themselves. Care plans should be reviewed regularly, especially as symptoms develop.
Getting extra help
Looking after someone with osteoporosis can be challenging at times, particularly if they are elderly or have other complex health conditions. It's especially hard when the responsibility falls on family members who lead a busy lifestyle or have other commitments. Make sure that you're getting the help you need and consider additional care support, such as live-in care if you start to feel overwhelmed.
The benefits of private care for elderly loved ones with osteoporosis
Osteoporosis requires specialist care from expert trained carers. In a residential care home, your loved one may not receive the dedicated one-to-one care they need, which is why private live-in care can be helpful.
A live-in carer can help take care of medication administration and treatment management and also other aspects of day-to-day life, such as cooking and cleaning. A live-in carer can provide a complete elderly care service, which includes osteoporosis care, but may also include dementia care if necessary.
Caring for a loved one with osteoporosis can be difficult, but having a deep understanding of the condition can make a considerable difference both your life and theirs.
Many of us with elderly relatives have our own commitments, such as children and work. If you find you are struggling to balance looking after a loved one and taking care of your own family, perhaps it's time to consider a live-in carer. This way, you can ensure your loved one will receive the specialist, high-quality care they deserve in the comfort of their own home.
Call us for expert live-in care advice
Providing care for a loved one with osteoporosis can be hard at times, so it's crucial to have an osteoporosis care plan in place to help manage their symptoms.
Related Questions
Osteoporosis Care: What Causes Osteoporosis in the Elderly?
There are various causes of osteoporosis in older adults, but with an osteoporosis care plan, your loved one can learn to manage or even prevent the condition.
Arthritis Care: How do I Care for a Loved One with Arthritis?
There are many techniques involved in arthritis care. Here we discuss ways to help your loved one manage their condition, such as exercise and healthy eating.
Coronary Care: What Causes Coronary Heart Disease in the Elderly?
Knowing the causes of heart disease and providing a high level of coronary care is vital to ensure your loved one or relative can easily manage their condition.
Hypertension Care: How do I Care for a Loved One with Hypertension?
Correct hypertension care is crucial in maintaining good heart health. Here are some ways to help ensure your loved one's condition is carefully monitored.
Vision Loss Care: How do I Care for a Loved One with Vision Loss?
Your loved one may experience poor vision as they age and find it hard to adapt to these changes. Specific vision loss care can help with managing symptoms.