There may come a time when your loved one finds themselves in need of a home carer who can help to improve their quality of life as they face a life-limiting illness or condition.
Palliative care is a type of care that focuses on improving a person's quality of life while they're facing a life-threatening condition. It includes physical care, emotional care and spiritual care.
Live-in care can form part of a person's palliative care – providing companionship and emotional support to the person and their family. A live-in carer can also support the rest of the care team by taking care of household tasks, prompting medication and assisting with mobility and personal care. Live-in care can help keep people at home near the end of their life – as opposed to having to move to a hospital, care home or hospice.
When should someone start palliative care?
Palliative care typically starts when individuals require it, isn't completely dependent on life expectancy, and can range from a few days or months to over a year.
Individuals are classified as nearing the end of life when they're likely to pass within the next 12 months. However, accurate predictions aren't always feasible. This category encompasses those with imminent death and others who fall into specific criteria:
Individuals may be diagnosed with advanced incurable illnesses like cancer, dementia, or motor neurone disease.

Individuals in this group tend to have fragile health and pre-existing conditions that typically result in an expected lifespan of less than 12 months.

Individuals with pre-existing medical conditions who may be at increased risk of mortality in the event of a sudden health crisis.

The individual is experiencing a potentially life-threatening acute condition due to a sudden catastrophic event, such as an accident or stroke.
The National Institute for Health and Care Excellence (NICE) have guidance on the care of dying adults during their final days. This guidance addresses the management of common symptoms. It emphasises the importance of maintaining dignity and respect for the dying individual and their loved ones and caregivers.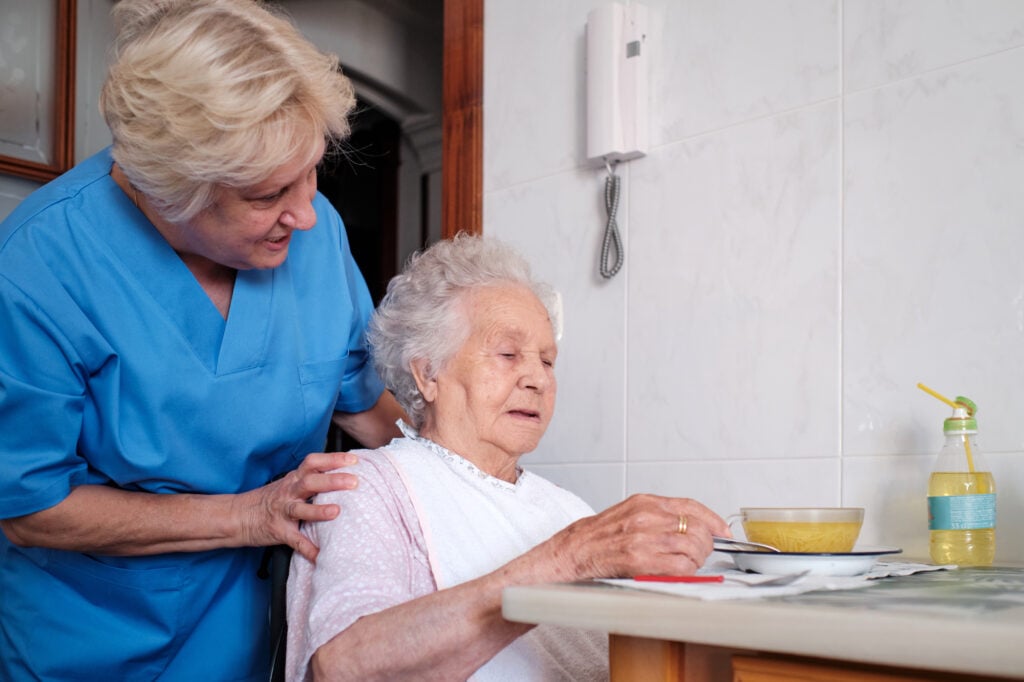 What can a palliative care live-in carer support with?
The main aim of any specialist care at this stage is to maintain or enhance your loved one's quality of life, ensuring they remain as well and active as possible. A medical team or palliative care nurses will primarily support things such as medication and treatment, but a live-in carer can provide practical everyday support and companionship.
This type of companion care can include a variety of things but may feature:
Supporting treatment plans and medication prompting

Support on a psychological, emotional or spiritual level e.g. offering a listening ear, or praying together if they're of the same religion. 

Social care, including many traditional features of

elderly care

or

dementia care

, such as help with personal care, including eating, dressing, washing and continence care 

Support for the loved ones of the care recipient, e.g. keeping them updated, providing reassurance during this difficult time, and helping them to spend as mich quality time as a family as possible  
How do I arrange palliative care?
If you're living with a life-limiting condition or providing care for someone who is, it's important to reach out to your GP or healthcare professionals to learn about the available care and support options.
Their job includes assisting individuals in understanding the available local services. They can provide information regarding various forms of assistance, such as specific night-time services. Additionally, individuals can search for palliative care services in their local area.
How can I prepare the home for palliative care?
When someone needs palliative care in the home, it's essential to ensure the person is as comfortable and safe as possible while receiving care and that the care workers can do their job effectively. Therefore, you may need to make changes and adaptions to the home.
The bedroom
Many patients in hospice or palliative care have limited mobility and, therefore, may have difficulty getting in and out of a standard bed – therefore, a hospital bed will benefit. Hospital beds are no bigger than twin beds, making it significantly safer and more accessible for someone to receive care. The home will also benefit from items – such as commodes, wheelchairs, incontinence supplies, and bandages. Your local authority may be able to provide this equipment and other home adaptions.
Remove obstacles
The home should be arranged to suit the easy movement of the patient and carers – for example, making sure that hallways are clear of tripping hazards, including unnecessary rugs and furniture. Care team members will have frequent contact with the patient, so the home should be organised in a way that makes it easy to do so.
You can also install night lights and lamps to provide adequate lighting for safe movement throughout the home. In cases where the patient's home has multiple stories, adding rails alongside stairs can assist in maintaining balance.
Adapt the bathroom
Most falls happen in the bathroom, so being cautious of potential hazards is important. Non-slip bath mats can prevent slipping, as can grab bars or handrails. Raised toilet seats and shower chairs can make the bathroom safe and accessible for the patient. Sometimes, patients may need to bring special medical equipment into the bathroom, so remove any obstacles to create enough space for these items.
Have a care folder
During hospice care or palliative care, to help with the person's care requirements multiple care team members, such as the case manager, nurses, and therapists, will visit the home regularly. To make sure care is properly managed by everyone involved, it's crucial to maintain an organised care folder. This folder should contain comprehensive medical records, medication information, and doctor and emergency contacts. Additionally, any specific needs or daily routines important to the patient should be documented.
Keep it feeling like home
The home adaptions may make their home feel more like a hospital, but there are still ways you can make the person feel as comfortable, peaceful and normal as possible.
When preparing a home for care for people living with a life-limiting condition,  creating a comfortable environment that includes special items like a favourite blanket or chair for relaxation can help make the home feel normal and familiar.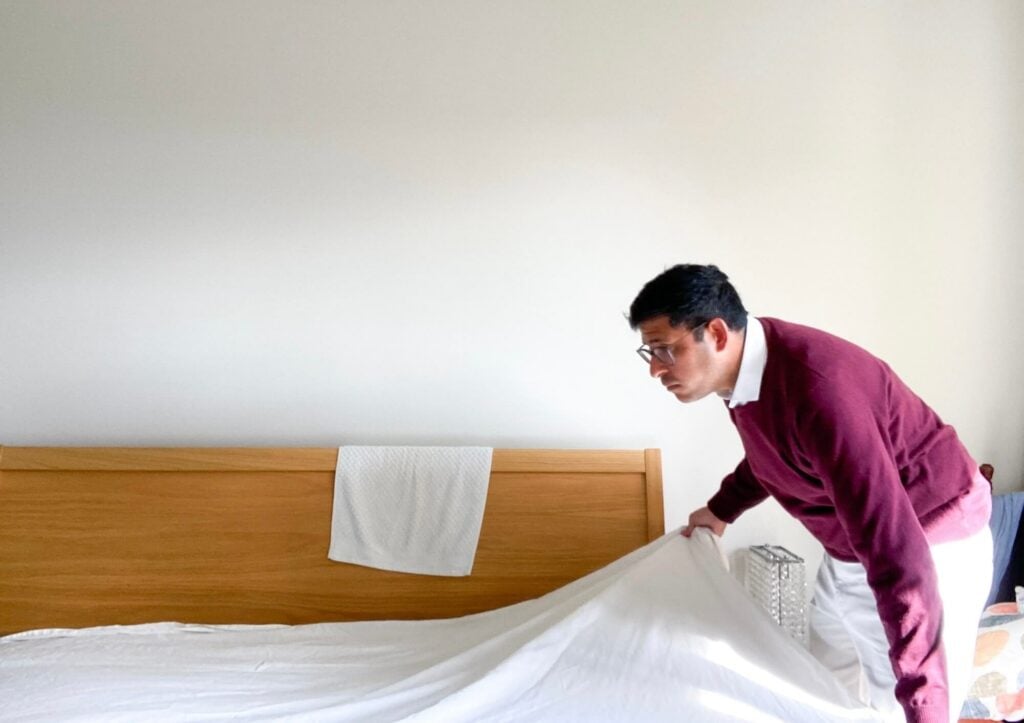 What other checks or tasks can help when arranging palliative care at home?
Depending on the person's condition and the level of care needed, you may need to prepare for practical and emotional tasks, including:
Who will help the person with activities such as washing, dressing, eating, and going to the toilet, or other necessary daily tasks

Who will prompt them to take their medication and help manage their symptoms

Organise when health professionals will come to provide medical care, for example, can they expect regular doctor visits? Will someone be available to greet and update community nurses?

Talk with the person who needs care about their concerns and anxieties. If they're receiving end-of-life care is there anyone they'd like to speak to, such as a therapist or vicar

Who will manage the person's finances, life administrative tasks, or caring for their pets.
It's beneficial to speak with professionals such as a GP, social workers, district nurses, or occupational therapists who can provide guidance on how best to organise palliative care and take care of the above.
How quickly can palliative care be arranged through Elder?
Elder offer a wide range of live-in care options that can support your palliative care plan, and the care can be in place within as little as 24 hours.
All you have to do is book a convenient time to speak to someone from our care team. During this no-obligation call, they'll be able to provide practical advice on navigating the system and putting funding in place, and offer additional advice on live-in care to help you decide if it's a good fit. 
Complete a care appraisal.
Following the call, it's time to complete our care appraisal. You can do this by creating a free MyElder account. It covers everything from health requirements and medication to favourite meals and hobbies.
Matching process
From the information you provide, our matching team will combine their care know-how with our matching technology to find the most suitable, compassionate carers from our 5000+ community.
Receive profile & video
Once we've helped to find a carer we think is suitable, we'll send their profile directly to your MyElder account.
Profiles include work history, skills and qualifications, and feedback from other Elder customers. Each profile features a short video too, where carers discuss what they love about being a carer and their hobbies and interests. You can also request a call with a carer before deciding who you like best.
The carer arrives and the trial period begins.
We'll arrange travel with the carer. They'll arrive between 12 pm-2 pm on the first day of the care package with plenty of time to get to know you, your family, and the local area. If you're arranging ongoing live-in or daily care, the first week is the 'trial' week, during which you can adjust and ensure it works for you.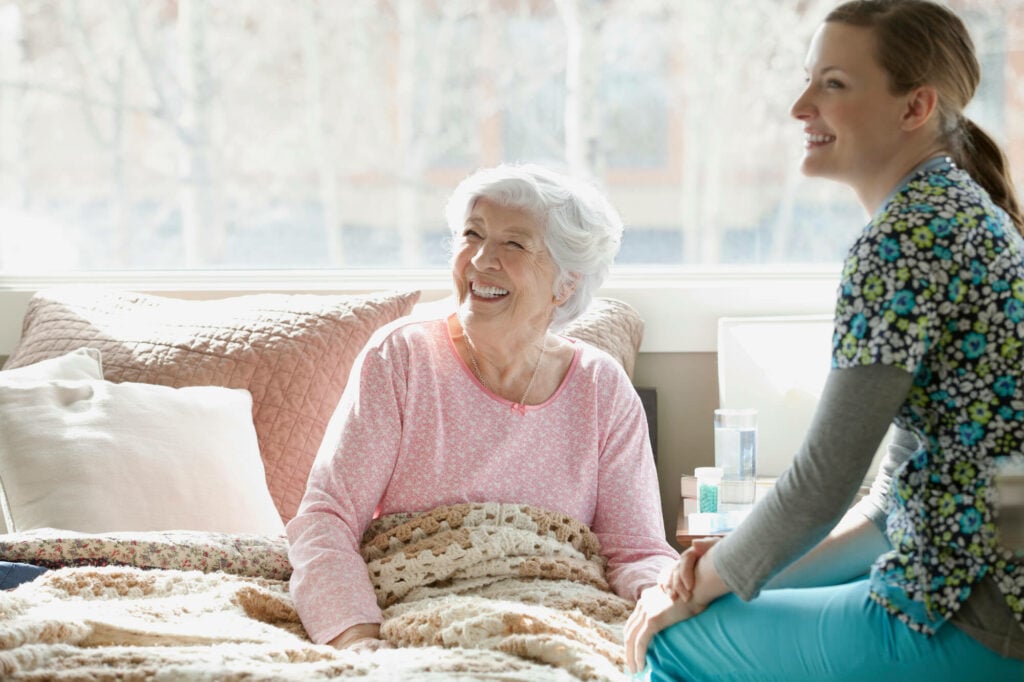 Common Questions about Palliative Care At Home
How do I know if palliative care is the appropriate care?
Palliative care is usually suitable for people with a serious or terminal illness, such as advanced cancer, heart disease, lung disease, kidney disease, Alzheimer's. Palliative care is suitable for patients at any stage of a serious illness. You can receive this type of care simultaneously with curative treatment.
What can I expect from palliative care?
Palliative care aims to provide symptom relief, helping with the management of pain, shortness of breath, fatigue, constipation, nausea, loss of appetite, and difficulty sleeping.
Palliative care can assist individuals in maintaining their daily routines, enhancing their ability to undergo medical treatments, and aligning their treatment choices with their personal goals.
Where can I get palliative care?
Palliative care is increasingly accessible in various locations, including community settings outside of hospitals or through care agencies.
Patients can discuss outpatient or palliative care at home with their doctor and the palliative care specialists. Some hospitals may provide outpatient palliative care, even without a previous relevant hospital stay. It's advisable to consult with the doctor to explore available options.
Elder offers a wide range of live-in, high-quality care options that can support your palliative care plan. Book a free introductory chat with one of our team for more information.
When is the appropriate time to request palliative care?
It is possible to receive treatment at any age and stage of an illness. However, starting treatment early in the illness or soon after diagnosis is typically recommended.