Getting out and about with the elderly presents challenges for the carer, but with the help of skilled professionals, it's possible to make the most of a holiday together, where you both get the chance to relax and unwind without the challenges that providing care at home often presents.
More than just respite care
In the past, people living with dementia were often consigned to respite care, while their carers tried to enjoy a relaxing break away from their ongoing caring duties, usually with mixed results. The person in respite care would often become disturbed at finding themselves in a wholly new and unfamiliar environment, while the caregiver spent their holiday worrying about their loved one.
Fortunately, nowadays, there are plenty of opportunities for your loved one to enjoy all the benefits that a holiday can bring, along with their carer and other family and friends too.
Holidays provide an ideal opportunity to break away from your regular routine, and both caregivers and their loved ones can find that they are able to reconnect and make the most of days spent somewhere new.
What holiday options are there for people living with dementia?
Whatever type of holiday you both enjoy, whether you like invigorating walks in the countryside, exploring new places, shopping or lazing on a beach, some companies can facilitate your requirements.
They provide a safe environment, along with dedicated staff with the skills and experience necessary to cope with a wide range of health issues, leaving you free to relax and make the most of your time away from home.
From relaxing cruises along Britain's waterways to stimulating and entertaining visits to places of interest, you'll find a wide choice of holiday options that allow you and your loved one to reconnect in ways that simply wouldn't be possible in your own home.
This type of holiday can be particularly beneficial for married couples, giving them the opportunity to really make the most of each other's company in ways that they might not have thought possible.
Ongoing help and support
The new breed of holiday companies specialising in dementia breaks are fully understand the needs of people living with dementia, which leaves you free to kick back and get out and about while making the most of your holiday together.
Once you have decided on the type of holiday you would like, and your preferred location, they will contact you to ensure that your loved one's needs are met. This is done by going through a comprehensive set of questions, allowing them to put appropriate measures in place to ensure that your elderly relative is cared for appropriately.
Some people just need the reassurance of knowing that someone is on hand to provide companion care, perhaps allowing the carer to spend an evening out enjoying a show on their own, for example. There's no need to fret about your loved one being left alone, and you can make the most of your time alone, reassured by the fact that your loved one is being looked after in your absence. This can be a much-needed opportunity to recharge your batteries and enjoy a little private time.
For those with more complex needs, support can be provided in the form of 24/7 assistance from a trained professional, such as live-in carers for the elderly, skilled in providing dementia care. They will take charge of personal care duties, including helping your loved one to dress, bathe and go to the bathroom, leaving you free to relax and unwind for a few days.
You are still able to enjoy meals and outings with your loved one, allowing you to reconnect on a level that may have been lacking in your day-to-day lives together.
Where can I find out more?
There are lots of companies that provide elderly care as part of a holiday package, so you're sure to find a holiday option that suits you both.
Becoming a member of Tourism For All costs around £25 per year, and gives you access to a wealth of information about suitable holidays. The organisation will help you to establish the best holiday options for your needs, as well as providing you with access to discounted hotels and insurance deals.
Dementia Adventure offers a brochure of holiday options, from seaside breaks to hill-walking, and you can even take advantage of specialised package holidays in Portugal too. The company provides group travel options or will put together a bespoke package for you, depending on your particular needs and wishes.
The MindforYou holiday company was established by Carol Sargent when she realised that her mother wasn't happy in respite care while the rest of the family went on holiday. Staff members personally visit the homes of people interested in these holidays, helping them to establish the most suitable destination, as this ensures that they are provided with all of the necessary support that they require.
Revitalise specialises in providing holiday solutions for disabled people and their carers, and offers a choice of holiday destinations for people with dementia. You can choose the level of support from four separate packages, allowing you to tailor the care according to your loved one's needs.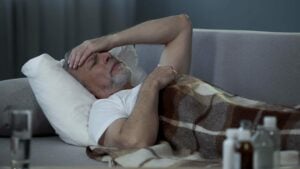 Caring for sleep problems in elderly Changes in sleeping patterns are frequent in older people, and you may notice that it progressively gets worse over
Read More »