Folding walking stick
Lightweight, foldable walking sticks are inexpensive and widely available. Even if your loved one doesn't normally need a walking stick, travelling to a strange place may mean that they have to walk further than expected and they're at risk of feeling fatigued, especially in the heat, so packing a stick that folds into four sections is a good idea. Ensure that you select an adjustable model so you can customise it to your loved one's height.
Folding seat cane
A walking stick that incorporates a seat is another valuable aid for anyone with mobility difficulties, especially if your loved one usually requires rest stops on walks. They come in the form of a tripod that folds flat. They are lightweight but strong enough to support a user up to 100kg in weight.
Walking frames
There are many different designs of walking frame available, including the basic indoor frames common in elderly care facilities. These can have wheels but also work without, where the user lifts it up and along with each step. They aren't usually very convenient for travelling, as they don't fold and take up quite a lot of space.
Foldable rollator
If your loved one needs more support than that offered by the previously mentioned aids, a rollator might be a better option. For getting out and about with the elderly, look for a model that can be folded and easily transported in a car boot.
Rollators, sometimes called wheeled walkers, are available with three or four wheels and allow the user to pivot more easily than with a traditional walker.
They often incorporate loop lock brakes, so if your loved one needs to stop and rest for a while, the brakes can be locked to provide stability. They are height adjustable so can be set for your loved one's height. The four-wheeled models have a seat that the user can rest on if necessary. Both three-wheeled and four-wheeled models can be supplied with useful bags to carry essentials.
Wheelchairs
Wheelchairs come in many different designs, but for travelling, a lightweight folding model is advisable. Even if your loved one is not usually a wheelchair user, those whose mobility is limited can find travel quite tiring so a wheelchair may be useful.
Anyone who needs dementia care can sometimes find busy places very confusing and will become anxious. They may feel safer in a wheelchair, and you'll know where they are at all times, so there is less danger of them getting lost.
Wheelchairs can be hired in certain resorts, but if you are taking your relative's wheelchair, there are certain things to consider before travelling.
The chair should be light in weight and be able to be folded or dismantled easily if it needs to be lifted and transported in a car boot, say.
If you are travelling abroad, you may need to take your loved one's usual wheelchair, whether this is self-propelled, electric or requires an elderly live-in care provider to push it.
It is essential that you remember to take any necessary extra equipment for the wheelchair with you. This can include tools, spare inner tubes and in the case of electric wheelchairs, an adaptor plug, transformer and possibly a voltage converter.
If you are flying with a wheelchair user, they will typically be boarded first and disembarked last. Arriving at the airport in plenty of time is important. Their wheelchair will be loaded onto the aeroplane before boarding so be aware they'll need to transfer to a different wheelchair at this point.
You should remove any seat cushions and other loose items and take them with you on the plane, otherwise there is a risk that they may be lost or damaged.
Powered chairs should include necessary instructions, like how to disconnect batteries or dismantle the chair, attached to the chair, so that handlers at both ends of the journey know how to deal with them.
If your elderly relative needs their specific chair, ask the crew to ensure that it is available for them on arrival. Otherwise, they may be met with an airport wheelchair on arrival.
Mobility scooters
There is a vast range of mobility scooters available, but a lightweight folding model is best for travelling.
When choosing a folding mobility scooter, there are certain aspects to consider, and it's often advisable for your loved one to try out a few before you make the final decision. This will also depend primarily on whether you will need to transport it in the boot of your car. Look for models of a reasonable weight, size and ease of transportation.
When you are planning on getting out and about with your elderly relative, it isn't only specific mobility aids that need to be considered.
Little extras such as neck cushions for added support can make the journey more comfortable for your loved one, and you may like to take a covered cup for drinks, to minimise the risk of spills. Pressure cushions can make seats more comfortable, and if incontinence is a problem, perhaps pack a waterproof chair pad in case of accidents.
Travelling with an elderly loved one can be enjoyable for all concerned, and neither of you should feel deterred if you plan thoroughly and adequately.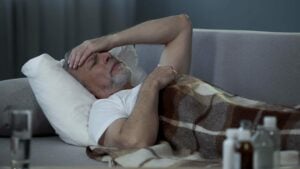 Caring for sleep problems in elderly Changes in sleeping patterns are frequent in older people, and you may notice that it progressively gets worse over
Read More »