You've reached us outside of our opening hours. Create your account to get access to My Elder, our online portal for arranging care and accessing information to support your journey to care.
Live-in Care in Evesham and the Cotswolds
At Elder, we provide high-quality private live-in care for the elderly and those in need. Contact us today.
Or call us, we are here to help
In later life, many people will start to need twenty-four-hour care but are reluctant to consider moving away from their own home. If your loved one is in this situation, live-in care from Elder could be the answer.
If you would like to find out more about Elder's live-in care service, speak to one of our care advisors any day between 8 am and 8 pm.
Why is live-in care preferable to residential care in Evesham & the Cotswolds?
In addition to providing one-to-one care that is specifically tailored to your loved one's needs, Elder's live-in care service ensures that there is always someone around to help when needed. This can provide complete peace of mind: you won't have to worry about whether your elderly relative is lonely and you will know that they are always safe and well cared for.
The majority of older people would prefer to stay in their own home and to be cared for there. It can be very upsetting to move away from friends, neighbours and the community that they know and love.
For people living with dementia, changes like this can also be extremely frightening. Care homes can be daunting places and are unlikely to be able to provide the same level of care and companionship as a live-in carer.
You can rest assured that your loved one will receive the highest quality of care from experienced, highly trained live-in carers while still enjoying the benefits of their own home.
Elder has carers available in the market town of Evesham and nearby villages such as Badsey, Cropthorne and Offenham.
What are the benefits of live-in care in Evesham & the Cotswolds?
Enabling elderly people to remain in their own home and familiar environment often means that they can maintain a higher level of independence. Elder's carers will do all they can to promote independence and to keep your loved one as active as possible, supporting them to continue with activities they enjoy.
If your loved one is a pet owner, Elder understands how important animals are in terms of companionship, as well as the less apparent health benefits that pets can bring, including lowering blood pressure and stress levels. Elder's carers will ensure that any pets are fed and taken care of if your elderly relative is no longer able to manage this alone.
How can my loved one's life be enhanced by live-in care?
Needing long-term care does not mean that your relative's life should be restricted, and many people find that their horizons are actually broadened when a twenty-four-hour carer moves in with them. After discussions about the activities that your loved one enjoys, our carers will accompany them out and about whenever possible.
There are many interesting places in Evesham and the surrounding area to visit, and your loved one may like, for example, a trip to the fourteenth century Almonry Museum and Heritage Centre in Abbey Gate where there are historical displays and a peaceful walled garden to sit in on a warm day.
We provide live-in care in Evesham and the Cotswolds and the surrounding areas
Elder provides live-in care in Evesham and the Cotswolds and the surrounding areas. Our carers are highly skilled and are the perfect solution for long-term home care for your loved one.
What our customers say
"Judith is absolutely lovely and you could see the fantastic relationship she has with my mum. My mum's smile nearly lit up the whole house when Judith arrived."
Alison, UK
In the summer, many elderly people enjoy a trip to Abbey Park on a Sunday afternoon to hear the music played in the Victorian bandstand and a live-in carer would enable your loved one to enjoy this type of day out.
If your relative enjoys shopping, a live-in carer could chauffeur them or accompany them in a taxi to, for example, the Vale Exotics Garden Centre or the Valley Shopping Centre.
Having a live-in carer around enables your loved one to continue enjoying all the facilities that their local area has to offer, meet friends, and enjoy their social life safely and fully.
How does live-in care work?
A care plan will be prepared for your loved one by Elder. This is unique to them and will be used as the basis for providing all the support and care that they need to keep them in the best possible health and to ensure that they remain safe and comfortable.
The live-in carer will help with any domestic chores that are needed and also provide personal care depending on your loved one's needs. If they need their meals cooked and help with cleaning and laundry, this will be done.
The carer will also help with any aspects of personal care such as getting up, going to bed, washing and dressing, depending on your loved one's needs. If their condition changes and they need a higher level of help, then the care plan will be updated accordingly.
Live-in carers will also collect medication from local services, such as Vale Pharmacy, whenever necessary.
What is the cost of live-in care in Evesham & the Cotswolds?
Standard live-in care with Elder is £1225 per week. There are no hidden costs, and you're free to add additional extras only if you want them, so you can plan your budget with confidence.
Why choose live-in care from Elder?
Elder is committed to the provision of the highest quality one-to-one care available.
Because we take the interests of the care recipient into account when selecting a suitable carer, we look for common ground between the carer and your loved one, ensuring that they will get on well together. If any problems do happen to occur, our support team is always there to help.
Call us with no obligation to discuss your loved one's situation with our care advisors.
Dulcie's Care Story
In this short video, Mary and Colin explain how Dulcie's live-in Elder carer, Sarah, has become part of the family. They discuss how live-in care has allowed Dulcie to stay independent in her own home, while making a new friend at the same time.
---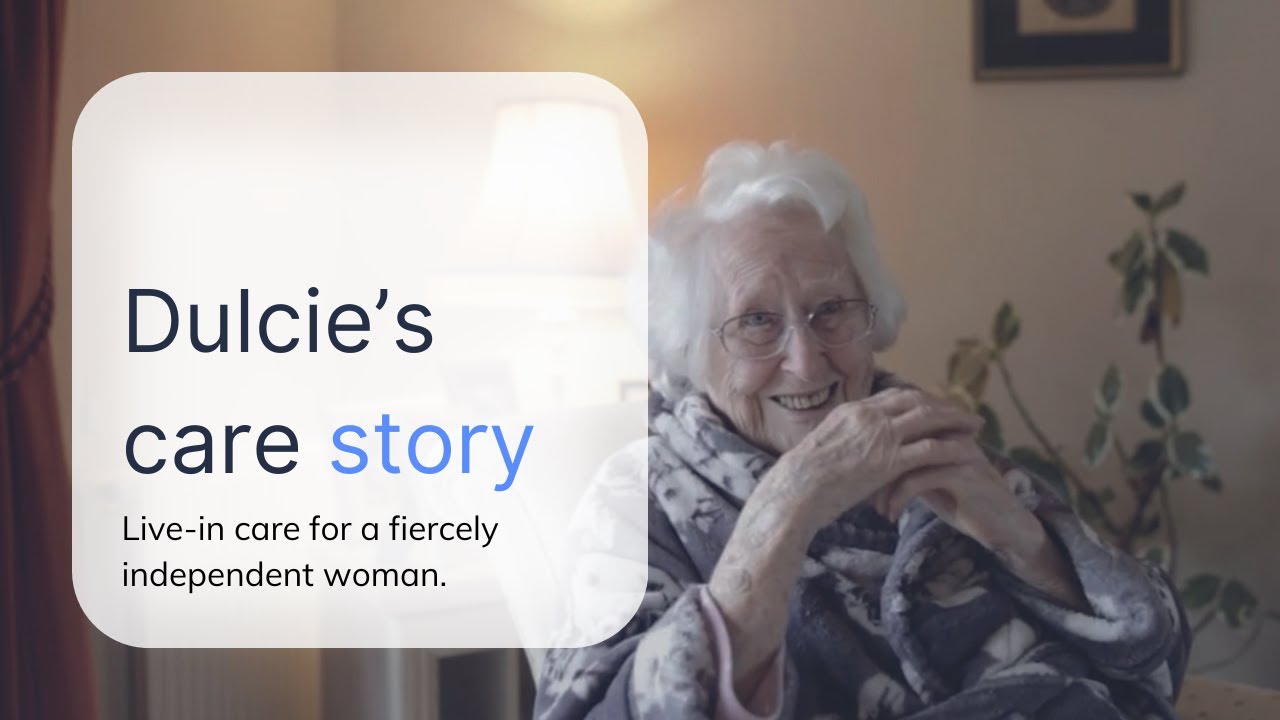 ---
Care in Evesham and the Cotswolds: Useful Resources
If you're a carer in Evesham and the Cotswolds, the county council have the information, advice and support you need.
Address: County Hall, Spetchley Road, Worcester, WR5 2NP
Call: 01905 763763
Monthly group supporting carers of people with life-limiting illnesses.
Email: [email protected]
Address: Wildwood Drive, Worcester, WR5 2QT
Call: 01905 763963
Free and friendly clubs across the Cotswolds for people living with dementia and their carers – make new friends and enjoy a range of social activities.
Email: [email protected]
Address: Various venues across Worcestershire
Call: 07707 787580
Provides a carers forum, as well as a wealth of specialised information and advice.
Contact form: https://carersgloucestershire.org.uk/contact-us/
Address: Carers Gloucestershire, 2nd Floor, 35 St Michael's Square, Gloucester, GL1 1HX
Call: 01452 386283
Monthly meeting offering a range of social activities giving carers a chance to chat.
Email: [email protected]
Address: Ferry View, Boat Lane, Merstow Green, Evesham, WR11 4AZ
Call: 0300 012 4272
A monthly opportunity for people living with dementia and their carers to meet and chat in a social situation.
Email: [email protected]
Address: St Mary's Parish Hall, St Egwins Road, Evesham, WR11 4EJ
Call: 01562 823 800
Over 250 volunteers offer befriending, community and social activities, transport and carer respite.
Email: [email protected]
Address: Moreton Area Centre, High Street, Moreton-in-Marsh, GL56 0AZ
Call: 01608 651415
Get live-in care of the highest standard
Give us a call, drop us an email or simply fill out the form and one of our specialist care team will get in touch as soon as possible.
Read More About Care in Evesham and the Cotswolds