You've reached us outside of our opening hours. Create your account to get access to My Elder, our online portal for arranging care and accessing information to support your journey to care.
Live-in Care in Stroud
At Elder, we provide high-quality private live-in care for the elderly and those in need throughout Stroud.
Or call us, we are here to help
If your loved one now requires long-term 24/7 care and support but does not want to give up their home, Elder live-in care can provide the care home alternative you are looking for.
If you have any specific questions about how we can provide your loved one with the highest standard of home care, our care advisors are available from 8 am to 8 pm, seven days a week.
What makes live-in care a more suitable alternative to a residential care home in Stroud?
This type of support in the elderly person's own home gives our customers the reassurance they need about the safety and well-being of their loved one. If your elderly relative needs companionship and individual attention, live-in care can provide this, while care homes would struggle to meet their needs.
In later life, many people find change upsetting. If your loved one is happy in their own home in Stroud and does not want to move away from their neighbourhood, a live-in carer can support them to continue with their social life, visit friends and family and, wherever possible, carry on enjoying their favourite hobbies and pastimes.
Knowing your loved one is safe and being well cared for enables you to get on with life, without worrying about how they are coping with the strange environment of a care home.
Elder has live-in carers in Stroud, and in nearby villages such as Brimscombe, Nailsworth and Painswick, who can move into your loved one's home and supply the care and support they need. This can be anything from companion care to complex care such as the care that a person who is living with dementia might require.
Our well experienced and highly trained carers can provide care for people with all levels of need, so you can be sure that your loved one will receive the best care possible while being able to remain in their own home.
What are the advantages of live-in care from Elder?
Our nationwide trusted service enables your loved one to live as independently as possible in their own familiar environment. Your elderly relative's needs will be discussed with you and them, and the help that is needed will be provided.
Your loved one is more likely to remain active in their own home and surroundings. The carer will encourage them to continue with the physical activities that they enjoy, such as walking or gardening. This, in turn, will help to keep them in better health.
Many of the elderly people we care for have pets that they could not keep if they moved into a care home. Our carers will ensure that dogs and cats are fed and looked after if your loved one is no longer able to cope with them.
Live-in care in Stroud and across Gloucestershire
Wherever you live in the Stroud area, we can help you arrange care at home for dementia care, Alzheimer's care and companionship care.
What our customers say
"The carer you sent me is fantastic. My mum loves her. She's kind, caring and works as a team with me."
Angela, UK
How can live-in care keep your elderly relative as safe and comfortable as possible in Stroud?
Our carers will talk to your loved one about the kinds of things they enjoy doing in the local area, and depending on their abilities, will accompany them on walks or trips out to favourite places. They may like to visit the Museum in the Park or perhaps the Canal Visitor Centre at Wallbridge Lock. If your loved one likes shopping, Gloucester Quays has plenty of interest.
Stroud has many facilities for elderly people, and your loved one may enjoy community activities, such as those offered at Wyatt House Day Centre. The live-in carer will support them to continue with their favourite hobbies, whether they involve bingo or singing in the over 50s Supertroupers choir run by Age UK.
With a live-in carer to support them, your loved one can continue to enjoy their community and enjoy the best quality of life possible.
How does Elder live-in care work?
A unique care plan, tailored to your loved one's individual needs will be created. Their carer will do everything that is needed to keep your elderly relative safe and comfortable.
For example, your loved one may wish to continue cooking, so the carer would concentrate on less favoured tasks, such as cleaning, but will also take on meal preparation if this is needed. If circumstances change, the care plan will be updated to reflect the changes.
A live-in home carer will provide support with aspects of personal care such as mobilising, continence management, washing and dressing. If your loved one needs help with arranging or attending health care appointments at services such as Beeches Green Health Centre, the carer will ensure they are assisted with this. They can also make sure that prescriptions are ordered and collected as needed.
What is the cost of live-in care?
Standard live-in care with Elder is £1225 per week. There are no hidden costs, and you're free to add additional extras only if you want them, so you can plan your budget with confidence.
The carers we work with earn above the industry rate, and you can be sure we recruit the best, most experienced carers to look after your loved one.
What advantages are there to choosing Elder?
We pride ourselves on providing the best live-in elderly care you can find. The carers we work with are matched to our care recipients so that there is plenty of common ground between them. This makes fostering a friendly and comfortable working relationship more natural, and bonds of friendship are often formed between them.
Elder's team will be there to provide any support or information you need. If you would like to discuss your situation and your loved one's needs with no obligation, call us today.
Dulcie's story
In this short video, Dulcie and her family explain her reasons for choosing Elder live-in care. They discuss how live-in care has allowed her to stay independent in her own home while making a new friend at the same time.
---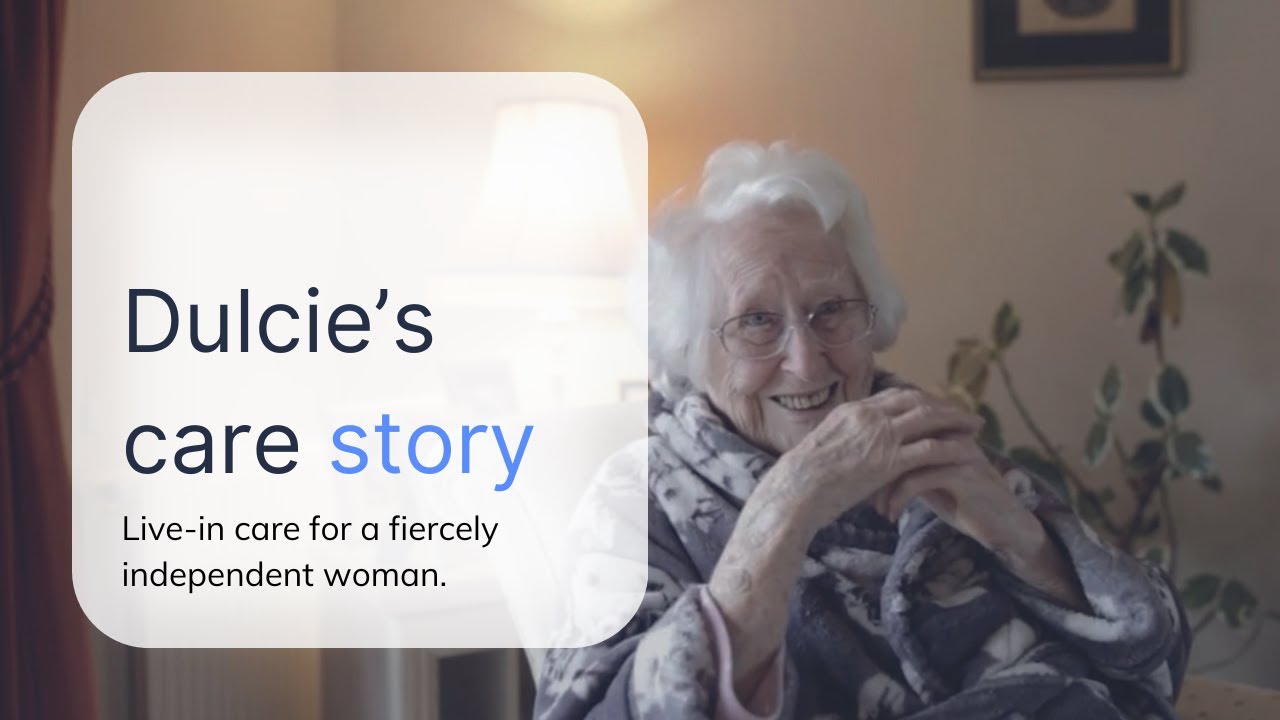 ---
Local resources for carers in Stroud
An independent charity that aims to support unpaid carers by offering help, advice and practical support.
– Email: https://gloucestershirecarershub.co.uk/contact-us/
– Address: Conway House, 31 Worcester St, Gloucester GL1 3AJ
– Call: 0300 111 9000
A group offering support and a social lunch for cared for people from the Chinese community and their carers.
– Email: [email protected]
– Address: The Voluntary Agencies Unit, Ground Floor, 75-81 Eastgate Street, Gloucester, GL1 1PN
– Call: 01452 332088
A group of volunteers and county and district community and health organisations that organises community groups and events.
– Email: [email protected]
– Address: Nailsworth Town Hall, Old Bristol Road, Nailsworth, Stroud, GL6 0JF
– Call: 07801 558931
Offers reassurance to carers that the person in their care will be looked after in the event of an emergency. The scheme is run by Carers Gloucestershire, Worcestershire Telecare, Crossroads Care and the Guideposts Trust for Gloucestershire County Council.
– Address: Carers Gloucestershire, 2nd Floor, 35 St Michael's Square, Gloucester, GL1 1HX
– Call: 0300 111 9000
A registered charity offering respite breaks and a variety of care services that aims to improve quality of life.
– Email: [email protected]
– Address: Unit 4, St James Court, 285 Barton Street, Gloucester, GL1 4JE
– Call: 01452 302542
Charity working to promote independence and well-being.
Email: [email protected]
Address: Age UK Gloucestershire, 26 Station Road, Gloucester, GL1 1EW
Call: 01452 422660
Get live-in care of the highest standard
Give us a call, drop us an email or simply fill out the form and one of our specialist care team will get in touch as soon as possible.
Read More About Care in Stroud