You've reached us outside of our opening hours. Create your account to get access to My Elder, our online portal for arranging care and accessing information to support your journey to care.
Live-in Care in Gloucestershire
At Elder, we provide high-quality private live-in care for the elderly and those in need throughout Gloucestershire.
Or call us, we are here to help
Tucked away in the south-west corner of England, the picturesque county of Gloucestershire threads through a section of the beautiful Cotswold Hills, a portion of the River Severn valley and all of the majestic Forest of Dean.
With such beauty and tranquillity, it's understandable that elderly residents of Gloucestershire are reluctant to move. An increasing number of people are taking advantage of the affordability and practicality of live-in care, to help loved ones who wish to continue to live independently while being supported by a professional carer.
An empowering way to live
Live-in care enables your loved one to continue living their chosen lifestyle, in the comfort and familiarity of their own home, close to friendly neighbours and community. This security and familiarity is especially beneficial for those living with dementia and Alzheimer's.
At Elder, we tailor care to your loved one's circumstances. Whether they require a helping hand a few hours per week, for a few months to give a family carer a break or ongoing round-the-clock care, we work with you to make an immediate difference. We can get a carer to you within 24 hours, no matter what the location in the UK.
We understand the critical difference between just placing a carer with your loved one, and connecting you and your relative with the right carer for your needs. We work with you to match the perfect carer to your circumstances, so quality of life improves for everyone, especially your loved one.
Standard live-in care with Elder is £1225 per week. There are no hidden costs, and you're free to add additional extras only if you want them, so you can plan your budget with confidence.
We provide live-in care in Gloucestershire and the surrounding areas
Elder's live-in care services can start within as little as 24 hours in the county of Gloucestershire. Our skilled and compassionate carers are committed to providing the very best care to your loved one.
What our customers say
"I have been able to return to my normal life totally relaxed that my mother is in capable hands with all her needs being more than catered for."
Tom, UK
Choosing a carer
At Elder, our carers are more than just their qualifications and professional experience. Our recruitment process has a simple core question: would I allow this carer to look after my Mum?
As you would expect, we thoroughly check the background and qualifications of our potential carers. As part of the application process, all carers must complete a written scenario-based exam and participate in a face-to-face interview. All our carers are English speaking, and DBS and CRB checked. We guarantee consistency, and we can provide the same carer to you for as long as you wish.
Our carers are compassionate, experienced professionals who, in turn, receive dedicated seven-days-a-week support from the team at Elder, ensuring they have everything they need to work efficiently. We provide generous remuneration, a solid support system and a working environment that suits their lifestyle, experience and ability.
The team at Elder is here to support our carers every step of the way.
Many of our carers are also professionals trained to tend to complex and progressive illnesses and conditions, such as dementia. Their focus is always your loved one's quality of life.
What you can expect from your carer
Carers assist with maintaining your loved one's chosen quality of life, handling most daily chores, such as housework, cooking and laundry. They are also on hand to check medication, arrange medical appointments and help with mobility and personal hygiene. A carer will undertake the practical components of day-to-day life, ensuring your loved one retains their independence and security while living at home.
Another critical element of a carer's role is the social and psychological aspect. Whether providing elderly care, companion care, dementia care or care in the home, our carers are experienced, compassionate professionals. They make sure your loved one can continue with community activities, and they can suggest hobbies that might be of interest, as well as helping them to maintain social connections within the community and the family.
Our carers participate in the life of the person in their charge, and that includes getting out and enjoying some fresh air and a chat with your loved one.
What are the costs of live-in care in Gloucestershire?
We work with you and your circumstances, making sure you are aware of any local funding options available, as well as introducing you to our flexible budget system where you can set your payment amount per week or per month. While funding and resources fluctuate across the UK, Gloucestershire has some great resources and funding options. It's a good idea to get a free needs assessment check through Gloucestershire Council, to see what services you are entitled to and what you might need to pay for.
Our support is practical, straightforward and round-the-clock. We understand the practicalities involved. Our website is full of helpful information and expert advice, such as our free Essential Guide to Care, and we also offer informative blog posts, on care-related topics.
When assessing the costs of 24-hour care at home, we suggest you consider the value of continued independence, the comfort of familiar surroundings and dedicated one-on-one care, to weigh up how these things can positively affect your loved one's quality of life.
Colin and Dulcie's story
Dulcie is 102-years-old and lives with her son Colin, his wife Mary, and her Carer Sarah. She has dementia and has had full-time live-in care for over two years. We talk to the family about the challenges of finding the right care solution for a fiercely independent woman – and how the positive benefits of live-in care with Sarah has transformed all of their lives.
---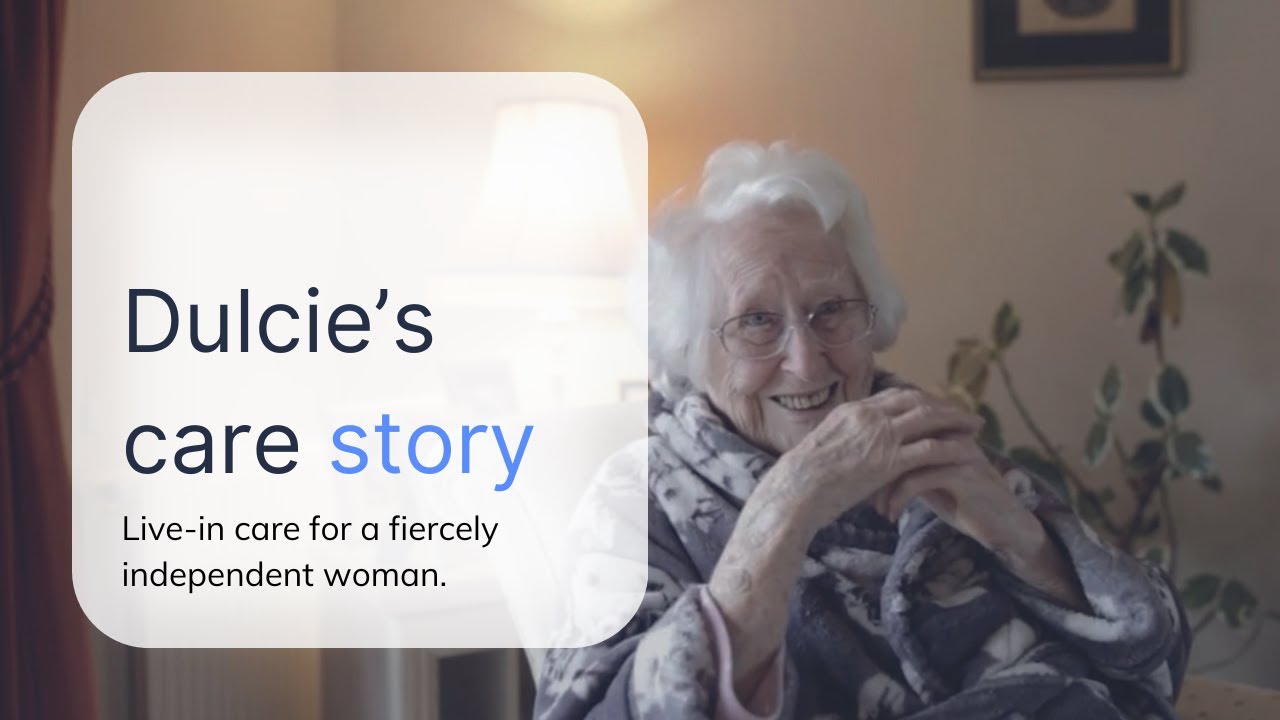 ---
Care in Gloucestershire: Useful Resources
A charity providing information, advice, services and activities for the elderly and their carers, such as social events and choirs.
Email: [email protected]
Address: 26 Station Road, Gloucester, GL1 1EW
Call: 01452 422 660
The Gloucestershire Carers' Hub exists to improve the life of carers in Gloucestershire through tailored advice, training and information.
Email: [email protected]
Address: Conway House, 31 Worcester St, Gloucester GL1 3AJ
Call: 0300 111 9000
An organisation dedicated to improving the health and wellbeing of residents across Gloucestershire and helping people access information and services.
Email: [email protected]
Address: Unit F13 Kestrel Court, Waterwells Drive, Waterwells Business Park, Quedgeley, Gloucester, GL2 2AT
Call: 01452 504 989
Provides help, support and advice for carers, as well as legal and financial guidance.
Email: [email protected]
Address: Shire Hall, Westgate Street, Gloucester, GL1 2TG
Call: 01452 425000
A scheme run on behalf of Gloucestershire County Council which co-ordinates the service of replacement care in the event of an emergency, as well as a dementia day centre, a lunch club and music therapy.
Contact Form: https://www.guideposts.org.uk/contact
Address: St James Court, 285 Barton Street, Gloucester, GL1 4JE
Call: 01452 529697
When live-in care just isn't an option, give your loved ones the support they need with a choice of the top local care homes in Gloucestershire.
Get live-in care of the highest standard
Give us a call, drop us an email or simply fill out the form and one of our specialist care team will get in touch as soon as possible.
Read More About Care in Gloucestershire