You've reached us outside of our opening hours. Create your account to get access to My Elder, our online portal for arranging care and accessing information to support your journey to care.
Live-in Care in Amersham
At Elder, we provide high-quality and affordable live-in care for the elderly and those in need. Contact us today.
Or call us, we are here to help
If your elderly loved one lives in Amersham or surrounding towns such as Little Chalfont, Chesham or Hazlemere, then they could benefit from a live-in care package from Elder. Live-in care is fast becoming the most popular form of elderly care in the UK, as it means your loved one can avoid the upheaval of leaving their family home for a place in a residential home.
With live-in care from Elder, your elderly relative is joined by a dedicated caregiver who will be with them round the clock, offering all the domestic support and companionship they need to maintain an independent, happy and healthy life for as long as possible.
What is live-in care?
With a live-in care package from Elder, a live-in care worker moves in with your relative and provides them with as much or as little help as they need, from shopping, cooking meals and light cleaning, through to driving them to and from social events.
Their carer can also facilitate trips to local amenities, such as appointments at Amersham Hospital, shopping at the nearby Wycombe Retail Park or meetings of the town's Rotary Club.
Your loved one's caregiver will also be able to assist with personal care tasks, such as getting out of bed, getting to the toilet and bathing. While those living in care homes might have these tasks performed by multiple different carers, with a dedicated live-in carer, such intimate tasks are much less upsetting for your loved one.
Why choose live-in care in Amersham from Elder?
We're here to make a really stressful process as simple as possible. Finding care is a lot of hassle at a difficult time. Whether you're looking for live-in care, home care, 24-hour care, dementia care, or even checking out every care home in Amersham, we understand you want the best solution, in the least complex possible way.
Part of reducing that stress is about ensuring you can be completely confident your loved one is getting the right live-in carer for them. That's where our unique matching process comes in. During your home care consultation, our advisors will get as much information as possible about your case to build the most accurate picture of the needs of your loved one. That means we look to find out whether your loved one needs complex dementia care, or simply wants home help to provide a bit of support and companionship.
But unlike most companies, we look beyond practicalities. Our matching process is all about making home care more personal. So you get care that really feels like family. The live-in carer will be moving into your loved one's house after all.
Our team want to know all about what makes your loved one tick. So we'll ask questions about their personality. What they like to do to keep themselves entertained. What they like to talk about. What kind of people they get on with.
Only once we've got all this information will we match a carer. Once we've found your live-in carer, we'll send you across a video so you can understand their personality.
Useful Care Resources in Amersham
Our highly skilled and compassionate carers in Amersham are committed to providing the best possible care to your loved ones. Get in touch with Elder today to find out more.
What our customers say
"Judith is absolutely lovely and you could see the fantastic relationship she has with my mum. My mum's smile nearly lit up the whole house when Judith arrived."
Alison, UK
What are the benefits over residential care?
There are countless benefits to live-in care, not least that your loved one gets to remain in familiar surroundings and enjoys a continuity of care they simply wouldn't get in a residential home. Live-in carers usually work in pairs and take it in turns to spend two weeks at a time with your relative, meaning they become a familiar face and as much a friend as a carer.
Unlike in a care home, your loved one has full freedom to make choices about those small day-to-day decisions we often take for granted. Care home residents have little, if any, say over when they are put to bed, what they eat for their meals and even when they go to the bathroom, but with live-in care, your loved one retains full control.
Carers could also arrange interesting days out together, perhaps to local highlights including the Memorial Gardens, St Mary's Church or the beautiful Field Centre.
Our carers are highly trained and well experienced in looking after those with intricate needs, so you can rest assured that the benefit of remaining in the comfort of their own home won't compromise the level of care they receive.
Why live-in care in Amersham?
As well as helping your loved one maintain their independence, Elder always tries to match your loved one to a carer who shares some of their interests – that means they get mentally stimulating one-to-one interaction and get to keep up the hobbies and pursuits they have enjoyed throughout their life.
How much does live-in care in Amersham cost?
Elder's live-in care service costs a flat rate of £1225 per week. This is up to 30% less than a care home, and even more if care is required for couples.
Dulcie's Care Story
In this short video, Mary and Colin explain how Dulcie's live-in Elder carer, Sarah, has become part of the family. They discuss how live-in care has allowed Dulcie to stay independent in her own home, while making a new friend at the same time.
---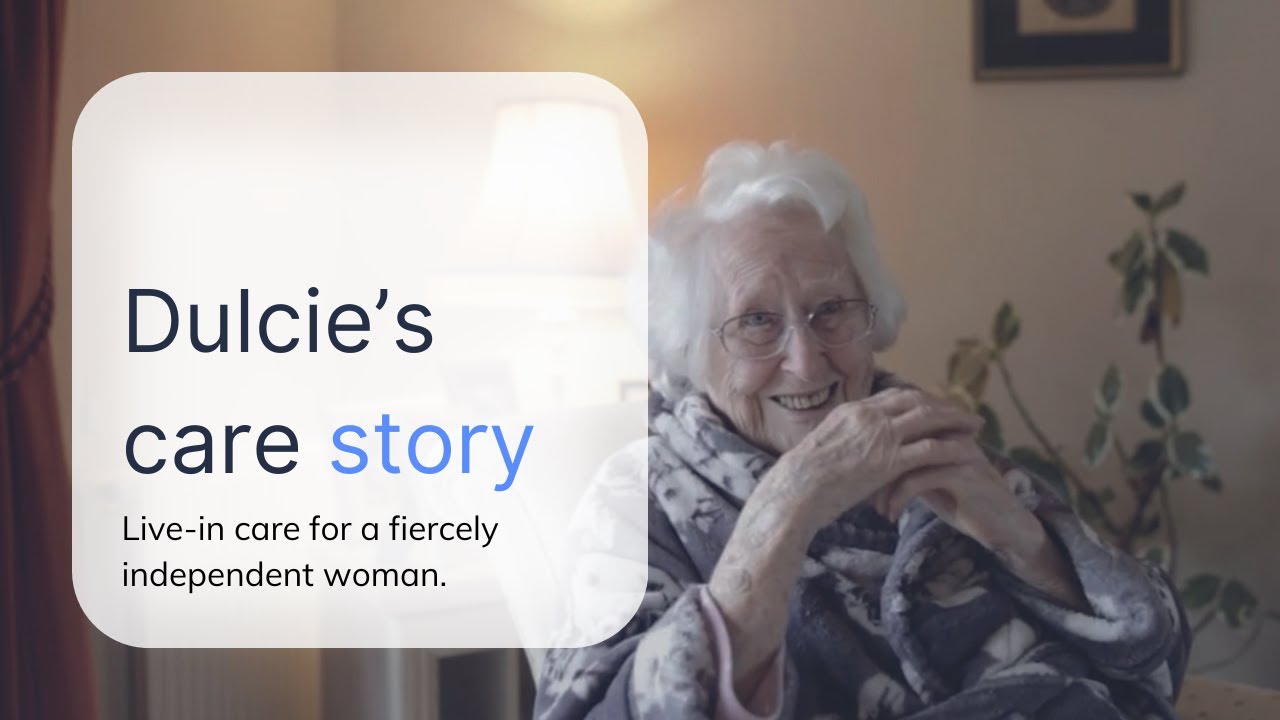 ---
We provide live-in care in Amersham and the surrounding areas
Carers Bucks supports carers of all ages and provides information and guidance on health and social issues.
Email: [email protected]
Address: Carers Bucks, Ardenham Court, Oxford Road, Aylesbury, HP19 8HT
Call: 0300 777 2722
An independent organisation providing information and help with age related issues. Holds open meetings six times a year and publishes a monthly newsletter.
Email: [email protected]
Address: (Meetings) Christ The Servant King, Sycamore Road, High Wycombe, HP12 4TJ
Social group for carers or those who have lost a partner. Offers opportunities to join in social activities outside the house and meet people in a similar situation.
Email: [email protected]
Address: Buckingham Community Centre Cornwalls Meadow, Buckingham, Buckinghamshire, MK18 1RP
Call: 01280 815512
FACT is a group that aims to improve services for young people with disabilities.
Email: [email protected]
Address: PO Box 1032, Aylesbury, Buckinghamshire, HP22 9NL
Call: 07548 095363
Helps older people to remain as independent as possible and provides information, advice and services to older people and their families and carers.
Email: [email protected]
Address: 145 Meadowcroft, Aylesbury, Buckinghamshire, HP19 9HH
Call: 01296 431 911
Get live-in care of the highest standard
Give us a call, drop us an email or simply fill out the form and one of our specialist care team will get in touch as soon as possible.
Read More About Care in Amersham