You've reached us outside of our opening hours. Create your account to get access to My Elder, our online portal for arranging care and accessing information to support your journey to care.
Live-in Care in Wilmslow
At Elder, we provide high-quality private live-in care for the elderly and those in need. Contact us today.
Or call us, we are here to help
What is live-in care?
If you suspect that your elderly relative is struggling in their own home, then you're probably considering care options for them. Rather than moving your relative into your own home, or checking out local care homes to see if they have a suitable vacancy, you could consider moving a dedicated carer into their home. They will live as part of the family, helping and assisting them in any way necessary to ensure that they enjoy life to the full.
Why is live-in care a better option in Wilmslow than a care home in Wilmslow?
If your loved one lives in the town of Wilmslow, or in one of the villages nearby, like Alderley Edge, Woodford or Morley Green, they will have settled into a routine, and made friends with neighbours that they would be loathed to part from.
A move into residential care involves going through a house full of possessions, choosing items to keep and items to part with, which can be a painful experience, especially for those who have recently lost a spouse, and who can feel that too many aspects of their life are about to change.
Live-in care allows your loved one to continue enjoying their current lifestyle, but with the help and support of a dedicated carer, whose sole purpose is to facilitate life for them. That means enabling them to get out of the house and enjoy fun and entertaining social events and outings, which can be carried out whenever desired.
Care homes cannot accommodate spontaneous outings due to the need for appropriate staff levels and health and safety considerations, which don't apply to a caregiver living in your loved one's home.
So if your elderly relative suddenly decides they want to go shopping on Wilmslow High Street or time to reflect upon history at the Stockport Air Raid Shelters, the carer will support and facilitate them straight away.
Many older people have much-loved pets that they would be distraught to be parted from, yet sadly the majority of care homes simply cannot accommodate animals and birds, even though pet ownership is known to offer profound health benefits.
An Elder live-in carer will assist with pet care, as well as helping out with gardening, allowing your loved one to continue to enjoy their own little patch of land for many years to come.
We provide live-in care in Wilmslow and the surrounding areas
If you're searching for a live-in carer in Wilmslow or the surrounding areas for a parent or relative, Elder can help. We provide highly skilled live-in carers who are compassionate and dedicated to providing exceptional long-term care.
What our customers say
"Judith is absolutely lovely and you could see the fantastic relationship she has with my mum. My mum's smile nearly lit up the whole house when Judith arrived."
Alison, UK
What's involved in live-in care in Wilmslow?
A live-in carer will undertake any task necessary to help your elderly relative to remain in the comfort of their own home. This can involve help with housework, including laundry duties and making beds, to helping your loved one to pass the time of day with a cup of tea and a chat, as they reminisce about their lives.
The carer will act as a deterrent to thieves, ensuring that your loved one doesn't fall prey to con artists, and will assist with technology, by helping your relative to send and receive emails and undertake Skype chats with relatives who live further afield.
They will also arrange any medical appointments, ensuring that your loved one arrives at the designated time, at either the Health Centre or Kilmore Medical Centre, and will collect prescriptions in a timely manner from Well Pharmacy on Lindow Parade, making sure that medication is taken according to medical advice.
All Elder carers are trained in the importance of fresh air and appropriate levels of exercise, along with the need for healthy and nutritious meals, that they will prepare, or assist with, depending on your loved one's needs.
Caregivers are carefully matched to care recipients to ensure the best possible match of temperament and interests, meaning that there is common ground from the outset, helping to forge strong bonds of friendship.
And because all Elder carers are trained in emergency procedures, our clients can relax, knowing that their loved ones are being well looked after throughout every day and night, for complete peace of mind for the whole family.
How much does live-in care in Wilmslow cost?
Elder live-in care provides your loved one with a single, dedicated caregiver who is available to them on a one to one basis at any hour of the day or night. For this reason, many of our clients assume that our costs will rival those of local care homes, who are obviously unable to provide the same individual level of support to their residents.
Standard live-in care with Elder is £1225 per week. There are no hidden costs, and you're free to add additional extras only if you want them, so you can plan your budget with confidence.
How can I get more information about live-in care?
Our friendly customer care advisors are on hand seven days a week, just waiting to answer your questions about live-in care so that you can decide whether it might be a suitable option for your loved one. We are available seven days a week, between the hours of 8 am and 8 pm, with no obligation whatsoever.
Dulcie's Care Story
In this short video, Mary and Colin explain how Dulcie's live-in Elder carer, Sarah, has become part of the family. They discuss how live-in care has allowed Dulcie to stay independent in her own home, while making a new friend at the same time.
---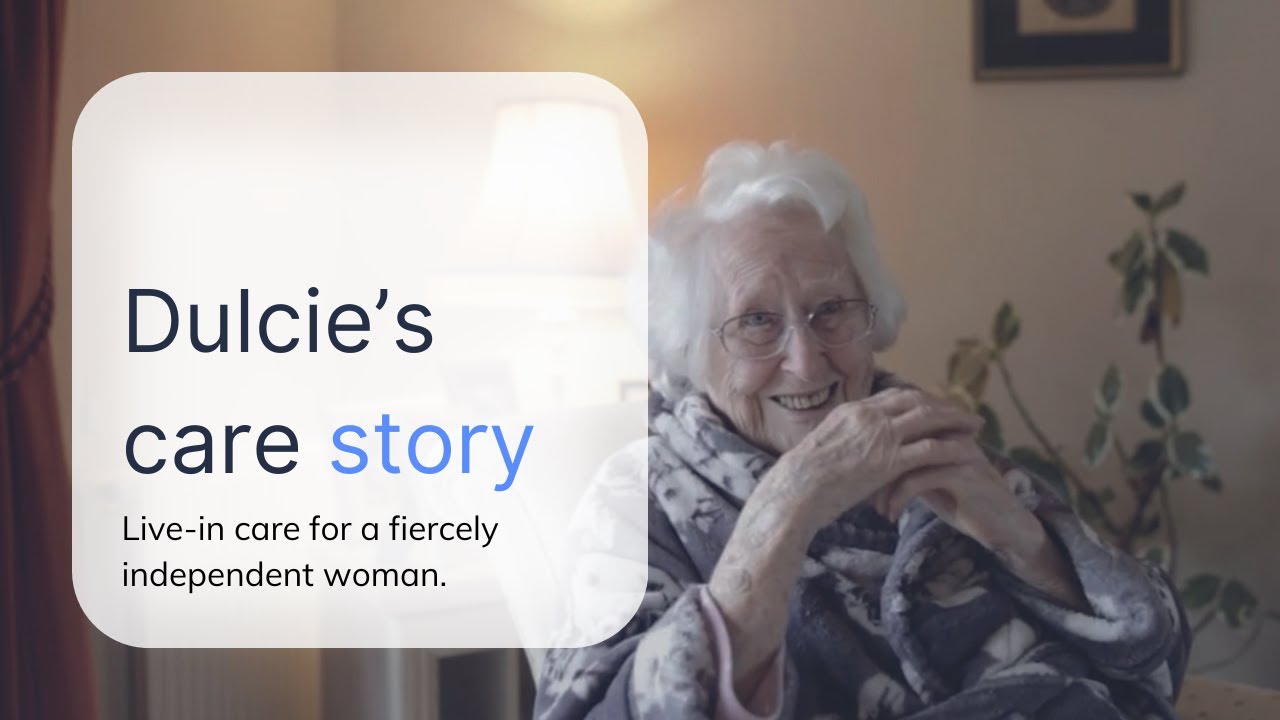 ---
Useful Care Resources in Wilmslow
Links to advice, events and helpful information for older people and their families and carers.
Address: Cheshire East Council, c/o Municipal Buildings, Earle Street, Crewe, CW1 2BJ
Call: 0300 123 5500
Day care services every Wednesday with activities, talks, exercise classes, meals, snacks and more for older people in Wilmslow.
Contact form: https://www.alwaysactive.org.uk/contact/
Address: Wilmslow Day Centre, Anchor Court, Lacey Green, Wilmslow, SK9 4DD
Call: 07972 572054
A resource for anyone in a caring role, with regular meetings held at The United Reformed Church in Chapel Lane, Wilmslow.
Email: [email protected]
Address: Compass Northwest, Edward VII Quay, Navigation Way, Ashton on Ribble, Preston, PR2 2YF
Call: 0300 303 0208
Social activities, events, support and information for the elderly in and around Wilmslow.
Email: [email protected]
Address: Age UK Cheshire East, New Horizon Centre, Henderson Street, Macclesfield, SK11 6RA
Call: 01625 612958
Held on Mondays between 2pm and 4pm, the dementia caféenables those who have dementia to enjoy social get-togethers, talks and activities in a supportive atmosphere.
Email: [email protected]
Address: Wilmslow Methodist Church, Kings Close, Water Lane, Wilmslow, SK9 5AR
Call: 01625 528 892
Regular sports and fitness activities for the over 50s, including walking football and walking netball.
Email: [email protected]
Address: Wilmslow Leisure Centre, Rectory Fields, Wilmslow, SK9 1BU
Call: 01625 533789
Get live-in care of the highest standard
Give us a call, drop us an email or simply fill out the form and one of our specialist care team will get in touch as soon as possible.
Read More About Care in Wilmslow