At Elder, we provide high-quality private
live-in care
for the elderly and those in need in Chelsea.
Or call us, we are here to help
At Elder, we pride ourselves on the high quality of live-in care we provide to elderly people in their own homes in Chelsea. We are passionate about assisting older people to live as active and fulfilling a life as possible.
Elder provide live-in care across London. Click here to learn more.
What is live-in care?
Elder provides dedicated one-to-one live-in carers who move into your loved one's home. Live-in carers assist with anything from day-to-day tasks to dementia care. The caregiver is on hand day and night, offering assistance wherever, and whenever, it is required.
Elderly care at home offers a kinder alternative to residential care and, unlike state-provided care in the home, our caregivers provide dedicated 24/7 help, meaning that there is always someone there to help with anything that needs doing.
The benefits of a live-in carer
Unlike traditional care workers, Elder caregivers can spend time bonding with their care recipients. Because they are only caring for your loved one they are never rushed, which means they can spend as much time as required performing each task. You can therefore rest assured that your loved one is always well looked after.
Many older people have spent long and happy years in their homes and are distressed at the thought of having to move somewhere new. They have built up a space full of memories, which contains much-loved possessions that they do not wish to part with, and may also enjoy gardening or companionship from their pets; both of which can't happen with a move into a care home. By staying in their own familiar surroundings, your loved one has the benefit of friends and neighbours closeby who can continue to provide companionship.
A live-in carer enables your loved one to maintain their sense of independence with the benefit of assistance with tasks such as washing and ironing. Being able to continue to live their own lives provides a sense of wellbeing for your relative, while you can relax knowing that they're safe and happy.
What does a live-in carer do?
As an enabler, the caregiver will offer help across a variety of tasks to make life easier for your loved one. Depending on your elderly relative's needs, this may be more of a companion role, providing a listening ear or support with any issues they may be experiencing.
For other care recipients, there is a greater degree of assistance required, such as support with getting up, washing, dressing and other aspects of personal care. In many cases, the carer's tasks increase over time, as the care recipient requires more in-depth help with day-to-day tasks. Should this happen, Elder are happy to view your loved one's care plan frequently, meaning that help can be altered according to any new needs and/or requirements.
Your loved one's carer can take charge of medications, ensuring that they are taken according to the doctor's instructions. They will arrange medical appointments, ensure that prescriptions are collected, and they can take charge in a calm and confident manner in the event of an emergency.
One of the biggest problems facing older people today is loneliness, which can have a profoundly detrimental effect on general health and wellbeing. Elder carers are carefully matched to your loved one's personality, hobbies and interests, to ensure that both parties have plenty in common. We find that this offers benefits to both, and most of our care recipients quickly form strong bonds of friendship with their live-in caregiver.
All of our Elder carers understand the importance of keeping busy and active as much as possible, and will help your loved one to enjoy days out and activities in the Chelsea area and even further afield.
Your loved one can enjoy the Thames Chelsea Physic Garden – great if they have serious horticultural interests. With the help of their live-in carer, they can take a wander round the gardens followed by a trip to the Tangerine Dream Cafe, where they can enjoy afternoon tea with lavender scones!
There are plenty of museums and art galleries in Chelsea, such as Charles Saatchi's private art collection which has an impressive carousel of exhibitions and is free entry so won't break the bank! You can therefore rest assured that your loved one is living life to the full, while receiving the best care possible.
We provide live-in care in Chelsea and throughout London
No matter where you are in London, Elder provides the the best level of live-in care support.
What about dementia care?
If your loved one has more complex needs such as Alzheimer's or dementia care, then Elder can provide specialist caregivers with the skills, knowledge and training to assist them with daily life in their own homes.
Our live-in carers are carefully screened to ensure that they can cope with the challenging behaviours that these conditions are associated with. However, in many instances, simply being able to remain in the familiar surroundings of their own home can significantly reduce challenging behaviour.
Dementia can cause concern and stress for all family members, who may constantly worry about whether the hob might have been left on or whether their loved one might leave home and become lost. With a dedicated home care specialist on-hand night and day you have the reassurance that there is someone to keep an eye on them at all times, ensuring their safety.
Call Elder today to find out more
At Elder, we understand how much you love your elderly relative and want the best for them. We are always available to discuss our care packages with you, with no obligation whatsoever, and we will be happy to discuss any concerns or worries that you might have about your loved one's care. We can be contacted seven days a week – so call today to find out the difference that an Elder carer can make!
Real life story: Colin and Dulcie's story
Dulcie is 102-years-old and lives with her son Colin, his wife Mary, and her Carer Sarah. She has dementia and has had full-time live-in care for over two years.
We talk to the family about the challenges of finding the right care solution for a fiercely independent woman – and how the positive benefits of live-in care with Sarah has transformed all of their lives.
Useful Care Resources in Chelsea
Carers UK provides information on all aspects of caring, plus work opportunities, events and campaigning.
Email: info@carersuk.org
Address: Carers UK, 20 Great Dover Street, London, SE1 4LX
Call: 020 7378 4999
The council website provides information on health and social care, housing, libraries, leisure facilities, benefits information and volunteering opportunities.
Email: socialservices@rbkc.gov.uk
Address: Town Hall, Hornton Street, W8 7NX
Call: 020 7361 3013
Council-funded, adult social care services with a range of resources and engaging activities.
Email: mail@peoplefirstinfo.org.uk
Address: People First, 2nd Floor, Kensington Town Hall, Hornton Street, London, W8 7NX
Age UK offers a home care service, social activities, health services and volunteering in the Chelsea area.
Email: information@aukc.org.uk
Address: 1 Thorpe Close, London, W10 5XL
Call: 020 8969 9105
This organisation helps older people become involved and influence their local community.
Email: info@kensingtonandchelseaforum.org.uk
Address: 155A Kings Road, Chelsea, London, SW3 5TX
Call: 0207 352 1336
Perhaps live-in care isn't a suitable option for your relative or loved one, find the right support from a list of the top local care homes in Chelsea.
Looking for visiting care? 
At Elder we can support independent living in London through our Daily Care Service. Get flexible day-time support from a dedicated carer, for up to 50 hours a week.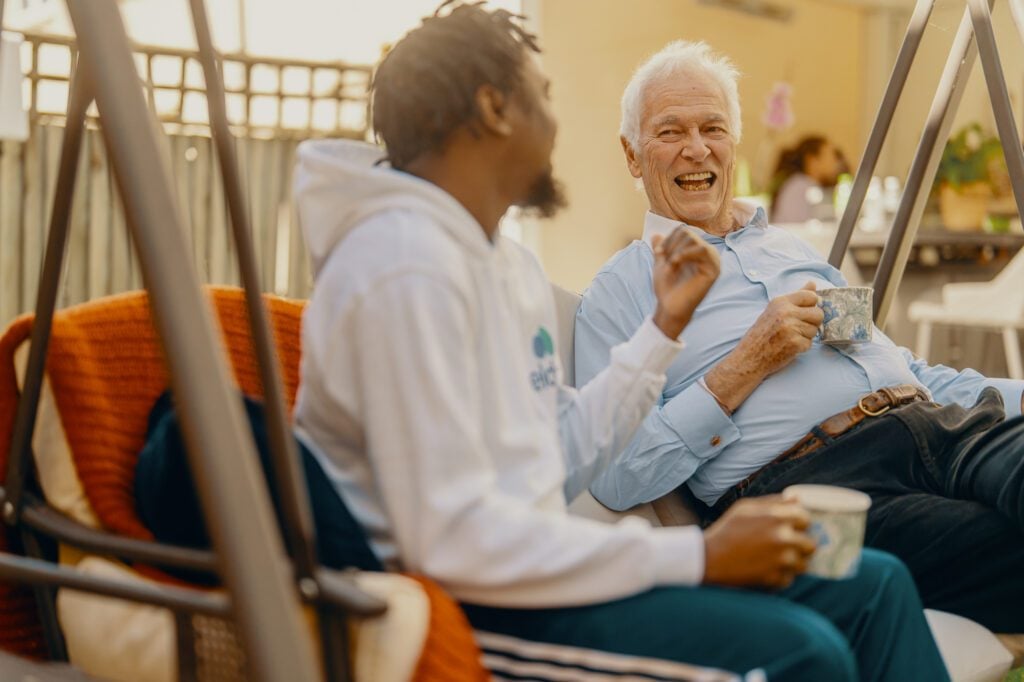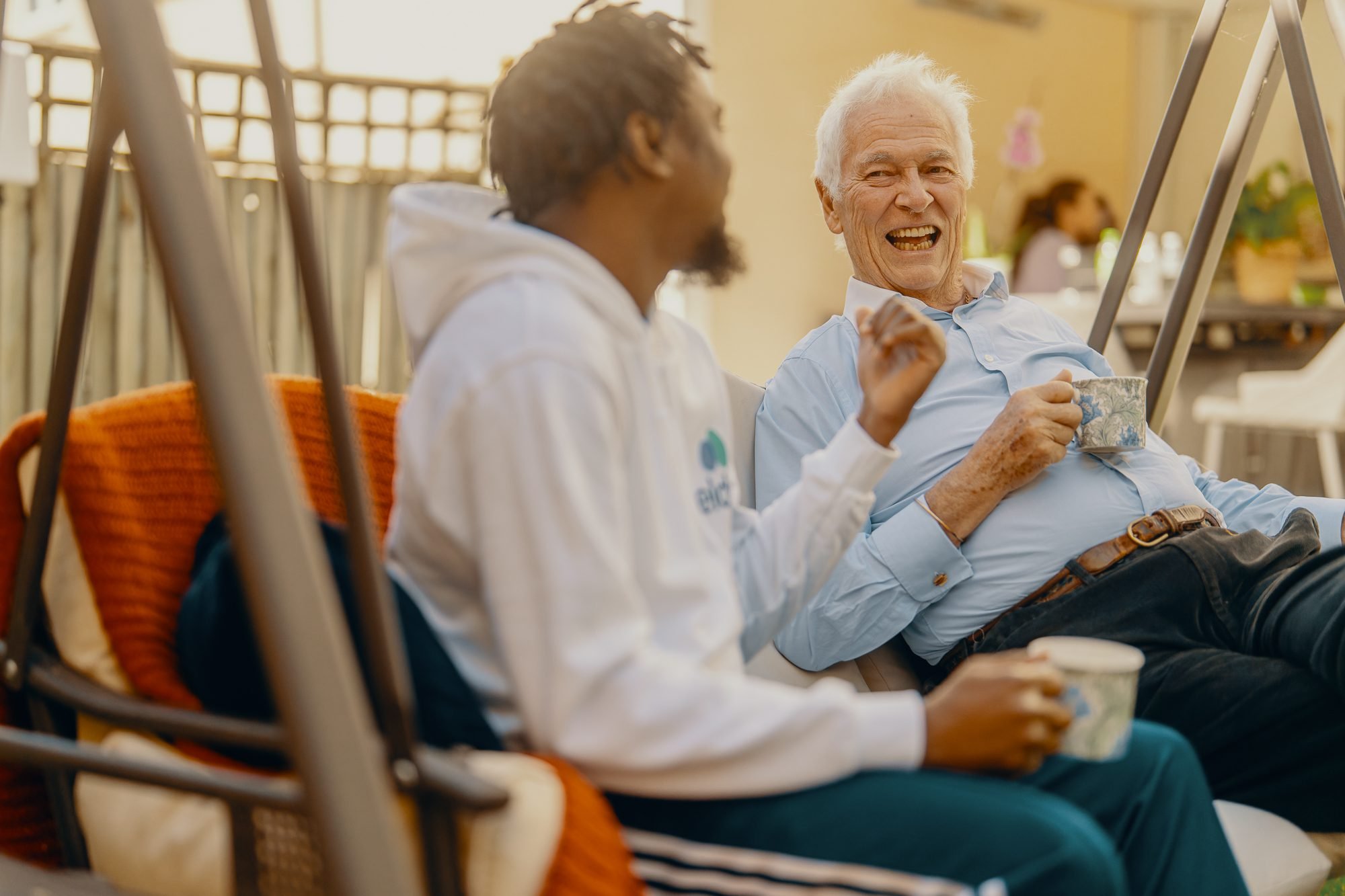 Read More About Care in Chelsea
Eight Things to do With Older People in London
For those who care in London for an elderly family member, it can be a challenge to find suitable things to do. Here are some ideas.
Dementia-Friendly Gardens: How Gardens Can Provide Wellbeing for Those With Dementia
We look at the growing trend for dementia-friendly gardens in horticultural design, and how you can create a flower-filled sanctuary at home that the whole family can enjoy.
Eight Things To Do With Your Elderly Parents In Surrey
For those who care in Surrey for an elderly family member, it can be a challenge to find suitable things to do. Here are some ideas.
A Guide to Dementia-Friendly Days Out
Living with dementia – We look at the challenges and solutions for the perfect day out.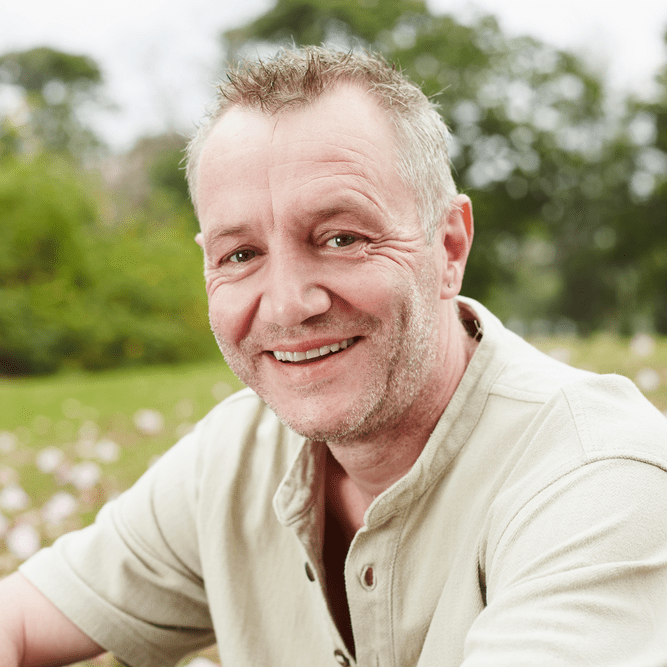 Elder gives me peace of mind
"I have been able to return to my normal life, totally relaxed that my mother is in capable hands with all her needs being more than catered for."
Tom, London