You've reached us outside of our opening hours. Create your account to get access to My Elder, our online portal for arranging care and accessing information to support your journey to care.
How Can Live-in Home Care Help With Dementia With Lewy Bodies?
If your loved one has dementia with Lewy bodies, or as it is sometimes known, Lewy body dementia, the more you understand about the condition, the better you will be able to support your loved one.
There are many older people living with dementia, although a large proportion of them never receive a definitive diagnosis. Dementia with Lewy bodies accounts for four percent of the cases of dementia that are recorded, although it is thought that up to ten percent of dementias may be of this type.
The diagnosis of dementia with Lewy bodies is difficult, and the disease is sometimes mistaken for other conditions such as Alzheimer's disease or Parkinson's disease because of some shared common symptoms.
What is Dementia with Lewy bodies?
Dementia with Lewy Bodies is a progressive form of dementia characterised by abnormal protein deposits known as Lewy bodies in the brain. The disease was identified by Friederich Lewy, who found the deposits in a patient's brain in 1912.
As with most forms of dementia, most people affected are over the age of sixty-five. At present, there is no known cause and no cure, although careful management can enable people with the disease to live comfortably for years.
The Lewy bodies that collect in the brain stem interfere with dopamine production. Dopamine is a neurotransmitter involved in transmissions around the brain and body. Interference with it means that symptoms common in Parkinson's disease such as shaking, tremors, mobility problems and speech impairment. The protein deposits can also spread into the cerebral cortex, disrupting and depleting Acetylcholine which affects perception, thinking, and behavior.
Symptoms of Dementia with Lewy bodies
Different individuals will have differing symptoms, but the following indicators may often be symptomatic of this type of dementia. Your loved one may have difficulty in judging distance and depth or other visual perception problems. You may notice that their attention span has diminished or that they are less alert generally than previously. For example, a previously very organised person may start to have problems in planning ahead or organising events.
You may notice mood changes or your relative may seem depressed. Their memory may begin to fail, although this is not usually as pronounced in Lewy body dementia as it is in Alzheimer's disease. They may also suffer from disturbing visual hallucinations or, less commonly, auditory hallucinations.
Another possible symptom of dementia with Lewy bodies can be that their mobility deteriorates and they may experience limb stiffness, tremble or become unsteady. A much rarer symptom is loss of consciousness or fainting. Their sleep may be disturbed, and people who are living with Lewy body dementia can sometimes seem to be acting out the nightmares or dreams they are having. These symptoms are likely to get worse as the disease progresses, particularly their memory. They may be agitated, and their behavior may become more challenging.
---
Dulcie's Care Story
In this short video, Mary and Colin explain how Dulcie's live-in Elder carer, Sarah, has become part of the family.
They discuss how live-in care has allowed Dulcie to stay independent in her own home, while making a new friend at the same time.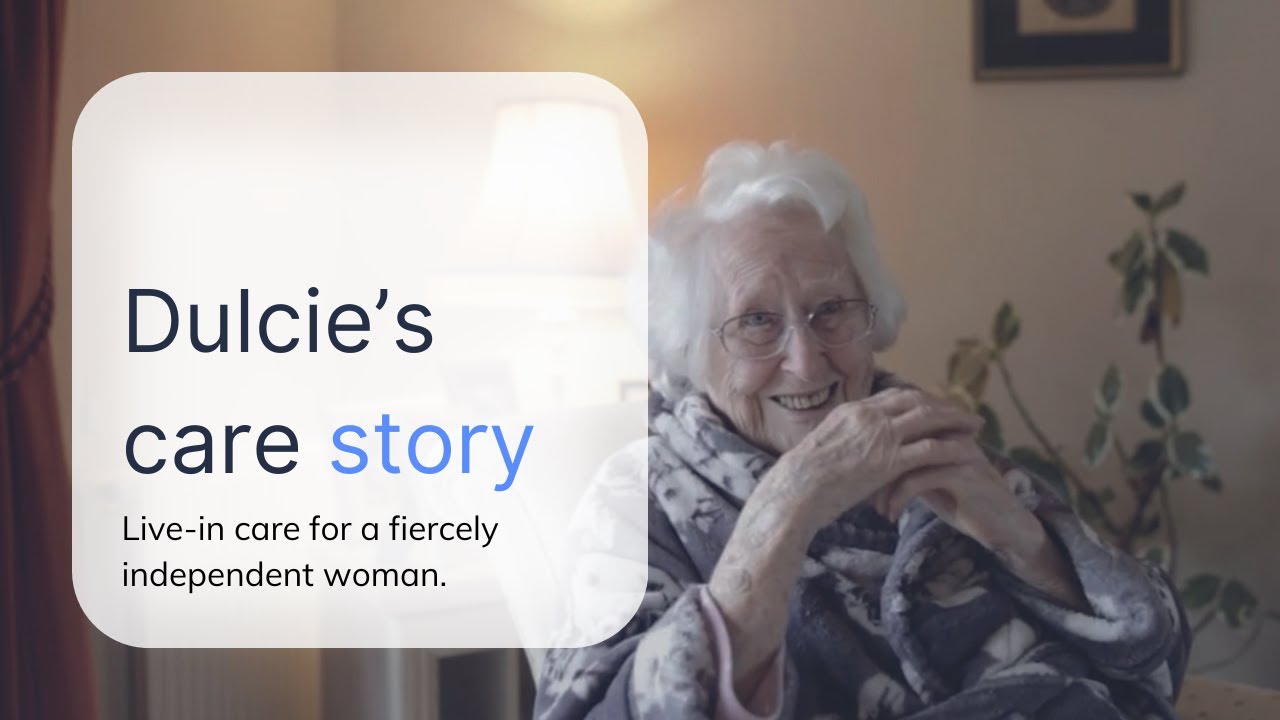 ---
What are the benefits of live-in care?
People who are living with any form of dementia can become confused and disorientated if they are moved from their familiar environment. They are usually much more settled and happier if they are supported to remain in their own home, but as their symptoms progress, they will need care at home and someone around 24-hours a day.
A live-in carer can enable someone with even quite severe dementia with Lewy bodies to live as independently as they can at home. Providers of elderly care, such as Elder, will be able to provide a live-in carer with training and experience in dementia care, equipping them well for dealing with the challenges that can sometimes arise.
In addition to knowing that your loved one's physical needs are being met, you will have the peace of mind of knowing that there is someone with them who not only understands their condition, but can also provide companionship and reassurance for them if they become anxious or agitated.
How can a live-in carer help?
If your loved one's symptoms are fairly mild, an in-home carer's role may be mainly to provide companion care and to ensure they are safe and the environment is kept free of hazards. They will help with or take over the cooking, cleaning, laundry, and shopping for your loved one, as well as any other domestic tasks that are needed in the day-to-day running of the home.
Because dementia with Lewy bodies is a progressive disease, the carer's role will change according to the older person's needs and can include assistance with feeding, washing and bathing and dressing. The level of support will be tailored to the person's needs, and the carer will try to support your loved one to retain as much independence as they can.
Your loved one's live-in carer will have experience in intervening tactfully and with sensitivity so that your relative finds it easier to accept assistance. If mobility is an issue, a live-in carer will be on hand to help with sitting, standing and moving. If transfers from bed to chair or into the bath are needed, these can be safely assisted. A live-in carer will also be able to take your loved one out in their wheelchair if they use one, meaning that they are not confined to their house.
With professional live-in care, you will have the peace of mind of knowing your loved one is being looked after by someone familiar who they are comfortable with and who will be alert to changes in their condition and act accordingly. If a doctor is needed, or there are any problems with medication, help will be available and there is someone in the house with them 24-hours a day to keep them safe.
Call us for expert live-in care advice
With live-in home care, you will have the peace of mind of knowing your loved one is being looked after by someone familiar who they are comfortable with and who will be alert to changes in their condition and act accordingly. If a doctor is needed, or there are any problems with medication, help will be available and there is someone in the house with them 24-hours a day to keep them safe.
Related Questions
Cancer: How to Care for Ageing Parents
Cancer is typically a disease that affects older people. In 90 percent of all cancer cases, the person is over 50 years of age. The majority of these cases occur in people aged between 50 and 74, but a third of all cases are in those aged 75 and older. Prostate, breast and lung cancers are all quite common in older people, but this section of the population is susceptible to all form of cancer.
Death of a Spouse: How to Care for Ageing Parents
Losing a parent is hard, but harder still for your surviving parent, who must now face life alone after many years as a partnership. Your surviving parent is likely to be overwhelmed by feelings of grief and loss and will need huge amounts of understanding and sympathy over the coming weeks, months and years.
Finances: How to Care for Ageing Parents
Difficult as it might be to contemplate, there may come a time in your parents' lives when they are no longer able to make decisions about their own finances. Choosing to step in and take over the management of your loved one's financial arrangements can be tricky. Even if they can see it is in their best interests, many elderly people will still find it hard to accept and may view it as a loss of independence.
Frequently Asked Questions About Live-in Care
Elder's expert live-in care advisors answer questions for hundreds of people looking for care for themselves or their loved ones every day. Below you'll find the answers to some of the most frequently asked questions that our customers ask before making the decision to use Elder to take the stress and strain out of caring for someone in need.
How Can Live-in Home Care Help With Arthritis?
If you have a loved one who is finding their daily activities increasingly difficult due to arthritis, you will want to help them in the best way you can. Arthritis can make it difficult or impossible to manage daily tasks, but live-in home care can provide all the help and support that your loved one needs to enable them to enjoy the best possible quality of life they can in the comfort of their own home.