When you think of Autumn, you may think of falling leaves, hearty comfort food and cosying up indoors. However, this time of year can pose some challenges for older adults.
To help keep everyone safe and healthy this autumn, we've shared some tips and resources for supporting older people in colder weather.
Heating the home
One of the biggest problems for older adults is staying warm in colder months.  A drop in body temperature could increase the risk of heart attack, stroke, flu, and pneumonia, all of which can develop fairly quickly.
Keeping the home well heated is especially important for those with underlying or ongoing health complaints. NHS guidance states that rooms that are in regular use, for example bedrooms and living rooms, should be heated to at least 18°C  in colder months. 
Financial support for staying warm
Some older people worry about the cost of heating their home, and will avoid using central heating even in extremely cold weather to save money.
The UK government has a couple of heating schemes for the elderly to help with energy bills during colder months. If you or your loved one are over 65, you could qualify for the Winter Fuel Payment. If you meet the eligibility criteria, you could receive between £250 and £600 each year from the government to help with your energy bills. The payment is often paid out automatically, however some people do slip through the cracks. If you or a loved one were born before the 25 September 1957 and live in Great Britain, but haven't received a payment yet it's worth completing this form. 
For periods of extreme cold – when the temperature drops below zero degrees celsius, you could also get an extra Cold Weather Payment if you live in England or Wales, and The Winter Heating Payment (WHP) if you're in Scotland. 
The Cold Weather payment will give you an extra £25 for each week the temperature is below 0. In Scotland, anyone receiving Pension Credit will automatically receive an annual payment of £50 instead. 
If you're not already claiming pension credit, but were of state pension age between 18 August 2023 and 17 September 2023, it's worth putting in your pension credit claim before the 8th December. This is because  if you're granted pension credit you can request a backdated Autumn cost of living payment from the Government of £300. You should then also automatically receive the final payment of £299 next spring. 
Checking efficiency and safety 
If you're worried about a loved one who is living alone, make a note to check that their heating is on, and all the radiators in the house, and hot water are working properly when you visit.
If they prefer to use space heaters or electric blankets it's crucial these are checked too, especially if they have an old BEAB safety mark, as this means they are over 10 years old.
Electric heaters
There are four main types of electric heater. fan heaters, oil heaters, halogen heaters and convector heaters. They're usually used to heat up small areas i.e single rooms, very quickly. All electric heaters should be used with care, and never be left unattended or running overnight while you or your loved one's asleep. If there's an electric heater in the home, electricians recommend making everyone aware of the following – 
Always place them on a flat surface, away from furniture or combustable materials 
Never dry clothes on or near an electric heater
Never leave them on overnight 
Never buy a second hand heater as it may be faulty
Regularly check the heater for scorch marks or melted areas. Discontinue using it as the first sign of damage
Sit at least 1 metre away from a heater
Never attempt to repair a heater
Electric blankets 
Old and faulty electric blankets alone account for over 5000 fires a year. People over 65 are more likely to have an electric blanket over 10 years old – electricians recommend replacing an electric blanket at least every 10 years. 
If you or your loved one owns an electric blanket, the UK Fire Service has the following advice – 
Store the blanket correctly – never fold it as this can damage the wiring 
Don't get it wet. If it does get wet don't use it
Disconnect the blanket from power before going to bed
Regularly check for damage and discontinuing using it if you see any of the following –

Fraying fabric
Scorch marks
Exposed elements
Creasing or folding
Damp patches
Tie tapes damaged or missing
Worn flex
Loose connections.
You should arrange for a qualified electrician to safety test an electric blanket for you at least every three years.
Staying well 
Contagious illnesses such as colds and flu are more common during colder times of the year, and are often more debilitating for older adults. Our immune systems become a little less effective as we age, so it can take longer to recover, and could develop into chest or sinus infections.
The best way to stay healthy is prevention. Everyone age 65 and over can get a free flu vaccine from a GP or local pharmacy. Flu can be really unpleasant, so it's a good idea to get the jab even if you or your loved one are generally fit and healthy. You can even get your seasonal flu jab while doing the weekly food shop, with Tesco and Asda now offering them at their larger stores.
It's also important to keep your and your loved ones home well stocked with everything they need to stay well and prevent infection. Ensuring prescriptions aren't running low, and keeping plenty of tissues, hand sanitiser and antibacterial sprays around the home can bring peace of mind, especially if the weather turns and it's not as easy to get out and about.
If you take regular medication, you may want to ask your GP about setting up repeat dispensing. This means you can pick up your medication directly from the pharmacy each time you need it, rather than ordering a repeat prescription from your GP first. Some pharmacies also offer a home delivery service to people who find it tricky to get out and about.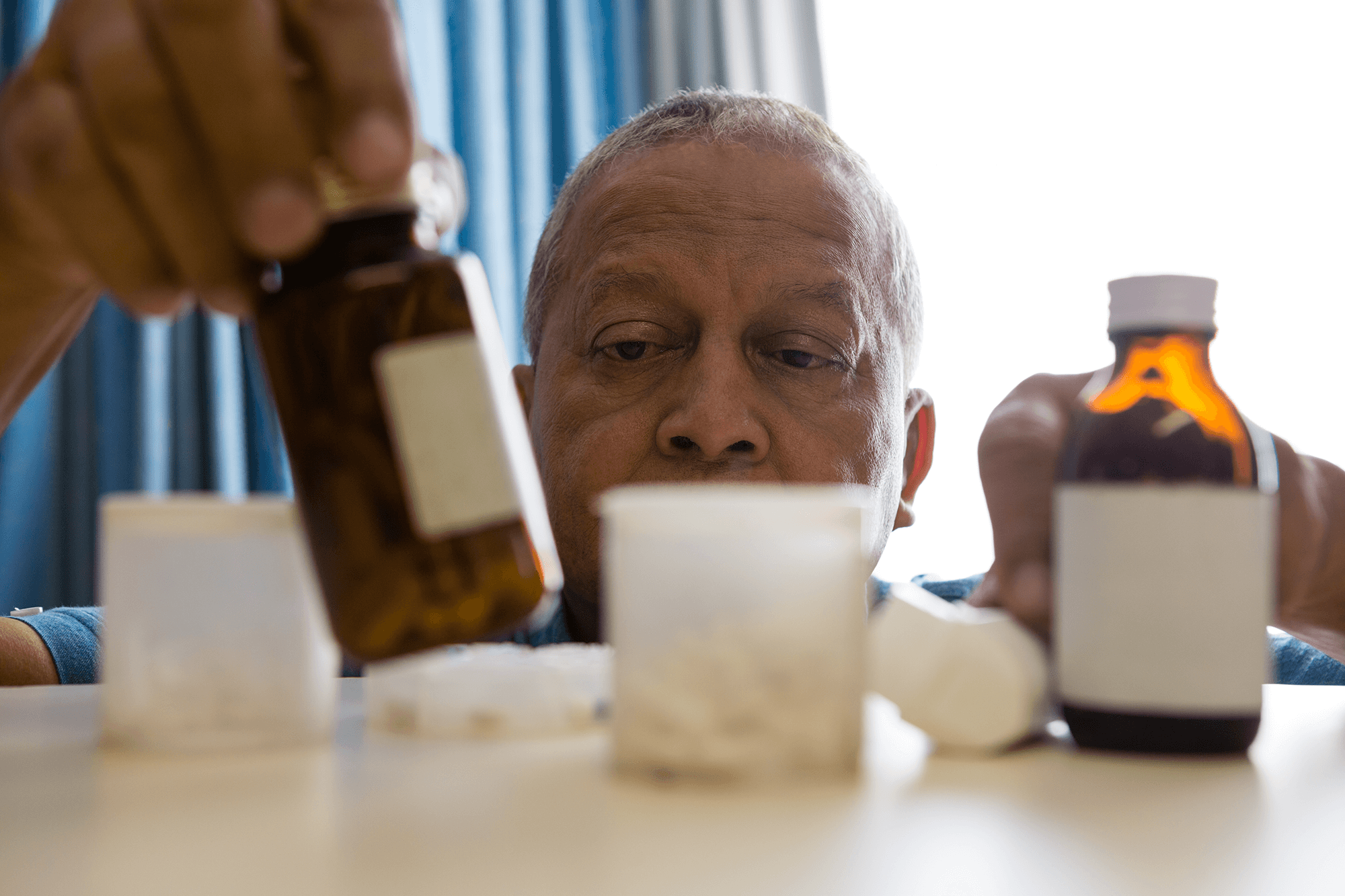 Protecting against falls
Fallen leaves and wet or icy pavements and paths are dangerous for everyone. However for older people who may be unsteady on their feet, and more prone to bone fractures they pose a serious risk. Older bones can also take longer to heal, and this recovery process can take its toll on both physical and mental wellbeing.
If you're unable to clear leaves or grit paths yourself, a neighbour may be able to help. Alternatively sites like Trust a Trader or Taskrabbit can connect you to local handyman services or gardeners to suit all kinds of budgets.
Colder weather can also cause arthritis flare ups and make joint pain worse. Experts aren't 100 percent sure why this happens, but it's thought a drop in air pressure can cause joints to expand – leading to pain. Low temperatures can also thicken the natural shock-absorbing layer in the joints, which can make them stiff.
Making an effort to stay active can help keep joints comfortable and reduce the risk of accidents. Even gentle chair based exercises can support mobility and balance.
It's also a good idea to organise an eye test at this time of year too, as with shorter days comes lower visibility. If you or your loved one drives, you may want to consider using public transport or taxis when travelling in dark or rainy conditions.
Preventing loneliness 
Half of people over the age of 75 live alone, and when the weather gets colder, wetter and generally a bit more miserable, leaving the house can become more difficult. This increases their risk of feeling isolated from friends and loved ones.
Small acts of companionship make all the difference – from a cup or tea and a chat, to picking up shopping can lift a person's mood and help to protect them from loneliness induced depression.
Befriending services can help too – connecting older people to volunteer companions either over the phone, or in person. 
Do you have any top tips for staying safe and enjoying Autumn? Head over to our Facebook page and let us know.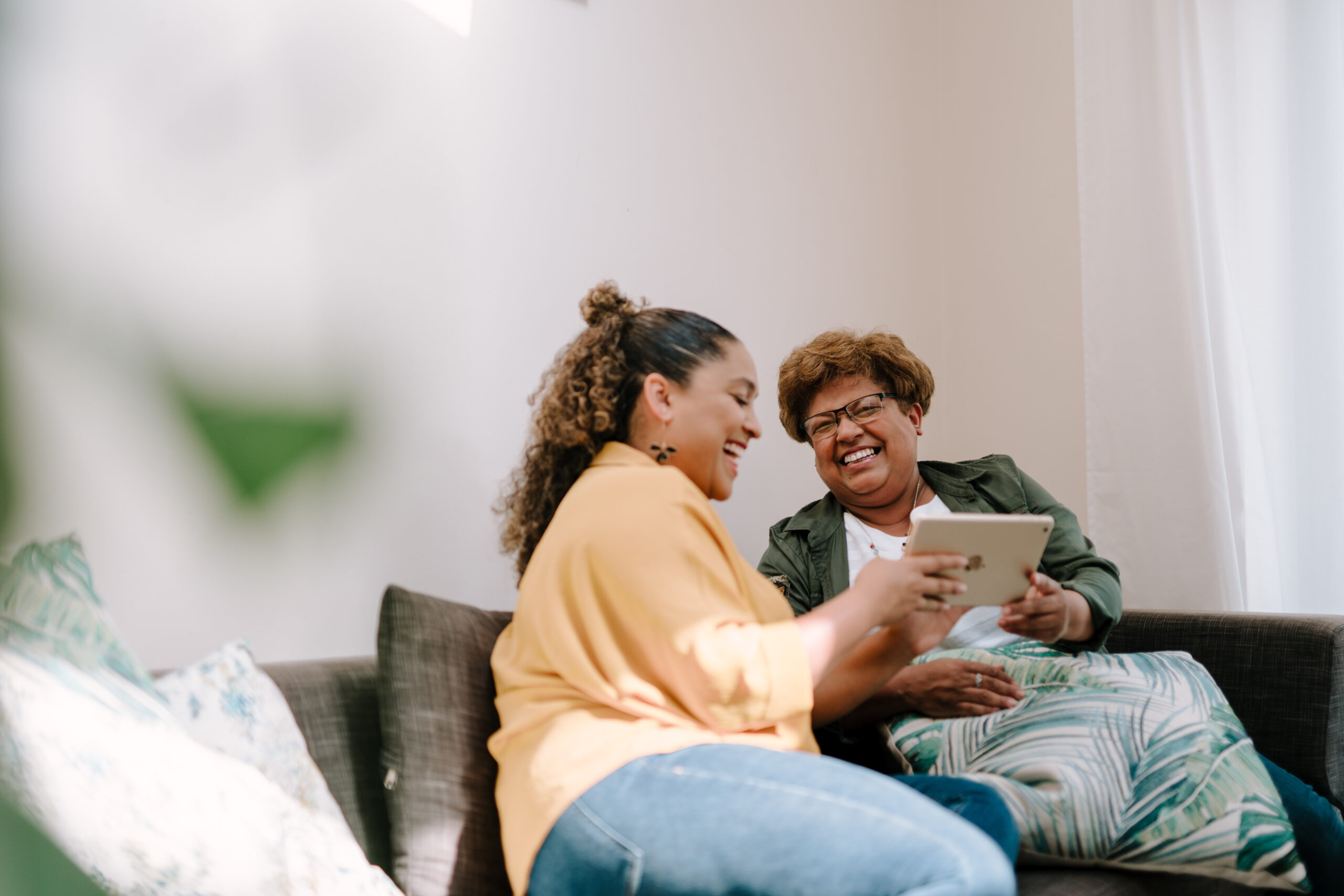 Browse the latest blogs and tips on living well in later life.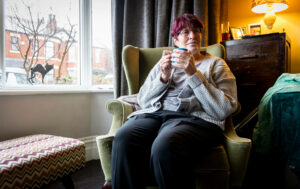 We've shared our advice to help older adults stay healthy and well as the weather starts to get cooler, and the days get shorter. 
Read More »