COPD Care: How do I care for a loved one with COPD?
COPD, also known as Chronic Obstructive Pulmonary Disease, is a condition which tends to affect older people.

The main symptoms include:
– difficulty with breathing
– wheezing
– coughing, with or without mucus
– chest pains
– shortness of breath.
There are several cumulative risk factors which can determine someone's likelihood of developing COPD, but other diseases are also implicated, including emphysema, bronchitis and asthma. As the disease progresses, the person's airways develop obstructions, making it hard to breathe. COPD can ultimately lead to further health complications, including heart disease.
COPD can be a tough condition to manage, not just for the person with the symptoms, but also for friends, family and carers. However, there are plenty of steps you can take to help your loved one live more comfortably.
Find out about COPD
In considering how best to care for a loved with COPD, it's crucial to find out as much about the condition as you possibly can. Discuss your loved one's care and treatment with medical professionals, to find out what they recommend and to advise you as to any tasks that you may need to carry out. The more you understand the nature of COPD and how you can help, the more empowered you will feel.
Create a plan of action
Effective COPD care and management requires everyone involved to understand that it's a progressive disease. This means it gradually worsens over time, so it's essential to have an action plan in place to cope with the changing lifestyle needs of your loved one. Everyone involved in their care should be informed of changes as they occur, so make sure that all home care and private care staff know what is required of them.
Steer clear of infections
COPD compromises the body's ability to fight off infections. Exposure to viruses increases the likelihood of your loved one developing a lung infection. Part of the responsibility of elderly care involves keeping opportunities for infections to an absolute minimum. Anyone with an infectious illness should be avoided, and make your loved one needs to remain up to date with scheduled vaccinations. Annual flu jabs are essential for people with COPD, and your loved one should have a pneumonia vaccination every 5-7 years.
Learn how to bring up mucus
A key feature of COPD is mucus collecting in the airways, which makes breathing more difficult and could even lead to infections. Your loved one will be given exercises to help them expel this mucus, so finding out what is required is essential in helping them to perform the activities correctly. Ask your loved one's doctor or nurse to show you ways in which you can help.
---
Colin and Dulcie's story
Dulcie is 102-years-old and lives with her son Colin, his wife Mary, and her Carer Sarah. She has dementia and has had full-time live-in care for over two years.
We talk to the family about the challenges of finding the right care solution for
a fiercely independent woman – and how the positive benefits of live-in care with Sarah has transformed all of their lives.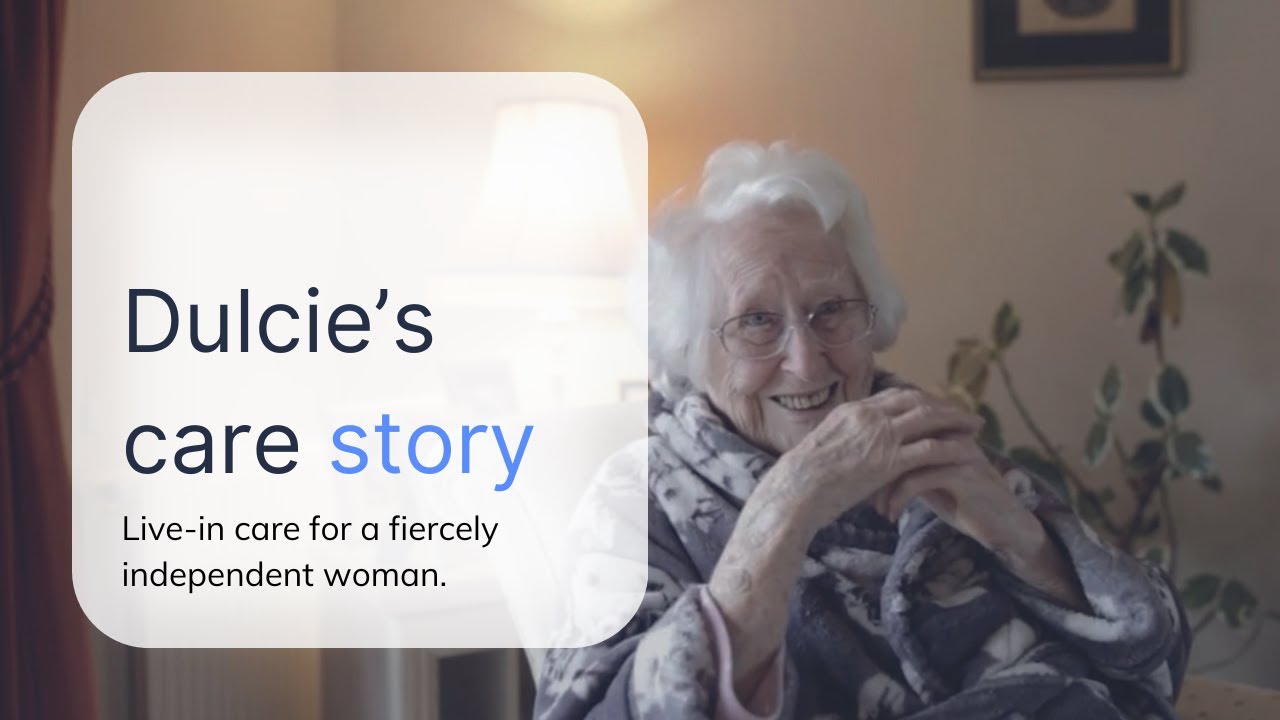 ---
Acquaint yourself with oxygen therapy
Your loved one's doctor may prescribe oxygen treatment, but it's usually for patients with more advanced forms of the disease. Oxygen therapy helps your loved one's body to function properly and is for times when their blood oxygen levels are particularly low, which could be when they are sleeping or resting, or it could be during an activity.
In many cases, supplemental oxygen is needed throughout the day and sometimes needs to be in continuous use. Live-in care workers need to be shown how to help with oxygen therapy too, only if this is part of your loved one's COPD care program.
Keep a watchful eye on medication
Your loved one will likely be prescribed a variety of medications to help them with their COPD symptoms. Every patient has unique needs, so no two patients will have the same medical regime.
The subject of medication becomes even more complicated if your loved one also has dementia. Any dementia care worker will tell you the importance of using medicine charts and pillboxes for controlling the daily intake of pills. It's also crucial that you keep such medicines out of reach when they are not required, as your loved one may not remember if they have already taken their medication, leading to potentially missed doses.
Make a note of any side effects that your loved one experiences from their medication regime and discuss any concerns with their medical team.
Avoid smoky atmospheres
If you or any other family members smoke, refrain from doing so anywhere near your loved one, as it will aggravate their lungs, making it harder for them to breathe. Smoking is often cited as a leading factor in the development of COPD in the first place. If your loved one is a smoker, it is best to try and persuade them to stop. New nicotine replacement programs make it easier to quit than ever before, with options including chewing gum, patches, lozenges and sprays.
Prepare nutritious meals
What we eat and drink can have a profound effect on our overall health and wellbeing. For someone with COPD, proper nutrition is an important consideration, as your loved one's health is already compromised. Healthy and nutritious meals, packed with all the necessary vitamins and minerals necessary for good health, will provide the appropriate nutrients that your loved one needs.
Call us for expert live-in care advice
Providing correct COPD care is essential to help manage and ease symptoms, and to know what steps you can take to ensure your loved one is living comfortably.
Related Questions
COPD Care: What Causes COPD in the Elderly?
If you feel your loved one requires COPD care, it's important to know the causes of their condition to help provide support and better manage their symptoms.
COPD Care: Is There a Cure for COPD in the Elderly?
Understanding what COPD care options are available can help ease symptoms and improve a loved one's quality of life. Here we discuss various treatment methods.
Coronary Care: What Causes Coronary Heart Disease in the Elderly?
Knowing the causes of heart disease and providing a high level of coronary care is vital to ensure your loved one or relative can easily manage their condition.
Hypertension Care: Is There a Cure for Hypertension in the Elderly?
Ensure your elderly relative or loved one has a hypertension care plan in place to help manage their heart condition and prevent further health complications.
Motor Neurone Care: Is There a Cure for Motor Neurone Disease in the Elderly?
While there is no cure for motor neurone disease, with correct motor neurone care and support for your loved one, it can help to reduce the impact of symptoms.