Weekly costs of a care home
The weekly cost for a care home place depends on the care your loved one needs, so you need to have a clear idea of what type of support you expect the care home to provide. If nursing care is required, your loved one would have to go into a nursing home, which can cost up to 25 percent more than care in a care home without registered nursing staff.
Care home fees can vary significantly, with many care homes charging fees of more than £1,000 per week. Dementia care can be more expensive than standard elderly care because the staff to resident ratio often needs to be considerably higher.
Location
Where your loved one lives in the UK can have a substantial impact on the fees a care home will charge. Unlike fees for care at home, where companies such as Elder charge a flat rate for live-in care regardless of location, you should expect that paying for care in a care home will cost substantially more in some parts of the country than others.
In England, for example, costs are usually lower in the North West than the fees for care homes in the South East of the country. On average, you should expect that care in a care home for your loved one will cost somewhere between £3,000 and £4,000 a month.
It is possible to work out a very rough estimate of what your loved one's care will cost, but as the total amount depends on the care they need, how long they will need it for and where they are located, this can only be a vague indication. To find out the specific fees charged by different care homes, you would need to speak to the managers of those homes.
Financial support
Depending on your loved one's financial assets, you may be able to access financial support towards the cost of their care. If they have savings of more than £23,500, they probably will not be entitled to any financial help towards their fees.
However, if you think they may be eligible, it is worth arranging for the social services department of their local authority to conduct a care needs assessment.
If your loved one's needs are classed as "substantial and ongoing", they might be eligible for continuing healthcare funding from the NHS, irrespective of the normal £23,250 threshold.
How will my loved one's capital be assessed?
There is a level below which they will be entitled to maximum financial support, and this is typically adjusted each year. If they receive full funding, they will be required to contribute all their income, including benefits, to the local authority towards their care fees. They will be able to keep a small amount, known as the personal allowance, each week.
If your relative's assets and savings are greater than £23,500 or the figure for the current year, then they will have to pay for their care privately.
Alternatives to paying care home fees
Your loved one may prefer to stay in the comfort of their own home and receive the care they need there. This can be a considerably cheaper option than going into a care home and has become increasingly popular in recent years. If your loved one needs companion care, staying in their own home can make sense from a social point of view, as well as financially.
You may want to consider private live-in carers for your loved one if they need someone around all the time to make sure they are safe. There are different ways to pay for elderly care or dementia care in the home.
One option would be to arrange equity release or a lifetime mortgage for them. The money from equity release is tax-free and can be used to allow your relative to stay at home and receive the care they need and to make modifications to their home that will make this possible.
Paying care home fees
It is important to ensure that your loved one is receiving all the benefits that they are entitled to. Then you need to consider your loved one's assets and how they can be used most efficiently to fund their care.
An Immediate Care Annuity from an insurance company would pay your loved one a fixed payment regularly while they are in a care home, but it is advisable to take professional advice before arranging one of these for them.
Giving assets away
You might think your loved one could give assets away in order to get below £23,250 so that they can claim assistance from their local authority. However, the local authority may well view this as "self-deprivation of assets" and still include the value of the assets they have given away in the means test they conduct.
To explore ways of your loved one being able to pass assets to other family members, you should contact a specialist financial advisor for advice.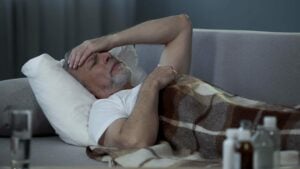 Caring for sleep problems in elderly Changes in sleeping patterns are frequent in older people, and you may notice that it progressively gets worse over
Read More »