Getting out and about with the elderly is important, as it encourages them to engage with the world around them, but many aspects of travel need to be carefully considered well in advance to ensure the best possible outcomes for everyone.
Air travel can present particular challenges for anyone with dementia, thanks to the huge public spaces in airports, along with crowds, noise and constant public service announcements. Someone with dementia can easily become confused and disorientated, and this won't necessarily be immediately obvious to airport and airline staff.
You may be responsible for your loved one's care, or perhaps they already receive companion care or dementia care from one of the UK's leading introductory live-in care agencies, such as Elder, who provide carers that can travel with them. Someone experienced in dealing with the issues surrounding dementia can be extremely helpful in keeping your loved one calm, particularly if they are feeling anxious or fearful about the noise and activity surrounding a trip to an airport.
UK airports becoming dementia friendly
Towards the end of 2016, Heathrow Airport announced that it was becoming the first dementia friendly airport in the world, with 76,000 members of staff receiving training in helping members of the public with dementia-related issues.
This announcement was soon followed by the news that other UK airports were also keen to offer help and support to anyone with dementia, with half of the airports claiming that they were considering implementing staff training, or were at least discussing the issues surrounding air travel for those living with dementia.
Dementia Friends is an organisation whose members receive training from the Alzheimer's Society. They then give talks to airline and airport staff, informing them of issues surrounding the complexities of travel for people with dementia. UK airports are encouraged to introduce Dementia Friends into their staff, who can offer help and assistance for anyone who needs it.
Specialised holiday options
Elderly care at home is becoming an increasingly attractive option for many families these days, as people move away from the idea of placing their elderly loved ones into residential care situations. This means that there are more options for travelling together as a family, and a diagnosis of dementia doesn't mean that you can't still enjoy an overseas holiday.
Organisations such as Disability Holidays Guide, Disabled Holidays Abroad and Can Be Done offer a selection of holidays that are disability-friendly, including hidden disabilities such as dementia.
Even if you fancy a trip further afield, nowadays you're sure to find options that will suit the whole family. One example is Cinnamon Grove in Sri Lanka, which offers a high standard of assisted living for those who need extra care.
Plan before you travel
If you're planning on flying with a loved one who has dementia, make sure that you inform the airline well in advance of their condition. Print out a map of the airport so that you can familiarise yourself with the layout, including disabled toilet facilities, which are more spacious than single-sex toilets, allowing space for a carer to help if necessary.
Make sure that you have carry-on baggage which contains any necessary medication for your loved one, and a change of clothes for them in case of accidents or delays. Many people report that a personal music player and headphones or earphones can be extremely helpful in shutting out the noise of a busy airport, so choose a selection of music that your loved one enjoys listening to.
If possible, check in online before leaving home, as this will limit the amount of time that you need to spend queuing, which is a stressful time for anyone travelling with an elderly relative with dementia, who may wander off while you are dealing with the check-in staff.
Aim to arrive at the airport in plenty of time for your flight, but not so far ahead that you are forced to spend a long time waiting for your departure, as your loved one may become agitated if they spend too long in such a hectic and noisy environment. Most airports have prayer rooms or other quiet areas, which may be more appropriate if your relative reacts badly to excess noise.
Help your loved one through the security checks, making sure that you inform security staff of their condition. Don't go through the checks yourself until you are sure that your relative understands what is expected of them – keep in mind that once you have gone through the scanner, you will not be allowed back through to assist them.
Go straight to your departure gate, where staff will be happy to assist you if you need any help with your loved one.
On the aircraft
– Encourage your elderly relative to relax, and set up any onboard entertainment systems so that they have something to occupy them
– Encourage your loved one to stretch their legs with a walk along the aisle every hour or so, particularly on long-haul flights
– Avoid alcohol and encourage your relative to keep hydrated with water as much as possible
– If you feel that your relative is becoming irritable, tell the cabin crew, who can arrange for someone to assist you once the plane has landed
– Wait for everyone else to get off the plane, if possible, to avoid the risk of becoming separated from your loved one in the rush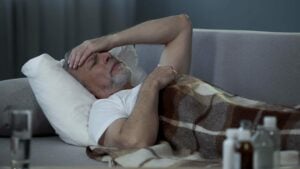 Caring for sleep problems in elderly Changes in sleeping patterns are frequent in older people, and you may notice that it progressively gets worse over
Read More »