Retirement, losing a spouse or friends to illness or death, and family members moving away from the area can all contribute to a move towards social isolation.
If your elderly loved one is in this situation, there are some ways you can support them to maintain existing social ties and to build new ones.
Community living
There are many examples of communities for older people that help to facilitate social connections. They do not have to be specially built and designed for older people, although there are many of these.
Your loved one may choose to move into a retirement village, where there are a number of older people living independently, but sharing some facilities and come together for social activities.
Friendly and supportive neighbourhoods
If your loved one doesn't want to move away from their neighbourhood, remaining in touch with neighbours and having trusting relationships with the people who live in the area can promote social capital that improves health and well-being for older people.
In areas with a high level of social capital, people are more likely to look out for others around them and to lend a hand when needed. If your loved one has private live-in care, elderly care or dementia care at home, particularly if they benefit from a live-in carer who provides 24-hours of care at home, their caregiver will be in an ideal position to support them to maintain social contacts.
They could accompany your elderly relative on visits to friends and neighbours in the area and enable them to continue enjoying activities that bring them into contact with others. Another advantage of companion care is that even if your loved one is unable to get out and about, they will benefit from the company of their carer and the social interactions they have with them each day.
Social capital for older people
Studies carried out in the USA have shown how social capital is linked to health and behaviour in elderly people. A survey of almost 1,400 people living in south-east Pennsylvania found that the level of mobility in older people who lived in areas with higher social capital was significantly higher than for those who were living in areas where there was lower social capital.
The researcher, Yvonne Michael, suggested that this might be due, in part, to the fact that in areas where there is greater trust, and the neighbours are more helpful, people will feel more comfortable walking around, and this helps them to stay mobile.
In another study she carried out, Michael found that in areas with higher social capital, people were more likely to be screened for various diseases at the recommended times, so they were also likely to be diagnosed and treated earlier.
How social connections can save lives
An epidemiologist, Bryan James, who is based at Chicago's Rush Alzheimer's Disease Center, has studied how higher levels of social interaction can impact on health. In one study, he looked at the association between cognitive decline and social activity.
More than 1100 elderly people with no dementia were measured for social activity levels and tested periodically over the next twelve years. People who had frequent social contact experienced cognitive decline at a rate that was 70 percent less than those whose social activity levels were low.
Another of James's studies concerned social activity levels and disability. He found that people with more frequent social activity had lower disability levels in various areas, suggesting that they were likely to be able to remain independent for longer than people who had less frequent social interactions.
James says that people who use their brain and body as it should be used age better than those who don't, and it is a case of "use it or lose it".
Benefits of technology
Technology can also be used to maintain social connections for elderly people. If your loved one has relatives or friends who live a long distance from them, social media and video chat can help them to remain socially engaged. Video chat services such as Skype or Facetime can help an elderly person to stay in touch with loved ones they are unable to see in person as frequently as they would like.
Social media and emails can also help older people to keep in touch with others and the community around them, particularly if they find it difficult to get out and about. If your elderly relative has elderly care, their carer should be able to help them to get used to using the internet, or possibly a younger family member could show them the ropes. Failing this, many public libraries run classes for older people on using internet technology.
Supporting your loved one to maintain social interactions with friends, neighbours and family members in any way they can help to improve their physical and mental well-being.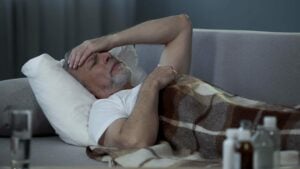 Caring for sleep problems in elderly Changes in sleeping patterns are frequent in older people, and you may notice that it progressively gets worse over
Read More »